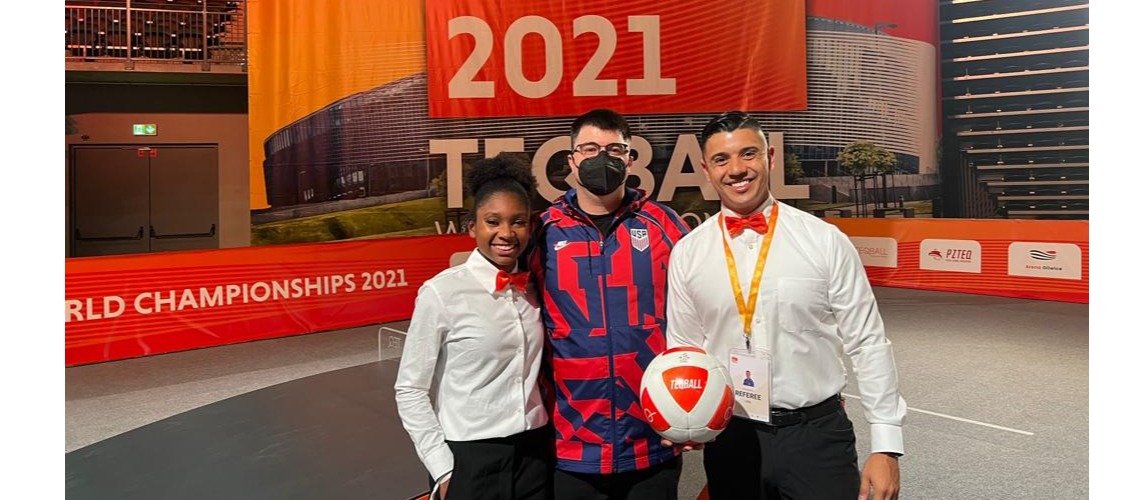 USA Teqball Federation Referee Coordinator reflects on sport's rapid growth
With teqball rapidly growing across the USA, FITEQ spoke to the USA Teqball Federation Referee Coordinator Elliot Taylor to get his perspective on what is driving the development of the sport, and what life is like for referees.
With the launch of the USA Teqball Tour and the first event earlier this year, what are your expectations for this event series?
The USA Teqball Tour is a huge moment in the sport's growth, and I expect to see a level of competition at these tournaments that we have not seen in the USA. When we hosted our first stop on the tour in January, we had a handful of international teams compete. Having competitors from abroad is extremely beneficial to our growth for several reasons but one of the main reasons is that it provides American teams with an opportunity to compete against new talent. I would like to see the number of international and domestic teams continue to grow as the year unfolds, which will help all of our competitors to get exposure to different playing styles and produce high quality teqball players. This is an exciting period in our growth, and I expect to see plenty of exciting matches!
What were your thoughts on the 2021 World Championships?
I had a wonderful time at the World Championships last year. I made wonderful connections while I was there and look forward to reconnecting with everyone at future tournaments. I speak to the FITEQ Referee Team every week and I was happy to finally meet them all in person. I gained more insight about their thoughts on the difficult decisions in refereeing the sport, how they handle questionable moments, and their evaluation process.
As a referee, you are as close to the action as possible! What improvements have you seen in players in recent years (particularly USA players who are on the rise!)?
Prior to the World Championships, the Americans who won their specific events at our National Championships went to Chelm in November to compete in a European Teqball Tour event. It was the first time that any of them had competed at a teqball tournament internationally. The experience from that tournament was beneficial when those same players returned to Poland a few weeks later for the World Championships.
We are incredibly proud to say that we advanced out of the group stage in every discipline and I believe the experience from that tournament in Chelm played an important role in how the players trained leading up to the World Championships. Increasing the frequency that American players are competing internationally has helped and will continue to help them improve by exposing them to different playing styles. Our success at the World Championships illustrated the level of competition that we have here in the USA, but our proximity to other countries with talented teqball players provides challenges to consistently competing against that talent. As international tournaments become more frequent in the post COVID-19 world, I expect more Americans to compete and improve.
Turning to referees, what do you see as the key skills a teqball referee needs?
The four most important ingredients that a teqball referee needs are confidence, composure, communication skills, and observation skills. It is absolutely critical that referees have confidence in the calls that they are making. Teqball is in a unique position because there a lots of people involved who are new to the sport. Here in the USA, it is common for a player to have more experience playing teqball than it is for a referee to officiate teqball. What commonly results from that is a tendency for players wanting to correct or argue a decision whenever a referee needs a second to process what just occurred.
It is essential that referees confidently make their decisions. Being able to confidently make a decision and remain composed if that decision is met with disdain is essential. Like all sports, in nearly every match there will be at least one questionable moment and, when it happens, referees must keep their composure. It is vital for referees to block out external distractions and remain composed and confident, regardless of how their decisions are received.
When referees make a decision, they must have effective communication skills. A referee needs to effectively communicate with his/her partner when there is a questionable moment and he/she must effectively communicate with the players. Finally, referees must have excellent observation skills. We extensively train referees here in the USA about what the most common questionable moments are in a match and how to prepare for them. Making sure that referees are looking for the right indicators is crucial to making the correct call. When you combine all of those skills together, you'll have an excellent teqball referee.
How do FITEQ and the US Teqball Federation support referees?
Earlier this year, FITEQ launched the Referee Talent Programme. Referees who participate in this programme are considered for international duty. The possibility of officiating teqball matches abroad has inspired American referees to participate. I certainly feel it will help to create a more talented, knowledgeable referee group, and I am excited to see its results.
In addition to hosting live referee training sessions leading up to a tournament, the USA Teqball Federation brings experienced referees from across the country to officiate in our tournaments. We are also keen to ensure referees who are new to the sport are able to observe and collaborate with experienced referees.
What more can be done to support referees and help them improve?
I host webinars several times each month to discuss various rules about the sport, and I try to base the topic of discussion on a common trends from a recent tournament. The common topics tend to be identifying illegal attacks, distinguishing edgeballs and sideballs, and distinguishing edgeballs from aces. Those are three of the most difficult calls in our sport.
I am aware FITEQ is currently producing more videos and so I can't wait to watch more in-depth explanations about edgeballs vs. sideballs, edgeballs vs. aces, and illegal attacks. Having clips of controversial moments from matches followed by explanations about how the decisions were reached and why they are correct would be of great benefit to referees trying to learn the sport.
FITEQ's Top Referees Online Platform within the framework of the Talent Referee Program provides a very good opportunity for referees to practice adapting to these controversial situations with video tests.
04 Mar 2022