FITEQ supports long-term vision of teqball growth in Thailand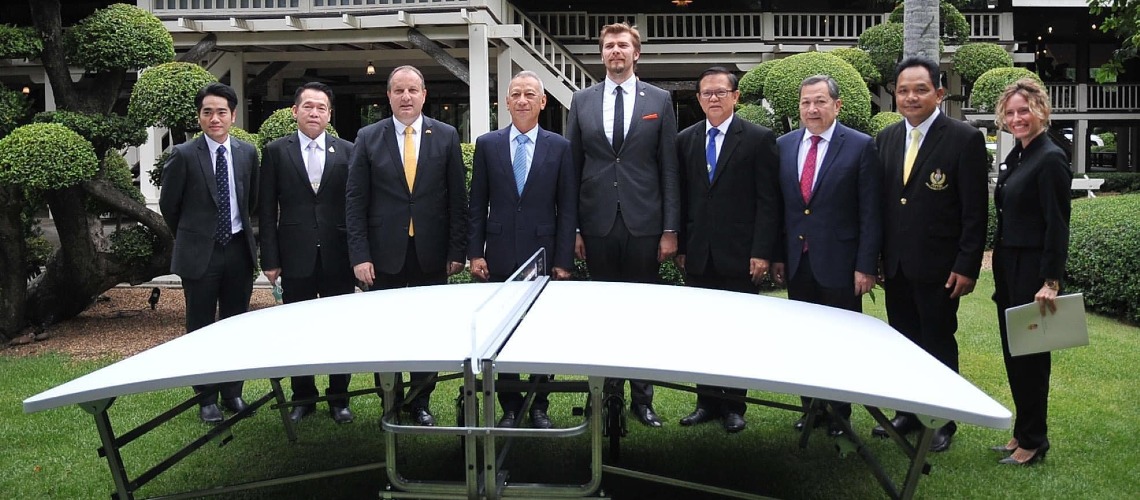 FITEQ supports long-term vision of teqball growth in Thailand
FITEQ has collaborated with multiple leaders in sport in Thailand, in order to support their long-term vision of teqball and para teqball growth across the country.
FITEQ, in partnership with the National Teqball Federation of Thailand, donated Teq tables to seven institutions as part of a ceremony on 20 July, with the tables set to be integral to making the sport more accessible to young people. This effort will be enhanced by FITEQ donating 125 tables to the Ministry of Tourism and Sports and the Department of Physical Education, which will distribute them in partnership together with the National Federation.
The seven institutions that received tables at the ceremony on 20 July were the Ministry of Tourism and Sports, the Sports Authority of Thailand, the Football Association of Thailand, the Paralympic Committee of Thailand, the Bangkok Metropolitan Administration, Chulalongkorn University and Chiang Mai University.
FITEQ Head of Diplomatic Relations and CSR, Gergely Murányi, along with the Hungarian Ambassador to Thailand, Dr. Sándor Sipos, met with the Thai Sport and Tourism Minister, H.E. Mr. Phiphat Ratchakitprakarn, to donate tables, showcase the game, and discuss teqball's potential in Thailand.
Murányi said, "This is an important step in the growth of teqball in Thailand, which in recent years has shown its potential to be one of the world's leading nations in the sport. The teqers here have even developed their own uique style that other players from around the world are looking to adopt! I would like to express my gratitude to our Guest of Honour H.E. Mr. Phiphat Ratchakitprakarn, Minister of Tourism and Sports for attending the ceremony. I also wish to say thank you to the great athletes of the National Teqball Federation of Thailand and also to the great team at the Embassy!"
The event marks another step forward for teqball in Asia, as the world's fastest growing sport continues to reach new players and fans every day.
05 Aug 2022