FITEQ encourages teqball family to join ITA Educational Webinar Series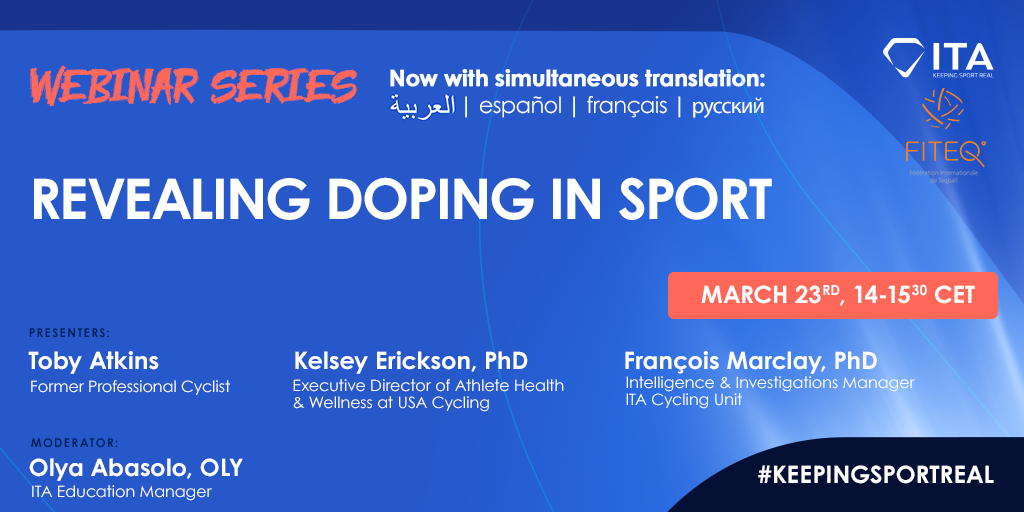 FITEQ encourages teqball family to join ITA Educational Webinar Series
The International Testing Agency (ITA) will hold the third session of its 2021 ITA Educational Webinar Series on 23 March, which is focused on the needs of athletes and athlete support personnel. FITEQ encourages all National Federations and athletes to attend the webinar, which will have simultaneous translation in Arabic, French, Spanish and Russian.
The ITA provides the following introduction to the webinar:
This month, the ITA will take a deep dive into the reporting of doping in sport. While whistleblowing is effective for exposing doping, little is known or understood about the actual whistleblowing process. Speaking up is a complex series of steps and decisions that may lead to career- and life-altering implications for whistleblowers. To this day, majority athletes feel like they have to choose between their careers and telling the truth. During this session, we will hear from a whistleblower who will share his personal experience, discuss some of the main barriers and challenges of speaking up and look at the solutions that currently exist – and consider what more can be done in the future.
In 2019, FITEQ signed a long-term agreement with the ITA to support the promotion of clean teqball globally. As part of its ongoing professionalisation, supported by the ITA and the Global Association of International Sports Federations (GAISF), FITEQ launched an anonymous platform to allow members of the teqball family to inform FITEQ of any violations or raise questions or concerns.
Please find the key details of the webinar below:
Topic: REVEALING DOPING IN SPORT
Registration link: https://zoom.us/webinar/register/WN_1jMA0YwmTXycNVX3MbN-eA
Event date: Tuesday, March 23rd, 14h-15h30 CET
Presenters:
Toby Atkins – Former Professional Cyclist
Kelsey Erickson, PhD – Executive Director of Athlete Health & Wellness at USA Cycling
François Marclay, PhD – Intelligence & Investigations Manager – ITA Cycling Unit
Olya Abasolo Ovtchinnikova OLY, ITA Education Manager (host)
09 Mar 2021