Heroes of Teqball: Guitler, Fontes and Marquinhos
Teqball has started to move up in the rankings in Brazil with the help of world-class players, who wrote history on their own.
There is no other country in the World that has such a rich history in football than Brazil. It is undoubtedly the most popular sport in the South American country, some would say it is a religion there. In recent years, Teqball has started to move up in the rankings with the help of the sport's most famous ambassador, Ronaldinho, and some world-class players, who wrote history on their own. Natalia Guitler, Rafaella Fontes and Marcos Vieira da Silva took on the challenge to help Teqball grow not only in Brazil but in the whole world.
Behind every teqer is a story, a life to be shared.
Everyday people with no ordinary skills.
An exclusive feature through fiteq.org with the best athletes of Teqball tell their own backgrounds whether it is destiny or something else that bring them to our beloved sport.
This is them, our teqers, our heroes.
Three World Champions with three very different, but also connected paths to the top. Guitler's journey started in 2017 in Ronaldinho's house, where she first saw a real Teqball table. She became fascinated by the new sport and started to upload videos on social media that became viral. Jawad of the French Federation took notice and invited Guitler to the World Championship in Reims in 2018, and she chose Marcos Vieira da Silva, aka. Marquinhos as her partner. They still have not had too much experience (they used to play Futmesa and Footvolley together, and also produced a lot of videos), but they started to train really hard.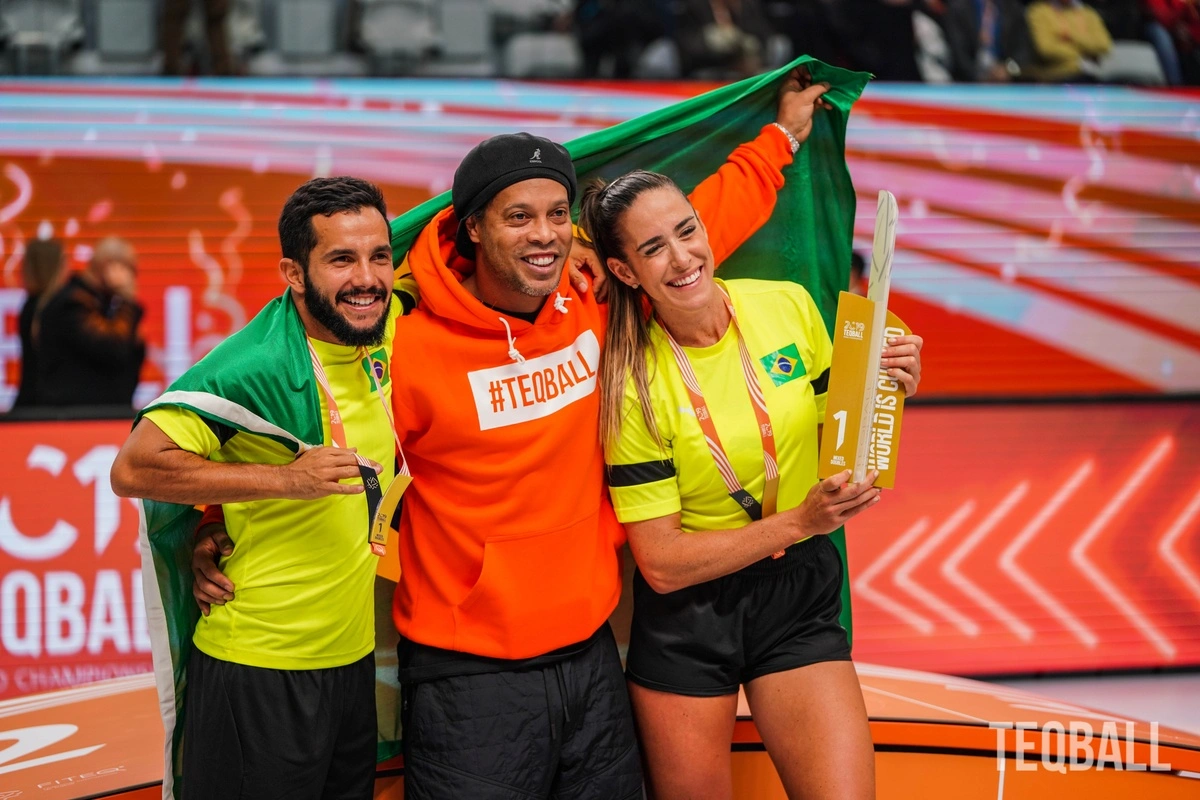 MMarquinhos (left), Ronaldinho (center) and Guitler (right) at the Teqball World Championships 2019 in Budapest, Hungary.
"Here in Brazil we had no idea what Teqball was, but we trained a lot to get there competitively because we knew how important it is to represent our country. And it worked out really well, we managed to reach 4th place, participating in the open category, Natalia playing on the same level with the men. It was an incredible experience and since then I admire Teqball !" - said Marquinhos about their first event.
Yes, Guitler took part in the men's doubles and reached the top 4 on her first try together with Marquinhos. The year after, in 2019, the mixed doubles category was established, where they lived up to the expectations and won Brazil's first-ever world championship title:
"We won the first mixed tournament of the sport and I became the first woman in the sport to win a World Cup. It was a memorable moment for me because it was held in Hungary, the place that started the sport with an amazing atmosphere. Ronaldinho was also there, and a lot of players were watching us, so it was unforgettable for us." - remembered Guitler, and Marquinhos also will never forget that moment.
"Ronaldinho handing us the World Champion trophy in 2019… have you ever imagined your idol handing you the realization of a dream and then hearing the national anthem from the highest place on the podium? Impossible to describe the feelings of that day."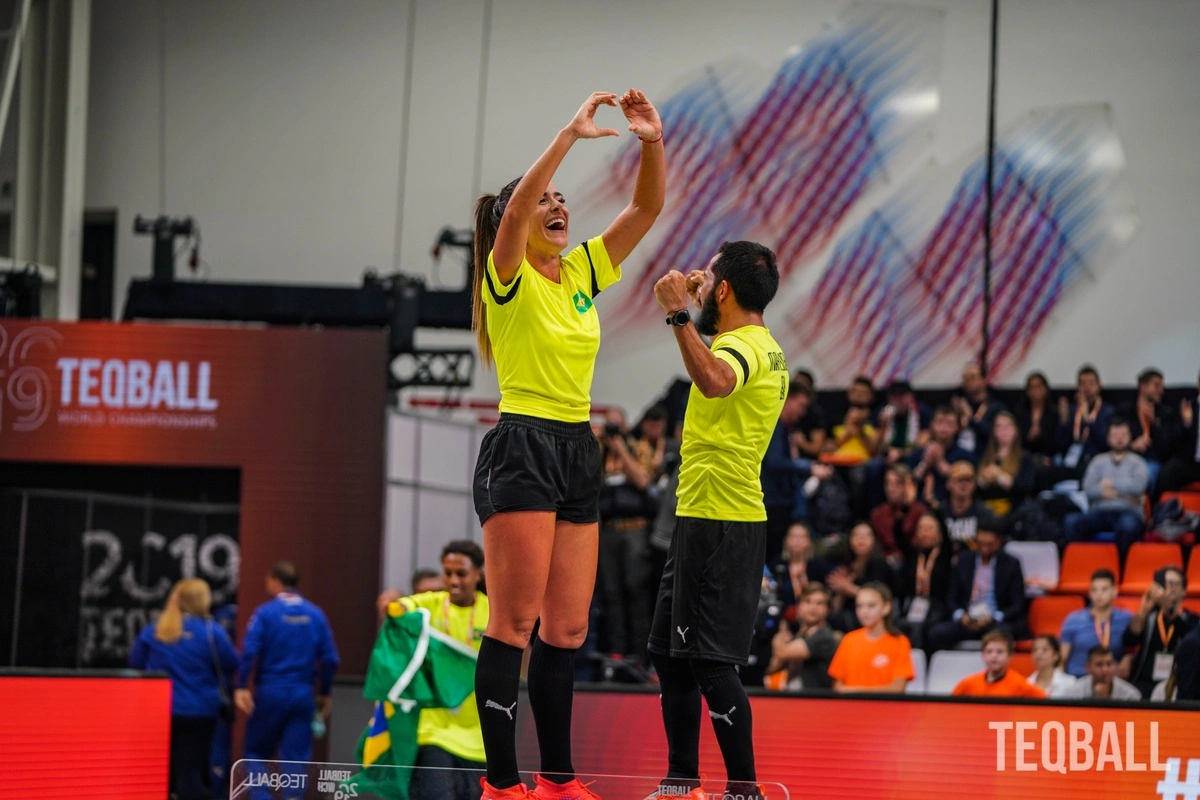 Guitler & Marquinhos showed the World what "joga bonito" means in Teqball.
That moment meant a lot to many young and up-and-coming talents, too. Rafaella Fontes was 17 years old back then, and had been watching many videos of her idols, Guitler and Marquinhos.
"I started training on the beach where I played footvolley with some friends. I always accompanied Natalia and Marquinhos, I was very inspired by them and I was watching the videos of the games in the World Cup. Then I met Natalia and we started training footvolley together, but one day at the training, we tried the table. I still had some doubts about the rules, so she taught me about them and after that, she called me to train Teqball together."
Fast forward to 2021, and Fontes joined her idols as the third world champion of Brazil. She and Guitler practiced and prepared a lot to be ready for the sport's first women's doubles tournament in the World Championship, and in the final, they defeated Carolyn Greco and Margaret Osmundson from the USA in three sets.
"It was a unique feeling for me, who had never left the country, everything was brand new. Being able to come home with the world title and see that all the effort was rewarded was something inexplicable." - said Fontes, who suddenly turned into a role model from being a fan.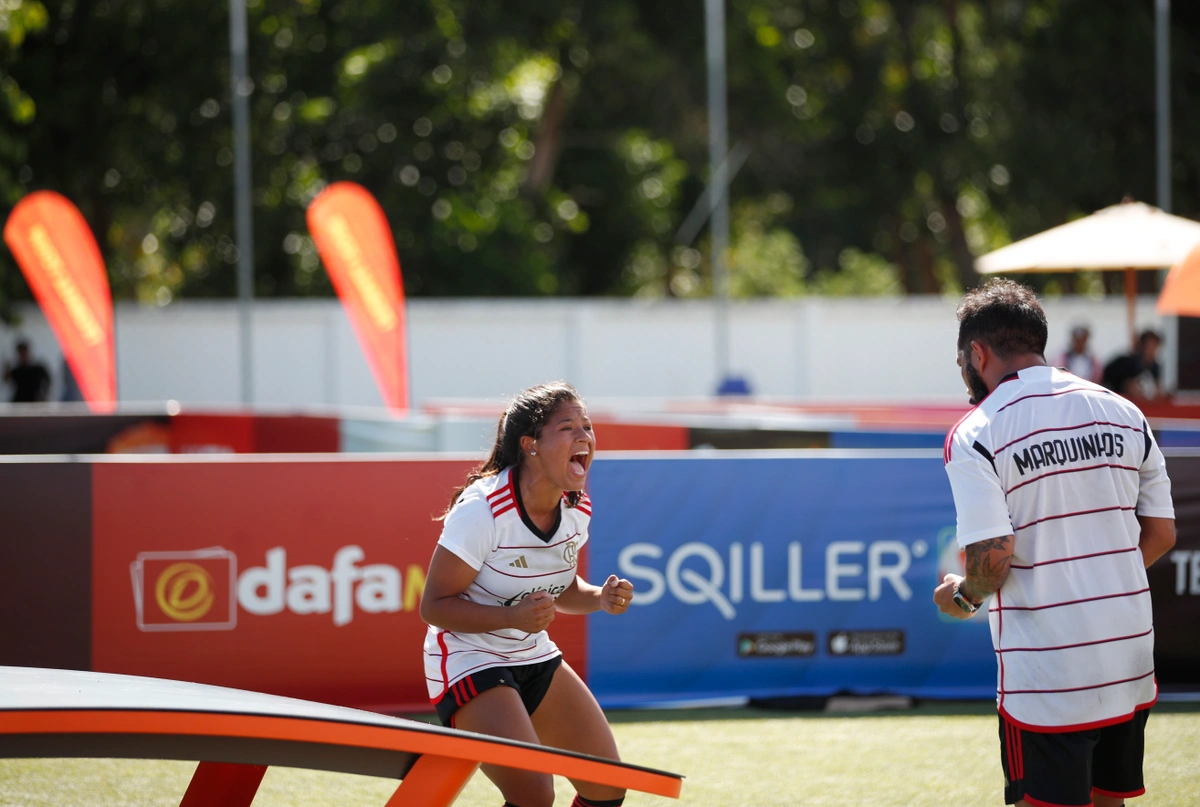 Raffaela Fontes & Marcos Vieira da Silva, aka. Marquinhos celebrating a point at Teqball Tour 2023 in Koh Samui, Thailand.
It was the second title for Guitler and they won the bronze together in 2022, but after that, things went downhill for her. She has been dealing with a series of injuries lately and has yet to play a game in 2023. Fortunately, she is healthy now and looking to make a comeback in her hometown, Rio de Janeiro.
All three of them agree that it is going to be an important and highly competitive event by having many "rough diamonds", and for them, this event could mean a potential breakthrough.
"Knowing that many people play or learned about the sport after our success in 2019, that children play with the aim of becoming world champions like Marquinhos, Natália and Rafinha means a lot. Especially in our country, which lacks opportunities, showing that Teqball is another chance to change their lives, it's really cool! Teqball in Brazil still has little support, all the action started from the athletes themselves who wanted to be World Champions. But now that Flamengo, which is one of the biggest clubs in the world, believes in the sport, other clubs are also investing in it. The support of the Brazilian federation was also and is very important. Here at Flamengo, we are polishing some jewels, Vitalzinha, Antonia, Luizinho, China, Davi to name a few. We keep an eye on recruiting talents for Flamengo Teqball."- claimed Marquinhos, who is a trainer himself. Guitler and Fontes make no exception as they both teach football, Teqball and footvolley to children and are determined to give back to the community.

Bento Medeiros (BRA) will also participate in Rio.
They know what it takes to start from zero and become a hero, and can also share their experience of what kind of reception they got back in Brazil after they won gold medals. The success also kept them hungry as they are still motivated to bring more hardware to their country. Guitler and Fontes highlight winning more world titles and then hopefully representing Brazil in the Olympics if Teqball gets picked up for the programme.
Marquinhos has goals with Flamengo and puts emphasis on helping and educating the young:
"My goal in Teqball is to make history with my club, winning as much as I can but also helping others to develop and guide them to follow our path…helping the youngsters to grow as a player and as a person. To leave a legacy in the sport."