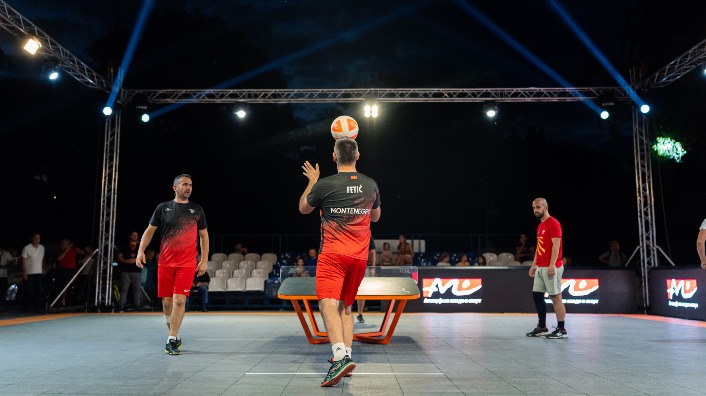 Liman stayed undefeated in the first season of ATL
Skopje hosted the last edition of the Adriatic Teqball League where Liman was unstoppable.
Teqball had its most significant promotion in Skopje since the organization of the European Teqball Tour at the beginning of the year, with many visitors having the opportunity to get acquainted with the sport.
Nikola Mitro and Bogdan Marojević, members of the teqball duo Liman, celebrated their victory at the fifth and the final tournament of the Adriatic Teqball League hosted by the capital of North Macedonia. The three-time world champion duo from Novi Sad defeated the team from Podgorica "Kurjaci" - Marko Žarković and Andrija Jovanović, with a score of 2-0 (-3, -3) in the finals.
They arrived unbeaten after four stages of ATL including Bar, Zarad, Sarajevo and Zlatibor and once again confirmed their status as the region's best men's double.
"We are pleased to have been a part of the final tournament of the Adriatic league in Skopje, which served as the grand finale of this exciting story this year. We are absolutely satisfied with both the organization and our performance in this league. We hope that this project will reach an even higher level next year because the region deserves it. This league is significant for all Teqball players living in the Balkan, not only for the tournament itself but also for gaining experience for international competitions organized by the International Teqball Federation." said Nikola Mitro, expressing his satisfaction.
The most pleasant surprise of the tournament was the squad of Macedonian representatives Dimitar Pejčinovski and Radoslav Mitro, who reached the semifinals. In the quarterfinals, they eliminated the PG Teqers from Podgorica in three, then they faced a tough matchup against Kurjaci in the semifinals and were defeated in two close sets.