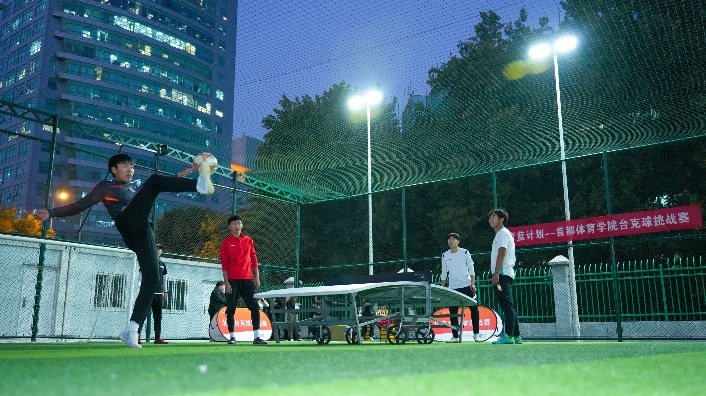 First Teqball tournament with BODA at CUPES
CUPES together with BODA under the wings of FITEQ organised the first Teqball competition for its students.
The Capital University of Physical Education and Sports (CUPES) together with Beijing Olympic City Development Association (BODA) under the wings of FITEQ organised the first Teqball competition for its students.
Altogether 35 players faced each other in four categories (women's & men's singles, women's & mixed doubles).
Among the men, Wang HaoRan and Li Lin gathered one golden and one silver medal, as HaoRan won in MS and finished second in doubles, while Lin did the opposite.
"I really enjoyed the competition and I am grateful that we have the opportunity as students to get first-hand experience with Teqball. I believe it was a great opportunity to promote the sport and the tournament helped everybody to learn and understand more about Teqball. As a result, many students got interested in this sport. – said Wang HaoRan
In women's singles, Cai Lin could not be defeated and she finished as the most decorated teqer at the competition as she also triumphed in mixed doubles along with Zhou Jie.
"A significant milestone was achieved in the promotion of Teqball in China four years ago with the forged strategic partnership between BODA and FITEQ." - highlighted Mr. Cui Kuo Executive Director and General Manager of Beijing Teq Sports Co., Ltd. "Since then, Teqball has become a popular sport in Beijing. The launch of the Teqball elective course at the Capital University of Physical Education in September 2023 and the Teqball Challenge Cup made clear, that young people in China have great enthusiasm for Teqball, and it was a really nice experience to share the great value of Teqball sport with committed teachers and students. In the future, we will continue to work hand in hand with FITEQ to promote the development of Teqball in China."
FITEQ's partnership with BODA dates back to September 2020, when Teqball was featured at the Beijing Olympic City Sports Culture Festival as part of the sport's official launch in China. BODA is responsible for implementing the Beijing 2008 Olympic Games legacy projects and also plays a key role in supporting emerging sports in the city.