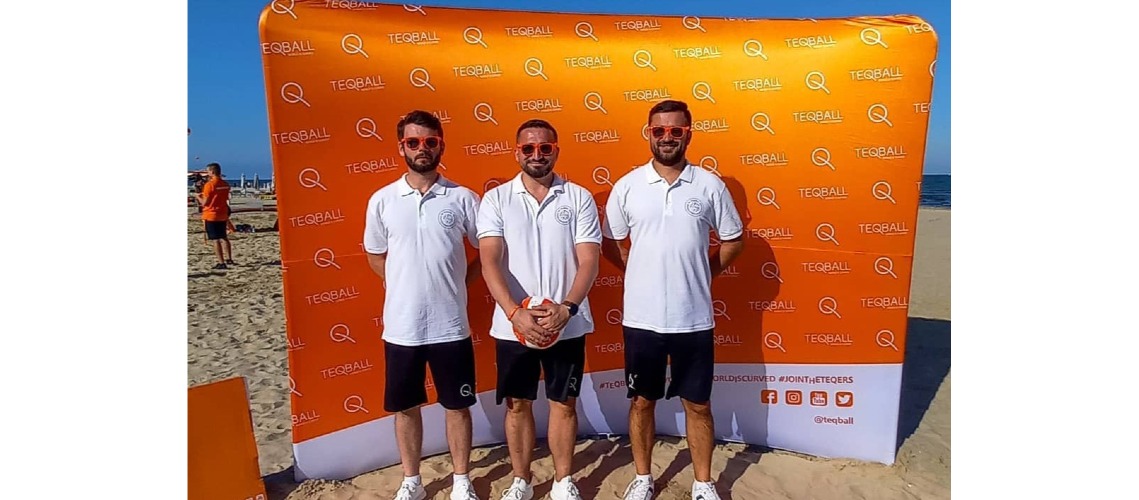 Chief Polish Teqball Referee gives insight into FITEQ officiating
Leading teqball referee Marcin Szyda has spoken to FITEQ about his experience as one of the sport's leading referees.
Leading teqball referee Marcin Szyda has spoken to FITEQ about his experience as one of the sport's leading referees. Szyda is an experienced, internationally qualified official and is the Chief Referee in Poland. His development has been supported by FITEQ and the Polish Teqball Federation, which is continuing to grow in all areas across the country.
This exciting period for Polish teqball is enhanced by the fact that the country will host the prestigious European Games in 2023, where teqball will be making its debut as a medal sport.
Szyda was amongst three Polish referees invited to officiate at the European Teqball Tour in the Italian city of Cervia, which saw elite level matches take place between some of the world's best players.
FITEQ caught up with Szyda, who shared insights on his journey as a teqball referee.
When was your first Teqball refereeing training course and how have things developed since then?
The first FITEQ training course was in December 2018. These events have always been organised efficiently. This is why you see the number of referees continuing to grow in line with the sport itself.
We are hosting more and more teqball competitions here in Poland, including National Challenger Series' and even the 2023 European Games – where teqball will be played for the first time! As a result, the support from FITEQ, in collaboration with the Polish Teqball Federation, to develop the officiating side of the sport is very welcome.
How many competitions have you refereed?
Personally, I have refereed around 40. These include competitions in Hungary and the Czech Republic. This doesn't include the many local and regional events held in Poland. The growing teqball event portfolio is providing excellent opportunities for referees to gain experience at the highest level of the sport.
What is the process a referee must take to be able to officiate international events?
The first step to become internationally recognised is that you must attend two courses across two days. These are typically very well attended. These courses cover officiating theory, as well as practicing match situations. Upon successful completion, referees have plenty of chances to work as a referee, as in Poland and around the world competitions are organised regularly. This gives Polish referees the chance to develop on the national level first, after which the National Federation may propose the most experienced and active referees to the international level.
In addition to this, there is the online FITEQ educational platform, which is designed as an introductory stage to help referees gain a foundational understanding of the sport. I thoroughly enjoyed this online course, which is both fun and engaging.
The level of support shown by FITEQ to help athletes, coaches, and officials to progress in teqball is really helping the sport grow and develop.
What are your future ambitions in teqball?
My primary goal is to further develop teqball in Poland and the wider world. I also would love to referee the finals during the Teqball World Championships, and one day referee teqball at the Olympic Games!
With the Polish Federation launching provincial leagues to develop the national team for the European Games in 2023, as well as the upcoming fourth Polish Championships, it is an exciting time for teqball in my country. I aim to do my part in helping the sport continue to grow locally and internationally. The next destination I am heading to is Budapest for a Teqball and Para Teqball Cup, which is a key milestone in the development of para teqball. With my attendance I would like to inspire more para-athletes.
I never expected that I would fall in love with a sport other than football and would like to give myself entirely to it, but teqball has truly captured my heart!
Szyda is an excellent example of the opportunities available for aspiring referees. Alongside Szyda, there are a number of other Polish referees are on a very high level internationally. Looking ahead, and in alignment with FITEQ's values, the aim is to see the involvement of more female referees in Poland and around the world. There is a significant support to help individuals aiming to enter the sport through the online education platform and FITEQ-organised training events all around the world.