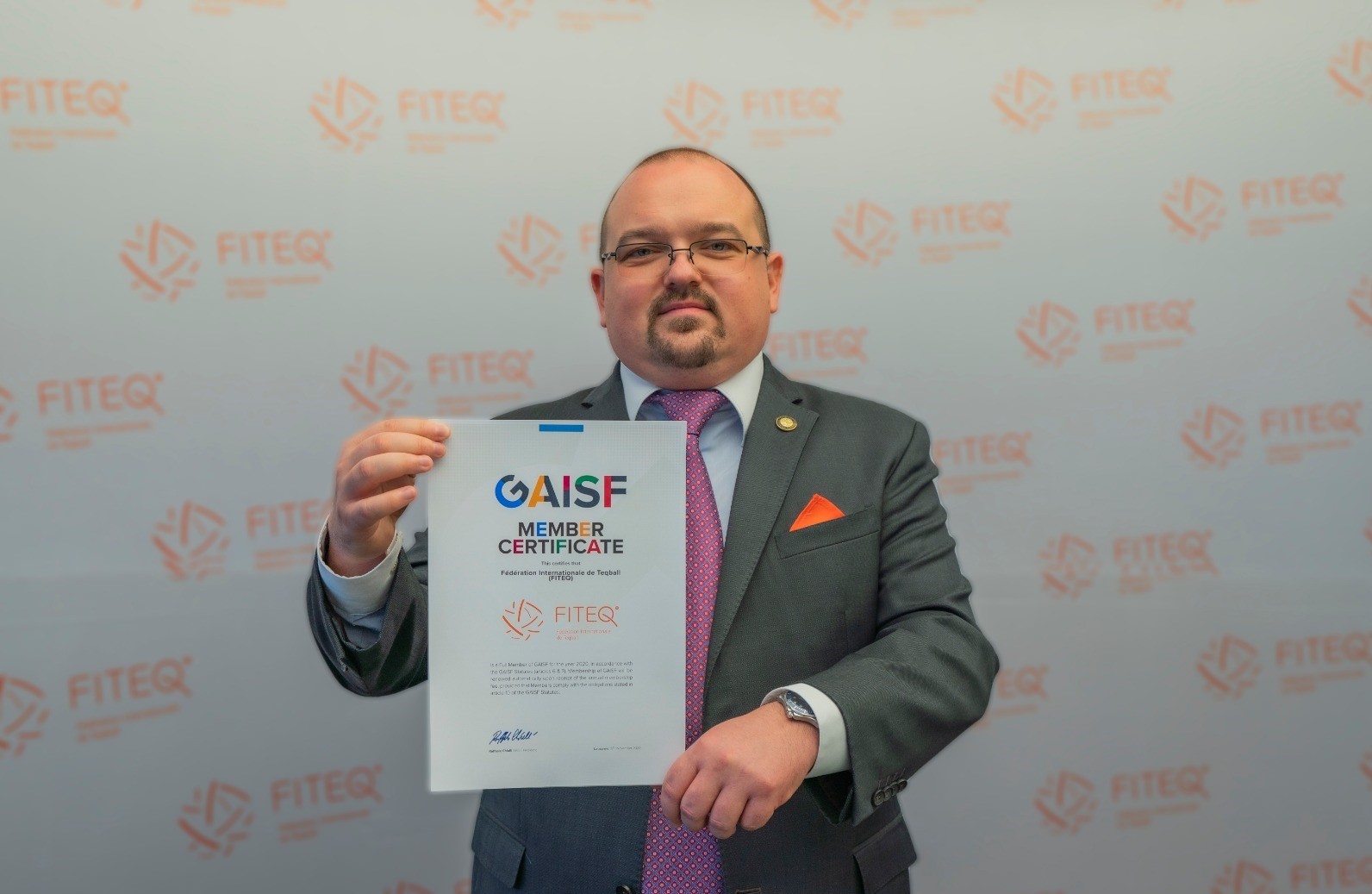 Marius Vizer Jr, FITEQ General Secretary, reflects on the milestone of GAISF Full Membership
FITEQ was approved as a full member of the Global Association of International Sports Federations (GAISF) on 10 November. This approval came in record time, reflecting the speed at which teqball is growing all over the world. This marked a major milestone for the global teqball family and it opens the door for an even more exciting future for the sport. FITEQ General Secretary Marius Vizer Jr discusses what full membership means for FITEQ and outlines what is next for the world's fastest growing sport.
At the GAISF General Assembly on 10 November, FITEQ was approved as a GAISF full member. How important a milestone is this for teqball?
This is a huge milestone for teqball and really it is the birth of our sport. It is proof of our hard work over the past few years. With this recognition, we are a part of the global sports family and now we have to build on this through education, development programmes and the implementation of many more exciting projects. We also know that this is only the beginning of a very long journey! FITEQ would like to thank the GAISF President Raffaele Chiulli, the GAISF Council and the whole GAISF family for placing their trust in us. This is motivation for the teqball family to work even harder and to prove that they were right to trust us.
Can you tell us a bit more about what GAISF full membership means for FITEQ and how it differs from its GAISF Observer Status?
GAISF Observers are typically given a two year timeframe to fulfil the criteria for becoming a full member, which can also be extended if a federation needs more time. FITEQ progressed from an Observer to a full member in just 11 months, which is reflection of how quickly the sport and the federation is developing.
With GAISF membership, we now have the opportunity to knock at the door of NOCs and National Sports Ministries with even greater credibility, as we look for further recognition of our sport around the world. We will also have the opportunity to participate at more multisport events, as well as speak with added impetus with potential new sponsors and partners. FITEQ is now one of the 96 federations that have a voice and a vote in the GAISF General Assembly. It's an honour to be able to have an impact on decisions of the future of global sport.
GAISF full membership means FITEQ is now automatically a member of the Alliance of Independent Recognised Members of Sport (AIMS). Can you share some more information about the work AIMS does?
AIMS is the umbrella organisation that supports GAISF full members that are not yet recognised by the IOC. Being part of the AIMS family will help FITEQ as it looks to progress and become recognised by the IOC. The AIMS leadership has extensive knowledge of this process, which combined with their strong partnerships with sport organisations all over the world, will help FITEQ grow even stronger as a federation.
How will GAISF full membership help teqball's National Federations develop the sport in their country?
There are certain countries where the regulations of NOCs or National Sports Ministries say that they can only recognise a sport if it has GAISF full membership or IOC recognition. We are now expecting a turbo boost for some of our federations, which are fully operational and very active but until now were lacking this recognition. This is a major step for these federations as they will have even greater credibility as a national sports federation in their country and with the support of their respective NOCs and Sport Ministries, they will be able to take teqball to the next level.
What does GAISF full membership mean for FITEQ's ultimate goal of becoming an Olympic sport?
This is the entry gate of becoming an Olympic sport because having GAISF full membership, being a World Anti-Doping Code Signatory and having 50 GAISF recognised federations are all requirements before being considered for IOC provisional recognition. With all of the above in order, we are fully focused now on the IOC recognition process.
This is the next step in our dream of being part of the Olympic Games. We know there is a long way to go but we are very ambitious and we would be honoured to be considered for the Games in LA in 2028, which is realistically the earliest opportunity for teqball to become an Olympic sport. Being part of the Olympic Programme requires you to be a popular sport in the host country, as well as a sport with global appeal. We are focusing on our growth in the US, with more and more tournaments being hosted across the country each week and we will keep working hard to continue this, as well as focusing on developing the sport in all five continents.
Following this landmark milestone for FITEQ, what are the main objectives for 2021?
In addition to seeking IOC provisional recognition, our goal is to keep supporting the establishment of National Teqball Federations, which will enable more and more people to play the sport. We will continue to assist existing and new federations to ensure that we have high-quality teqball competitions all over the world, supported by a strong grassroots programme. We would like to make teqball available and widely played in every country.
Next year, teqball will also be part of the Sanya Asian Beach Games, a competition organised by the Olympic Council of Asia. This will be the first time that teqball is a medal event at an event organised by a Continental Olympic Association. It is an opportunity for us to shine and to show the world that we can live up to the high standards of the Olympic Movement. We will also be a part of the Asian Indoor and Martial Arts Games, which is a further chance for teqball to show Asia and the rest of the world the excitement that the sport brings.
01 Dec 2020