Heroes of Teqball: Carolyn Greco
Teqball irrevocably joined the group of sports where USA have to be taken seriously in 2022, as Carolyn Greco won the country's first-ever World Championship gold medal.
In almost every game that includes a ball, athletes from the USA have to be taken seriously. Teqball irrevocably joined this group of sports in 2022, when Carolyn Greco won the country's first-ever World Championship gold medal.
Behind every teqer is a story, a life to be shared.
Everyday people with no ordinary skills.
An exclusive feature through fiteq.org with the best athletes of Teqball tell their own backgrounds whether it is destiny or something else that bring them to our beloved sport.
This is them, our teqers, our heroes.
"I started as a soccer player, obviously, but I also tried an array of sports: basketball, volleyball, softball, track, cross country, dance, etc. But I was mostly inspired by the US women's national team as a kid, so that was why soccer was one of the first sports I signed up for. When I was about six years old, I remember being glued to the TV watching '99ers kick ass at the Women's World Cup. I was just so inspired and that's how I really got into it to start" – says the World Champion about the beginning.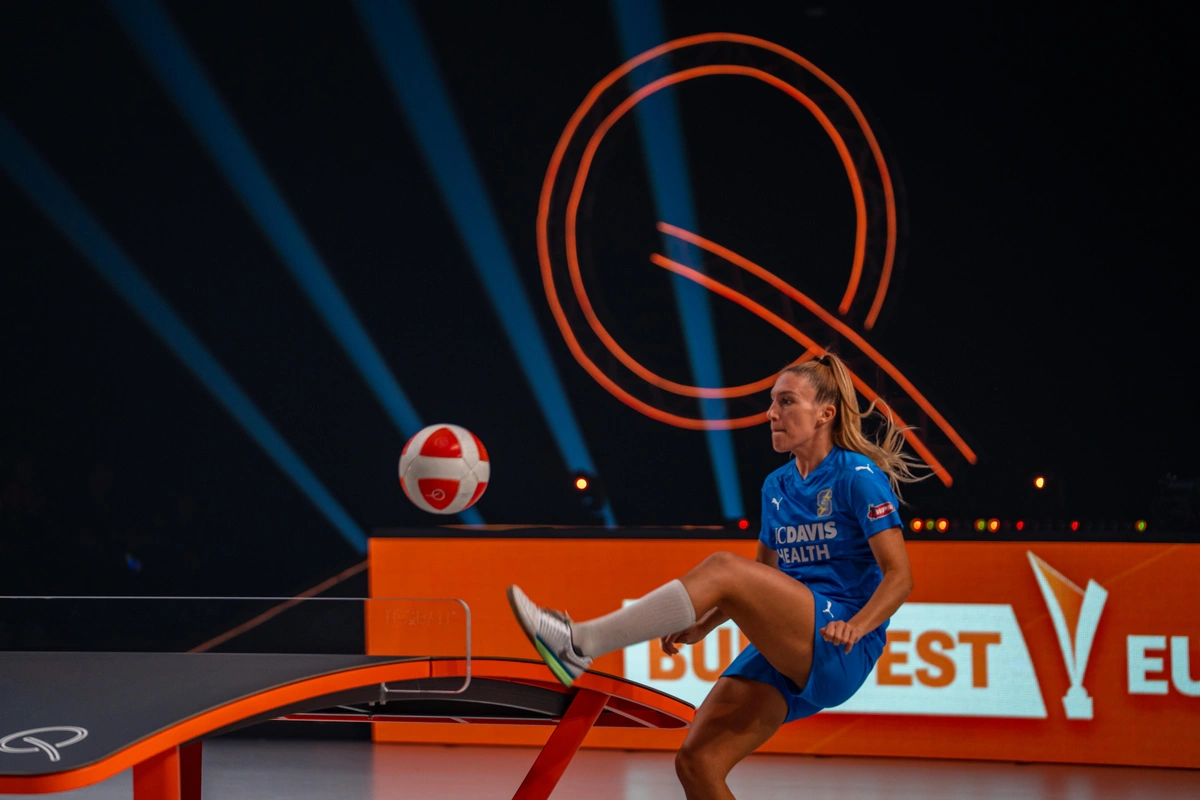 "I have an older brother who inspired me tremendously. He dominated every sport and was very competitive. We naturally had a healthy sibling rivalry as well. I was constantly copying him, and following in his footsteps. Unfortunately, his story is riddled with adversity. For the past 10+ years, he struggles with severe, debilitating mental illness. He has bipolar disorder and has been hospitalized probably over 20 times because of it. It has been tremendously hard for my family, and I always think of him whenever I am playing. He was really the person who always had big dreams for the both of us to play professional sports, and I wouldn't be here in this position as a "World Champion" if it wasn't for my brother. I am constantly reflecting about how I dedicate my journey in sport to him, and to making my family proud."

As a kid, she was taught to go the academic route and she is still thankful for that, too, because she had good study habits and work ethic that led to her career in sports, and that obviously translated really well. But hasn't had the idea of becoming a professional athlete until her senior year in college, where she still played soccer.
"In 2015, it was my senior year in college, my last year of eligibility in the NCAA. And I was like 'This might be my last year of playing. I might end up going to the academic route after this, get a normal job, and just do life like normal people after this.' And I didn't want that. I loved soccer. I was so just sad that this was going to maybe be my last year of competitive sports. And then I said, 'I'll stop playing when I stop winning, and I'm going to put everything, all my eggs in one basket for this season, I'm going to really focus only on soccer.'"
It turned out to be a very successful campaign, they won their conference and Carolyn became an All-American, which was also one of her goals. She went to play overseas professionally and she enjoyed that adventure a lot, one time she made it to the Swiss Cup final with her team, but in 2019 she felt that she was ready to go home. And that's when she was introduced to Teqball.
"And then I ended up meeting Frankie, who is obviously my fiance now, but also he was the first representative from the US to play Teqball. He said that they were looking for some female players and at that time I was really wanting to say in LA, but I was also really intrigued by the potential of becoming an Olympian. I was four years into four titles and I was like 'wow I'm on a roll here' and this could be my shot at becoming an Olympic medalist if I play my cards right.
I just kind of decided, why not try something new and see if I can play at a high level in Teqball? And I absolutely fell in love with the sport, too. It's so much fun."
The transition wasn't easy, but she made the decision to fully commit to Teqball. She didn't want to continue to play soccer in order to avoid injuries and she felt that there was a new career ahead of her.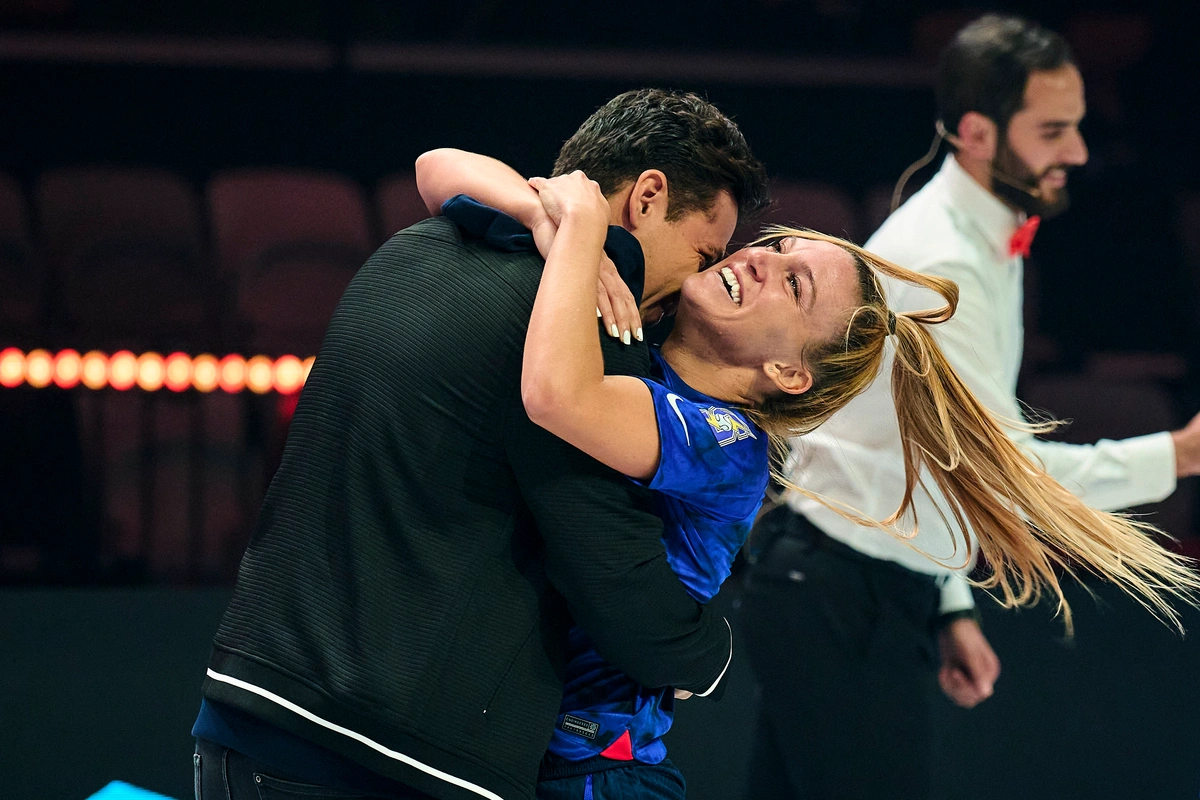 Some of the routines have changed, some haven't. Carolyn learned how to juggle duties off and on the field because her career started as a student-athlete and she's still working and playing since graduation.
" I joke with my parents that I've been a student-athlete my whole life. I actually ended up studying energy design and management, and now I work for a water utility where I calculate their carbon footprint, with the goal to reduce their emissions related to their energy use. It's been a really successful program. We've reduced almost 22,000 metric tons of carbon dioxide equivalent on an annual basis now for the last few years and I'm a part of that GHG reporting and verification process. I've been a part of this emissions reduction program since 2016. I actually started this job as an the internship I had in college, and they hired me afterwards."
But the preparation process of an elite Teqball player differs from what she got used to during her days in soccer. It turns out, to have a wall is a must.
"I think a lot of wall training is key. Going up to a wall, and passing it in the air to yourself with different combinations is really helpful, especially the inside foot touch in the air is really important, and the chest pass.
Those are all good things that you can practice with a wall. But outside of the actual physical aspect of mastering certain skills, I think that it is a very mental sport. In soccer, you can be patient and find passes, and get in the zone and the flow. But there's so much stop and go in Teqball, and every touch is a point that there's this different kind of mental pressure in this sport. Off the field you really have to find ways to test yourself to be able to stay calm under pressure, maybe some meditation, visualization techniques, maybe some breathing techniques so that you can work on keeping your head cool during big points. That comes with practice as well as playing in those big games, but also I think that a lot of those techniques can be practised outside of the court that ultimately translate really well into the game."
As a former team sport player, she had to make other adjustments to achieve great success in an individual sport. And the result speaks for itself. Although she still enjoys being on a team and has amazing memories from team trips, Carolyn takes pride in having individual accolades and reminds herself that she is capable of doing things on her own. However, she describes the Teqball journey as an experience that sometimes becomes a bit lonely.
Skillwise, she considers herself an all-around player with defense being her strong suit. She's aware that she needs to improve the attacking side of her game and has been working on that a lot.

"I've put in so many hours to try and master the smash and placing headers strategically throughout the table" – she claims.
Results and fulfilment won't come without dreaming and working them, and one of those became a reality last year when she won the USA's first-ever gold medal at a World Championship.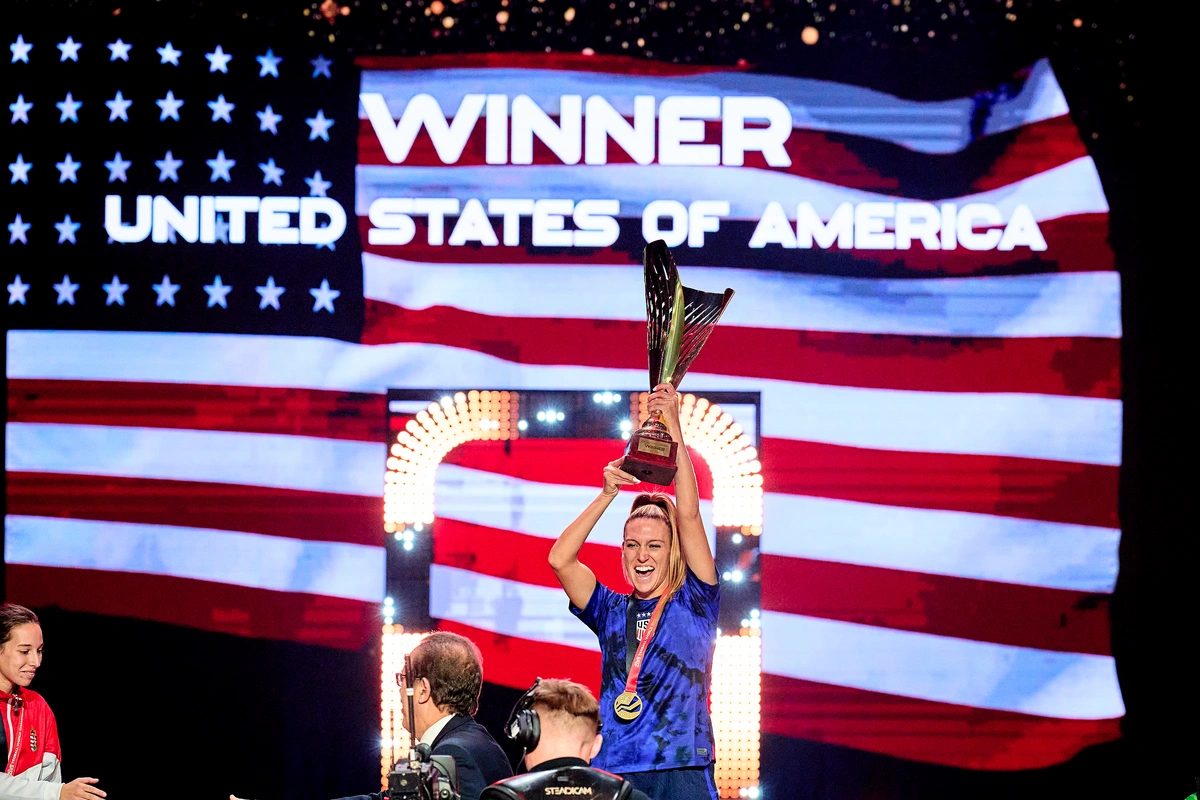 "That's something I'll cherish for the rest of my life. I'm really proud of myself for this one. When you set a goal, and then you persistently go at that goal with determination every day, and then you achieve it, it's such a great feeling. I wish this gratifying feeling upon everyone truly. No matter what your goal may be, big or small."

Carolyn's fiancé, Frankie Diaz is also a teqer, and they usually compete together in mixed doubles. This is not an ordinary situation, but they are getting used to its ups and downs.
"It definitely comes with its challenges, but I think that there is more positive than negative in the situation just because we're best friends. We get to train with each other every day. We get to travel all over the world together in the sport. There are just so many beautiful experiences that we've had by playing Teqball together. And on the flip side, I do feel that it's almost like a yin and yang situation where the high highs come with low lows. And when you go after something that you love, you're not actually going to have losses and failures along the way. But yes, we do sometimes take the losses home and it does translate into our personal lives for sure because we're crossing that boundary of teammates and life partners. Overall I think the experience is more positive than negative. And when you are experiencing something negative, it's better when you have your partner in your corner. Whenever I'm dealing with some loss or maybe it was a really hard moment in a game, I know that Frankie is in my corner experiencing it and holding my hand along the way. So I wouldn't change it for anything."
A 30-year-old woman, who became the best in what she does together with someone she loves, but also has bigger goals: to make the world a better place.
"I've always had that in mind. I think that's kind of a classic millennial saying that we want to have this impact. And I was certainly subject to that ideology growing up, but it's definitely worth it. I love what I do. And I think we live in a world today where you can go after what you love to do and make a living from it, which is really cool."