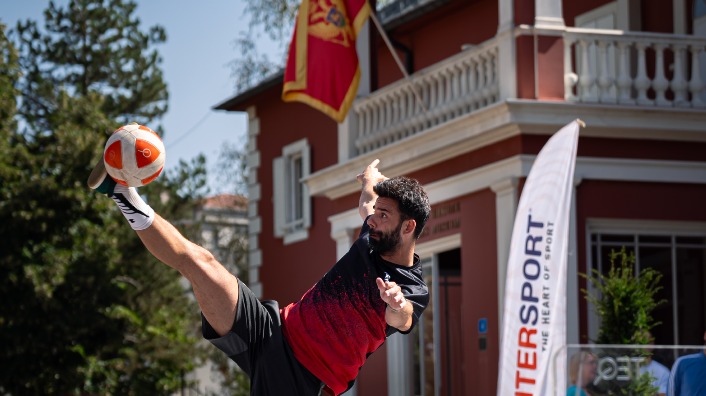 Dominant Kurjaci at MTL
The final event of Montenegro Teqball League decided not only the title.
The Podgorica team "Kurjaci" won the final tournament of the Montenegro Teqball League (MTL), which was held in Cetinje, also confirming their participation in the World Teqball Championship 2023 in Thailand. Kurjaci's member, Marko Žarković, will also represent Montenegro in Men's Singles category.
The summer tour in the Montenegrin Teqball League concluded with a tournament to remember, which brought together 64 competitors in four categories, who competed for a prize fund of 1,500 euros.
In the former royal capital of Cetinje, the final tournament brought a lot of excitement and a true Teqball spectacle. Especially in the final of the main category, men's doubles, in which "Kurjaci" defeated the main competitor, the "Stroj LOB" team, in three sets, saving two match points on their way to the title. They achieved their fourth triumph in a row at the MTL summer tour with a 2:1 win in the final (-2, 4-, -13).
Reaching the finals of the tournament was enough for Kurjaci to win the league, however, their spot at the World Championships was seriously threatened as "Borac" from Bijelo Polje did not valorize the match point in the semis against Kurjaci.
In men's singles, Montenegro has a new champion. "Kurjaci" celebrated a double victory, as Marko Žarković defeated last year's champion, Željko Janković in two sets(-5, -9).
"I am still recovering from the scare we got in the semifinal of the doubles category. We definitely did not choose the right time to play the worst match of the season, but luckily we survived. I must also say that I am very happy I will represent Montenegro in the singles too'' – concluded Marko Žarković after the event.
The new champion's teammate, Andrija Jovanović, celebrated in another final – alongside Jovana Zlatičanin, he won first place in the mixed doubles category. The team "Profesori" was better than the "PG Teqers 2" team, represented by Vaso Pejović and Sara Draganić, with a score of 2:0 (-5, -9).
Youth categories were also included in the competition, as 12 teams from the local football clubs participated. The best team was Vaslilije Jablan and Simon Kršić, who beat Bogdan Borilović and Danilo Maljević 2:0 in the final and won an Intersport voucher of 100 euros each.
"This year, MTL had 5 tournaments organized in all parts of Montenegro. At each event, I was always in awe with the difference in level of play between 2 tournaments as it continuously evolved. Our players are obviously working hard and participating in ATL as well as playing with the very best teams in the region, has helped them. I can now say with confidence that Montenegro has 2 teams that have the potential to compete with the top lines in the world." said Milorad Sutulovic, president of Montenegrin Teqball Federation.