Heroes of Teqball: Marcin Szyda
If they do their job right, they are invisible, but if not...life of the referees in Teqball.
Being a referee is not the easiest job in any sport. They constantly have to face anger, temper, animosity and questions about their acts. But they are still part of the family, especially when they are there from the very beginning. Their decisions can make a huge impact on fates and lives, but it can work vice-versa, too. Marcin Szyda is a great example because Teqball changed his life.
Behind every teqer is a story, a life to be shared.
Everyday people with no ordinary skills.
An exclusive feature through fiteq.org with the best athletes of Teqball tell their own backgrounds whether it is destiny or something else that brought them to our beloved sport.
This is them, our teqers, our heroes.
"I have been part of the Teqball family since its establishment in Poland. We did the first tournament in a little city near Wasaw, Podkowa Leśna, which is basically the birthplace of Polish Teqball. My friends called me that they were about to organize this tournament with the help of Hungarian mates and asked me if I wanted to be involved in some way. They were looking for people to officiate the matches, and this is how it started for me in 2017. I have not been a sportsman, but I have a sports soul, I am a fan of traditional football. I got to know the rules of Teqball and I instantly liked it" - begins Marcin Szyda, one of the top referees of FITEQ, and adds that he did not have any officiating experience before, unlike his friends who had come from football or futsal. But he does not think it is a problem because he would not bring any bad or old-fashioned perspective.
He quickly fell in love with Teqball and knew that he wanted to do it more regularly.
"My history is not as romantic as the sport's itself, but it could be instructive to people who want to become referees. To be honest, if anybody told me 7 years ago that I would be part of a sport that is not football, I would have not believed it. But when I got to know the people in Teqball and started to work with them, I realized how much I enjoyed it and wanted to belong. I was a bit old to participate as a player so I found out that the referee position could fit me."
He set the bar really high for himself, but the beginning was not so easy. He was not able to take part in the first training camp for referees in Vaduz because of his private job, but then he attended every minor tournament in Poland, Czechia and Hungary to show the staff from FITEQ that he was actually good at it and envisions a future for himself.
"I really enjoyed the world championships in Budapest in 2019, that was my first one, but I already had my eyes on officiating one of the finals. I took step by step and it finally occurred in my homeland, Gliwice in 2021, so I achieved my first goal."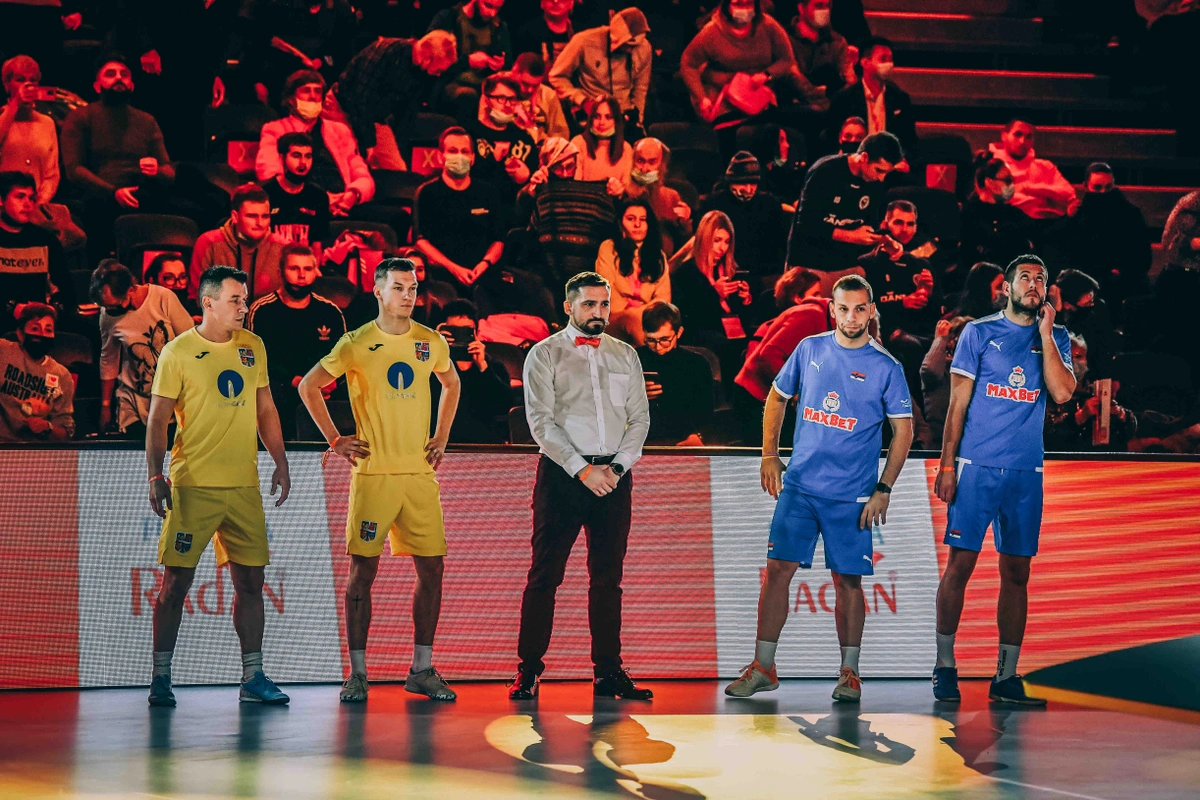 Marcin before his dream comes true in Gliwice.
He definitely encourages others to follow his steps and he has been overlooking his compatriot colleagues as Chief Referee of the Polish Teqball Association. He admits that becoming an internationally recognized ref is a bit harder than it used to be, but confirms that if somebody is talented, committed and ready to prove themselves, they will definitely get their chance.
Just like most of the players, Marcin has a private job that is very supportive, but it was not always the case.
"When I fell in love with Teqball, I told myself that I wanted to do everything to be part of it. I am an insurance broker and I worked for a company that did not share my passion, was not very flexible and gave no help in managing my calendar. So I changed my workplace because of Teqball and it ended up being a great decision: I got promoted to sales director and this firm is a sponsor of the Polish Teqball Association. They love my passion, my boss enjoys Teqball and they gave me 10 extra free days to officiate tournaments. So, the work-life balance is great now, and my wife is also very supportive and I am grateful for that. My family understands that for me, Teqball is a true passion. It changed my life in a very good way and I want to do it until the last day of my life. I really love this sport, it is beautiful and I will do everything I can to improve it."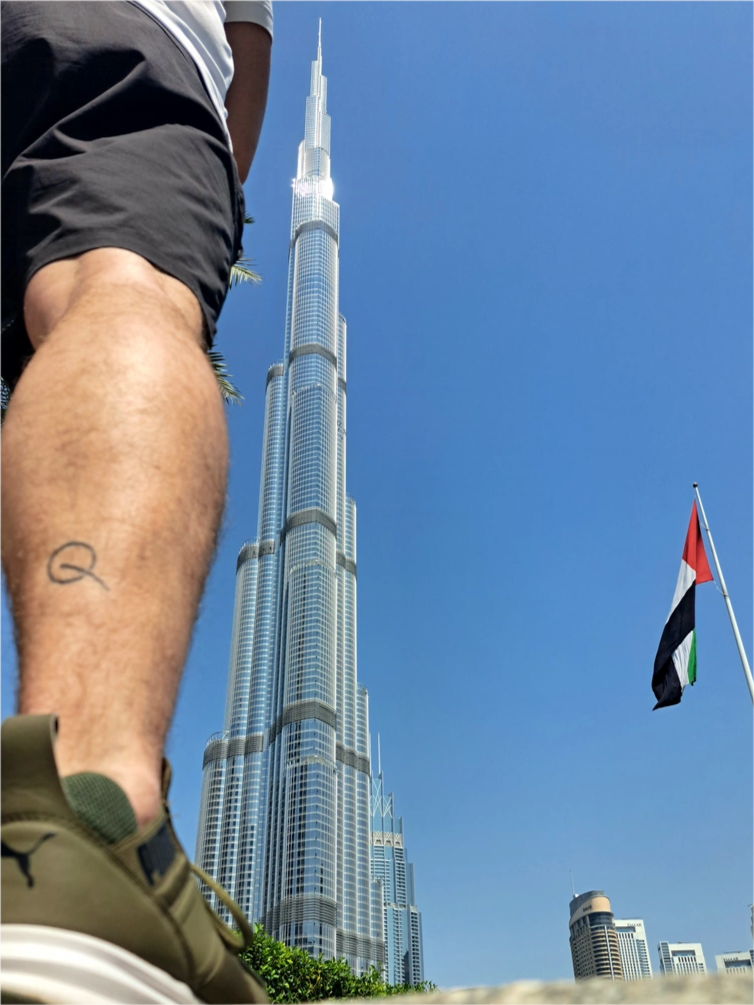 Teqball's signature Q is always with Marcin
Having a steady background always makes it easier to focus on the future and set more and more goals. Marcin also updated his, because he reached the top two: to officiate a WCH final and a European Games final. He says that the most important for him is to maintain his officiating on the highest level while trying to fight against time. He would love to lead an Olympic final, too, but it is something that is not in his hands. Finally, he wishes to wake up one day to realize that he makes a living 100% out of Teqball.
Players, workers, and almost everybody highlight the "family-like community" when asked about the best part of Teqball. But are the referees part of the family or are they still "enemies"?
"It has changed a lot. Years ago, when the community was much smaller, it was usual for players and referees to go out together for a refreshment during tournaments. Now it is getting more serious and it should be this way, of course. We are professionals, so we keep our distance and do not want the gossip that we favour any players because we hang out together. Obviously, it is useful to have a normal connection with them, because it makes it easier to explain our calls. I like to talk, just like Szymon Marciniak in football, who is one of the best referees today. For us, the most important is to be 100% consistent. If I make a mistake, it is never because I like a player or a team better than the other. We understand and know what is at stake for them, and that our calls can affect them and their success or results."
He says he has a strong character as a Polish football fan, so he is not scared of anybody. When somebody shouts at him, he reacts with a good laugh. The players always try to influence them with their behaviour, and his less experienced colleagues can have trouble with this, especially the "good guys."
"One of the worst things that can happen is that a referee changes his or her decision when a player shouts at him. I always tell them to stick with what they ruled, even if it was bad. If I make a mistake, I go to the players after the game and we talk it out, I even apologize if it is needed. But I will not change my call."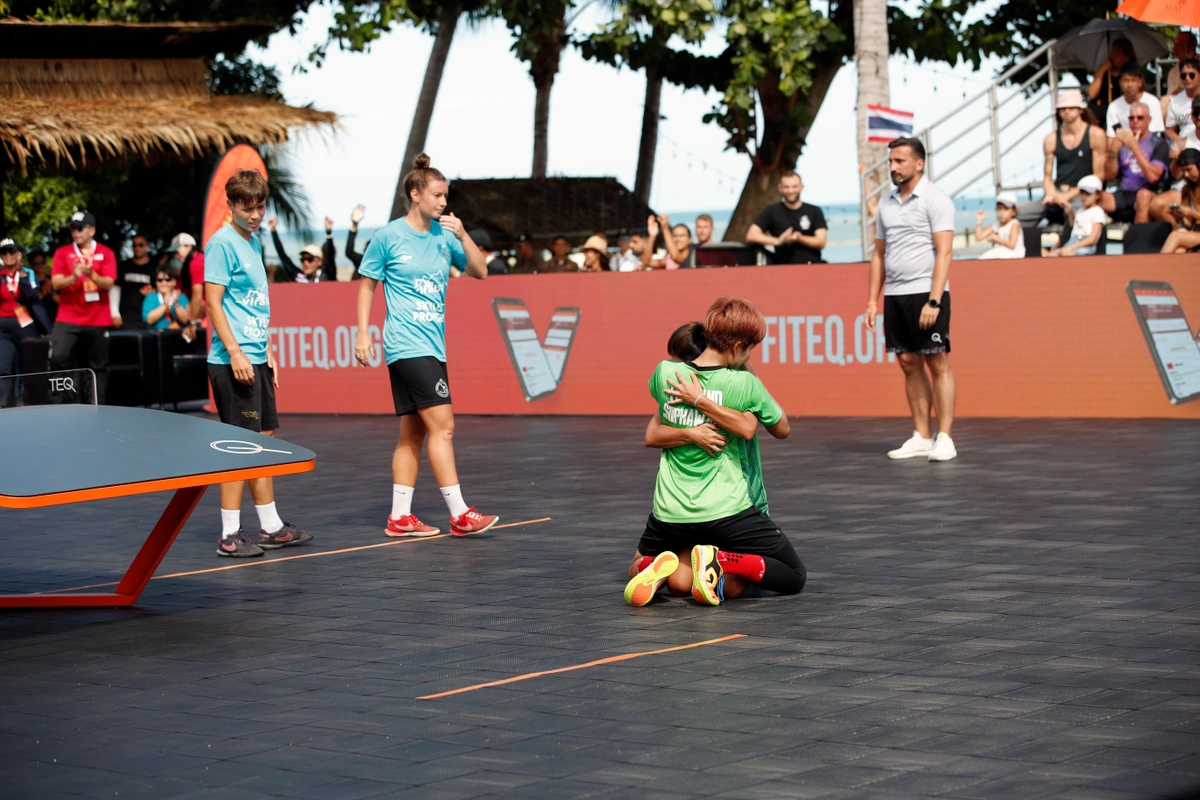 Invisible because hardly make a mistake. Marcin Szyda in the background while the Thai duo celebrates in Koh Samui.
He knows that temper is part of the game, but does not remember a single occasion when he lost control of a match. Sometimes he faces some heated moments with the Serbians or Hungarians, but nothing serious, they just want to convince him of their own truths. He also points out that there is no difference between men and women when it comes to arguing with him in a strong way.
Marcin also says that for him, the toughest situations to judge are edge balls without VAR during group stages, but experience helps. He also adds an interesting thought about the future of the game when asked about potential new rules.
"Rules always change, and Teqball is no exception. There were changes made with the service and with bicycle kicks, now I think the current ones are good. But, what if we add the 3 on 3 format? I know it sounds surprising, but we know that anything can happen. Would not it be interesting?"