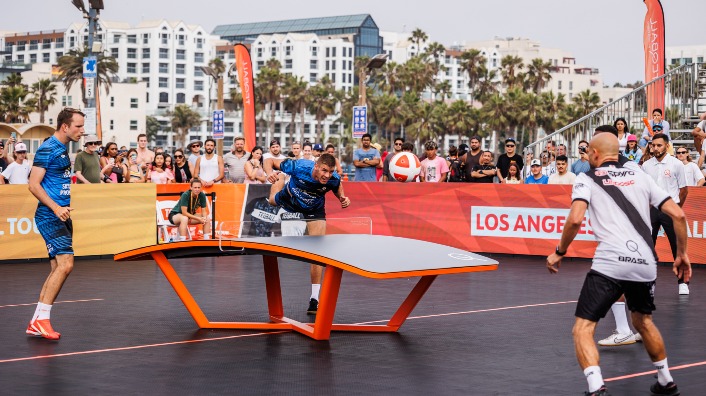 Teqball Tour LA will be a final stop and a rehearsal at the same time
Los Angeles hosts the last rendez-vous before the WCH.
This is the last time when the best teqers face each other before the World Teqball Championships 2023. The host will be once again the City of Angels, and the finals will be held on the beautiful Venice Beach.
82 players from 17 nations taking part in the event in three categories (women's doubles, men's doubles and mixed doubles) as the last act before the World Teqball Championships 2023.
The field is not short of big names, and the women's doubles will be a great example of that. Hungarians Gabriella Kota&Krisztina Acs have been superb since they joined forces, they made it to the final in every single tournament where they played together. Their two silver medals in the past, however, are from Los Angeles and Rio de Janeiro, where they were defeated by Vania Moraes da Cruz&Ester Viana Mendes from Brazil, who are also participating this weekend.
Reigning singles world champion Carolyn Greco would like to get back on track on home soil, she has not found the victory lane since February and finished without a medal in the last two tournaments she competed at. She will have Kimberly Baker on her side this weekend, who collected two bronze medals this year – both in LA.
Petra Pechy and Kinga Barabasi have claimed gold together in a previous event in California in 2023, but this time they will play with different teammates: Pechy with fellow Hungarian Nora Vicsek, and Barabasi with Nancy Avesyan from the USA.
Three-time world champions and World Ranking leader Nikola Mitro&Bogdan Marojevic will miss this Teqball Tour stop, but the men's double still does not lack the starpower. This year's best duo, Balazs Katz&Csaba Banyik would be the favorites by default, and it is also worth noting that they have not lost a single game in Los Angeles in 2023. They are not unbeatable, though, and Leonardo Lindoso Almeida and Leonardo Santana provided the proof in Rio, where they emerged victorious in the semifinal against the Hungarians.
Individual world champ Apor Gyorgydeak teams up with his regular partner, Szabolcs Ilyes to contend for a medal, Adam Blazsovics&Martin Csereklye would also like to be in the mix, and nobody should underestimate the home team of Dennis Correia&Luka Pilic. Frankie Diaz and Branislav Rodman will bring tremendous energy and amazing moves, too, and it is going to be interesting to see a couple of German teams making their international debut.
The mixed doubles event is probably the most unpredictable. Kota&Katz and Acs&Banyik dominated the past two competitions, but the field includes past LA winners from the summer (Viana Mendes&Gyorgydeak and Moraes da Cruz&Lindoso de Almeida), and the fan favourites in Greco&Diaz and Margaret Osmundson&Pilic.
The matches will be broadcasted on our YouTube channel and on ESPN.