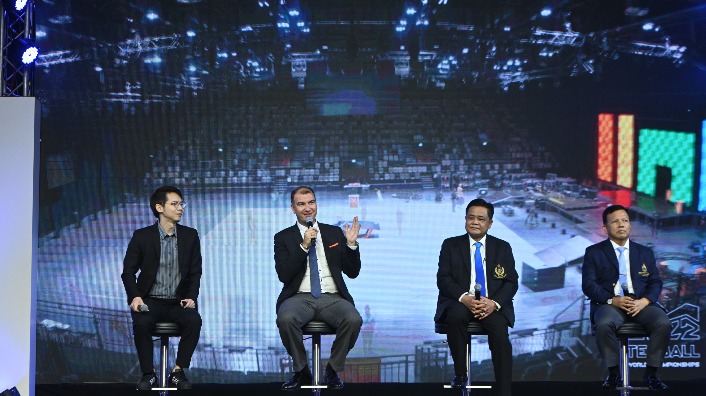 Thailand is ready to organise the World Teqball Championships 2023
Thailand's one of the biggest media company, Mono will be the local right holder of the historic Teqball WCh.
The International Teqball Federation (FITEQ), the Teqball Association of Thailand (TAT), and the Sports Authority of Thailand, in collaboration with Mono Next Public Company Limited and associate companies MONO29, MONOMAX, and 3BBGIGATV, were holding a press conference to announce the organization and live broadcast of the World Teqball Championships 2023 which is the 6th edition of the event, in Thailand.

The World Teqball Championships 2023 will take place from November 29th to December 3rd, 2023 at Huamark Stadium and Bangkok Arena. This marks the first time the Teqball World Championships will be held outside of Europe.
Mr. Viktor Huszár, the Chairman of the International Federation of Teqball (FITEQ) stated "We started to make history ten years ago when Teqball was invented. Only a decade later, we are in the Land of Smiles as for the first time the World Teqball Championships will be held outside of Europe. Thailand has everything to become one of Teqball's powerhouses and we truly believe that the Thai Association of Teqball together with the local government and Mono Next Public Co., Ltd., one of the most professional media and broadcasting companies of Thailand will organize one of the most colourful World Championships ever."

Mr. Prachum Boonthiam, Deputy Governor for Sports Excellence and Sports Science said "Sports Authority of Thailand (SAT) aspires to encourage the Thai athletics standard to a confident level of competition for the championship. As Teqball is a recent newborn type of sport, a grand effort of collaboration of entities is necessary to pursue, develop, and strengthen our national athletes at this early stage. As of now, Thai athletes are strong contenders in both Asian and international fields, though domestic tournaments and global events are important for collecting victories as well. There are many objectives to pursue. In this regard, we are immensely delighted that Mono Next Public Co Ltd. joins forces with us to publicize Teqball to enthusiastic audiences, an action which contributes to its rising popularity. We hope that we could get support from the government and private organizations, to help Thai athletes progress further in Teqball competition."

"The potential of Thai Teqball athletes to reach the level of world champions is significant. However, to support athletes in achieving success, various factors come into play. Teqball is a relatively new sport, and the association was established not too long ago. We are working hard for the success and in building a strong reputation for Thailand in the coming years." highlighted General Ronnachai Munchusoontornkul, the President of the Teqball Association of Thailand and Deputy Secretary General of the National Olympic Committee of Thailand
Mr. Patompong Sirachairat, CEO of Mono Next Public Company Limited, expressed "Teqball is an exciting new sport, in terms of marketing, we could create popularity to the new generations which responded to Mono 29 and Monomax new direction and image. Mono Next PCL is truly honoured to have been entrusted by FITEQ and the Teqball Association of Thailand to have all of our media platforms broasted to increase viewers and engagement in Thailand. This is to increase the popularity of Thai athletes and give sponsorship to Thai athletes to encourage them to become champions in several tournaments. Thus, in this collaboration, Mono and associates have provided live broadcasts of The World Teqball Championships 2023 on our platforms. It will be held in Bangkok, Thailand, Thai fans are invited to watch the games onsite at Huamark Stadium and Bangkok Arena or on Mono 29, Monomax, and 3BB Sports One.

The World Teqball Championships 2023 will take place in Thailand from 29th November to 1st December at Hua Mak Stadium, and 2nd to 3rd December at Bangkok Arena, the competition will feature five categories for championship titles. These categories include Men's Singles, Women's Singles, Men's Doubles, Women's Doubles, and Mixed Doubles. The participation from Teqball athletes representing 60 countries from around the world, with a total of 220 athletes from all participating countries. All the matches can be watched live on Monomax.