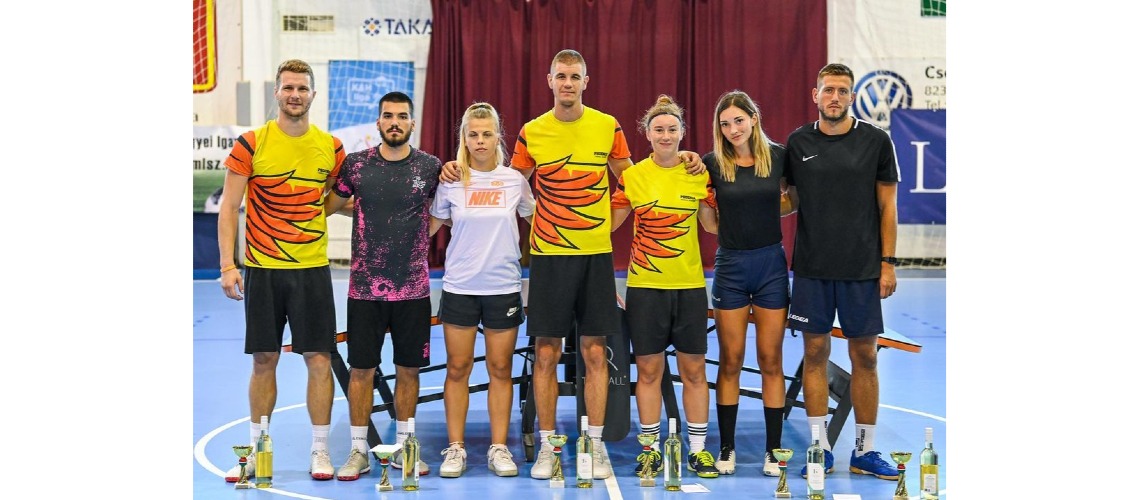 Blazsovics secures three Challenger Cup titles in memorable week of teqball events
Singles and doubles World Number 1 Adam Blazsovics (Hungary) dominated the Hungarian Challenger Cups in Balatonfured (20-21 August) and Eger (22 August) last week.
Singles and doubles World Number 1 Adam Blazsovics (Hungary) dominated the Hungarian Challenger Cups in Balatonfured (20-21 August) and Eger (22 August) last week, taking home three out of the four available gold medals. His doubles partner and countryman Csaba Banyik also had a successful few days, winning two golds, a silver and a bronze. The events in Hungary were part of an action-packed week of teqball competitions around the world, with four continents hosting events.
The Challenger Cup in Balatonfured attracted many of the world's best players, with Romania's Apor Gyorgydeak (World Number 2), France's Julien Grondin (#4) and Hugo Rabeux (#6), Hungary's Martin Csereklye (#8) and Serbia's Bogdan Marojevic (#9), joining Blazsovics and Banyik (#5) in a highly competitive field.
After coming through a tight three-set semi-final against Grondin, Blazsovics defeated Banyik 2-0 (12-8, 12-3) to secure the title. An impressive Csereklye, who beat Gyorgydeak in a thrilling quarter-final, before losing an equally close final four match to Banyik, beat Grondin to take home the bronze. Banyik and partner Zsanett Janicsek defeated Serbia's Nikola Mitro and Maja Umicevic in the mixed doubles final, with Adam Bako and Lea Vasas winning bronze. Banyik followed this up with a near-flawless display in the doubles with Blazsovics, as the pair claimed the title without dropping a set.
On Sunday 22 August, a very similar line-up of players travelled to the city of Eger for a singles Challenger Cup. Blazsovics and Gyorgydeak both came through several close encounters to set up a meeting between the world's two highest ranked players. Despite the 2-0 scoreline, it was a captivating contest, with Blazsovics holding his nerve on the big points to win 12-11, 12-10. Banyik defeated Tunisia's Yassine Sahli (#12) 2-0 (12-4, 12-9) in the bronze medal match to reach his fourth podium of the week.
In Moldova, athletes gathered for the third and fourth rounds of the country's National Challenger Series. The third round (16-17 August) saw Valeriu Tiron overcome Timpeu Sergiu in the singles final, before he beat familiar rival Valentin Furdui in the fourth round (19-20 August) singles final. Prior to this week, Tiron and Furdui had one National Challenger Series singles title apiece, but Tiron's impressive performances this week have secured his place at the Teqball World Championships. Tiron and Sergiu teamed up in the doubles at both events, inflicting back-to-back final defeats on Furdui and Andrian Sosnovschi.
In Ghana's National Challenger Series round 4 Daniel Fobi was in fine form as he clinched singles gold with a 2-1 (12-6, 8-12, 12-10) victory over Sylvester Oko Nortey, before narrowly missing out on the doubles title. Fobi and partner Kwabiah Alfred Adjei lost 2-1 (7-12, 12-8, 12-8) to Nortey and Joel Arthur. Meanwhile, Kuwait hosted its National Challenger Series third round on 20-21 August, with Zaid Eidan winning the singles and doubles titles. He dominated the singles, taking home the gold without dropping a set, culminating in a 2-0 (12-10, 12-8) victory over Basel Ahmad Hasan.
Finally, Brazil hosted its fourth and final National Challenger Series event on 21-22 August, where the headline was reigning world champions Natalia Guitler and Marcos Vieira's 2-0 (12-10, 12-10) final defeat to Leonardo Santana and Rafaella Fontes. Leonardo Lindoso De Almeida avenged a first set loss in the singles final to win 2-1 (11-12, 12-11, 12-3) against Carlos Vasques. In the doubles, Matheus Ferraz and Rodrigo Bento Medeiros beat Luiz Fernando De Mendonca De Lima and Claudio Davi Ponte Dos Santos 2-1 (12-5, 10-12, 12-9) in an entertaining, back and forth match.
The action continues this week, with teqers set to light up events in Brazil, Luxembourg, India, Kuwait, Nigeria, Romania and the US!