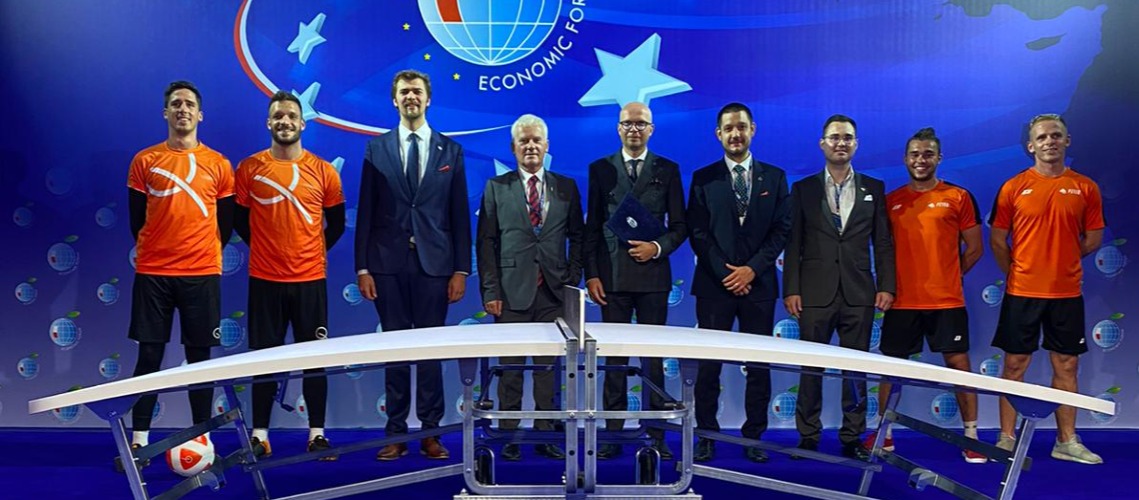 FITEQ delegation attends 30th Economic Forum in Karpacz
An International Teqball Federation (FITEQ) delegation attended the 30th Economic Forum in Karpacz (7-9 September), which gathered political and economic leaders from across Europe.
More than 3,500 people attended the Economic Forum, including FITEQ Head of CSR and Diplomatic Relations Gergely Muranyi and Polish Teqball Federation President Michał Listkiewicz. The Minister of Foreign Affairs and Trade of Hungary, Péter Szijjártó, was also in attendance. During the Forum, delegates discussed the post-pandemic world, with a particular focus on sustainability and digitalisation.
Whilst in Poland, Minister Szijjártó, as well as Muranyi and Listkiewicz, attended a teqball promotional event in the city of Wroclaw. Minister Szijjártó, who leads the Hungarian Government's strategic partnership with teqball, donated a Teq table on behalf of the FITEQ delegation to Jakub Mazur, the First Deputy Mayor of Wrocław. Following the ceremony, an exhibition match was played between Polish and Hungarian teams.
Teqball is growing in popularity in Poland, which is home to former World Number 1 and current number 4 Adrian Duszak, and the sport will make its debut as a medal sport when the country hosts the European Games in 2023.
15 Sep 2021