Registration Deadline:-
Cancellation Deadline:-
Prize Money:-
Cancellation Fee: $0.00
Organising Federation:FITEQ
Competition Type:World Championships
Events: Mixed doubles, Doubles, Singles
Information:
The FITEQ World Championships (formerly World Cup) are held annually, bringing together the best teqball players from each nation. The event determines and celebrates the World Champions in Singles, Doubles and Mixed Doubles events.
The Teqball World Championships 2017 were held in Budapest (HUN) and were attended by 20 nations, including Brazil, England, Japan, The Netherlands, Portugal and Spain. In October 2018, 42 countries competed for the total prize pool of $100,000 at the Teqball World Championships 2018 in Reims (FRA) in-front of a capacity audience of 3000 spectators.
The Teqball World Championships 2019 returned to the hometown of the sport, to Budapest (HUN) with broadcast on Eurosport and the attendance of world-famous Brazilian football superstar Ronaldinho.
SPECIAL GUEST - RONALDINHO
Ronaldinho is a Brazilian football icon who in his peak was regarded as one of the world's best players. The attacking midfielder won the FIFA World Cup in 2002 with Brazil and also won the Copa America and Confederations Cup with his national side. He represented some of the biggest clubs in the world during his career, including CR Flamengo, Paris Saint Germain FC, FC Barcelona and AC Milan. He won the UEFA Champions League with FC Barcelona in 2006 and will now take part in a series of worldwide teqball events, to raise its profile and encourage more people to take up the sport.
"I've been playing teqball for a long time, I love the technical aspect of it and how it helps to improve your football skills," he said. "I'm looking forward to working with teqball to help grow interest in the sport and hope it's soon included in the Olympics because then I might have the chance to become an Olympic champion."
Recently, at the world's largest technology conference, at Web Summit in Lisbon, Portugal, Ronaldinho showcased the new FITEQ mobile application SQILLER, which allows players to develop their skills using a smart device and a football.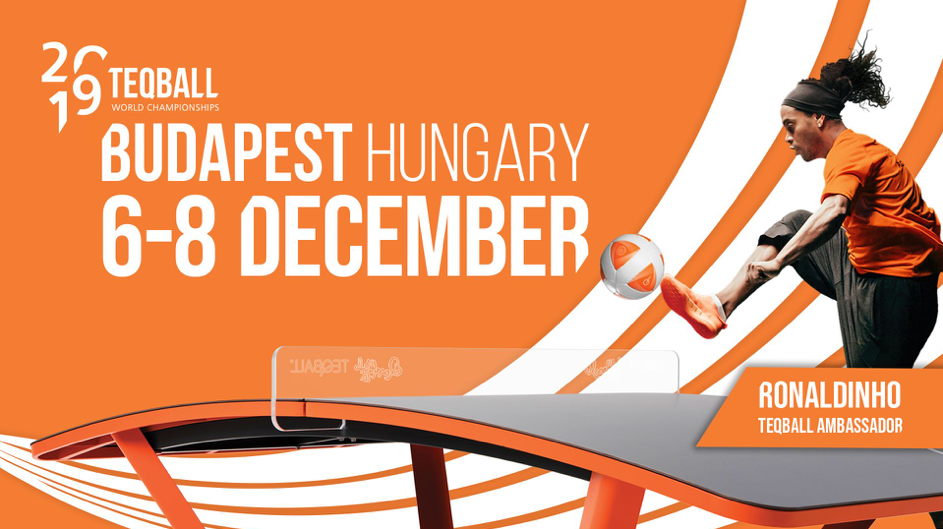 COMPETITION INFORMATION
Competition Type - World Championships
Competition Venue - Indoor
Events - Singles, Doubles, Mixed Doubles
Competition Format - Group stage & Knockout stage
Competition Address - 6-7 December: Hungexpo, Albertirsai út 10, Budapest, Hungary, 8 December: Vasas Sport Club, Fáy u. 58, Budapest, Hungary
ENTRY
Singles and Doubles are open to athletes of any gender, whilst mixed doubles team must consist of 1 (one) male and 1 (one) female athlete (no mixed nations). Every country is entitled to enter ONLY 1 (one) player, double and mixed double per event.
Accreditation & Travel forms must be completed and submitted online via email to [email protected]. Registration deadline is the 20th of November, while names of the competing players can be changed until the 29th of November.
Entry fee: FITEQ membership fee (5 EUR) must be paid in cash at the Technical Meeting on 5 December.
DRAW AND TECHNICAL MEETING
The official draw was held at the FITEQ Headquarters (address: Budapest, Expo tér 5-7, 1101) at 19:30 on the 5th of December.
The technical meeting was held after the official draw on the 5th of November 2019, at 20:30 at the FITEQ Headquarters (address: Budapest, Expo tér 5-7, 1101). At least one representative from each team had to be present at the meeting
Tournament Schedule
5 December 2019 - Official arrival day
10:00-17:00
Practice Opportunities
Hungexpo
19:30-20:00
Official Draw
FITEQ HQ
20:30-21:30
Technical Meeting
FITEQ HQ
6 December 2019 - Group stages
9:00-13:00
Group Stage - Singles
Hungexpo
13:00-15:00
Group Stage - Mixed Doubles
Hungexpo
15:00-19:00
Group Stage - Doubles
Hungexpo
7 December 2019 - Knockout stages
9:30-10:15
Last 16 - Mixed Doubles
Hungexpo
10:15-11:00
Last 16 - Singles
Hungexpo
11:00-11:45
Last 16 - Doubles
Hungexpo
13:00-15:15
Quarterfinals - Mixed Doubles, Singles, Doubles
Hungexpo
15:15-17:30
Semi-finals - Mixed Doubles, Singles, Doubles
Hungexpo
18:00-19:30
Bronze game & Final - Singles
Hungexpo
8 December 2019 - Finals
10:00-11:30
Bronze Games - Mixed Doubles & Doubles
Vasas
18:00-20:30
Finals - Mixed Doubles & Doubles
Vasas
20:30-21:00
Award Ceremonies
Vasas
9 December 2019 - Official departure day
Please note the tournament schedule is subject to change.

Prize Money
| Place | Singles | Doubles (per team) | Mixed Doubles (per team) |
| --- | --- | --- | --- |
| 1st place | 10.000 USD | 20.000 USD | 20.000 USD |
| 2nd place | 7.000 USD | 14.000 USD | 14.000 USD |
| 3rd place | 3.000 USD | 6.000 USD | 6.000 USD |
| 4th place | 2.000 USD | 4.000 USD | 4.000 USD |
| 5th-8th place | 1.000 USD | 2.000 USD | 2.000 USD |
| 9th-16th place | 500 USD | 1.000 USD | 1.000 USD |
Results
Singles
1st place - Adam Blazsovics (HUN)
2nd place - Adrian Duszak (POL)
3rd place - Apor Gyorgydeak (ROU)
Doubles
1st place - Csaba Banyik, Adam Blazsovics (HUN)
2nd place - Nikola Mitro, Bogdan Marojevic (MNE)
3rd place - Szabolcs Ilyes, Zsolt Lazar (ROU)
Mixed Doubles
1st place - Natalia Guitler, Marcos Viera (BRA)
2nd place - Zsanett Janicsek, Csaba Banyik (HUN)
3rd place - Maya Umicevic, Nikola Mitro (MNE)
All results are available here: https://results.fiteq.bornan.net/#/champ/selection
Competition Venue:
Budapest, HUN, Hungexpo, Albertirsai út 10, Budapest, Hungary , Budapest, Hungary (View on map)
Age Limit:None