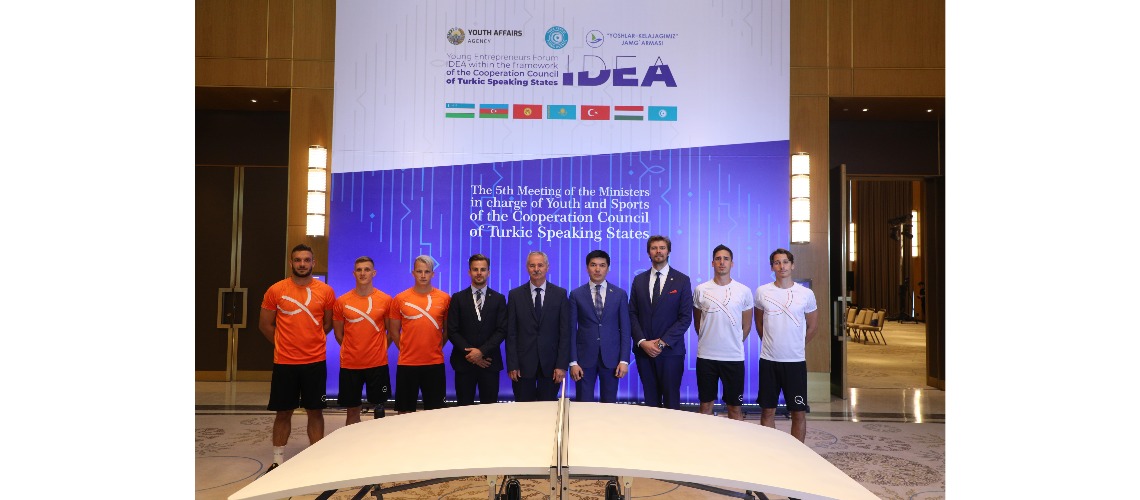 FITEQ attends series of diplomatic meetings to discuss global Teqball growth
The International Teqball Federation (FITEQ) has been part of a series of diplomatic events across Europe and Asia in recent weeks, engaging with leading political figures and organisations to discuss ways to increase participation in Teqball and in turn help build healthier societies.
FITEQ met with the Turkic Council Member States in Tashkent, Uzbekistan at the 5th Meeting of the Ministers in Charge of Youth and Sports. The Council was founded in 2009 and is an intergovernmental organisation of Turkic-speaking countries. Azerbaijan, Kazakhstan, Kyrgyzstan and Turkey are all founding members, with Uzbekistan becoming a full member in 2019. Hungary, the home of Teqball, has observer status.
At the meeting, delegates from across the Turkic region emphasised their intent for ongoing support towards the youth and sports agenda of the Council, as well as agreeing to hold major events in Azerbaijan, Turkey, Kazakhstan and Uzbekistan. The FITEQ delegation was led by Head of Diplomatic Relations and CSR Gergely Murányi and included Head of Regional Business Development István Döbrei. The delegation presented the Teq table to the political leaders and spoke about the growth of the sport around the world, as well as its impact on local communities.
Additionally, two tables were recently donated on behalf of FITEQ to the Czech city of Olomouc, as part of FITEQ's ongoing effort to support the Czech Teqball Federation with the development of the sport across the country. Tables were also provided to two schools in Olomouc, with the aim of helping engage the next generation of athletes.
Meanwhile in Ankara, Turkey, a FITEQ delegation met with the Turkish Ministry of Youth and Sport, where a Teq table was donated with the objective of enabling more young people to be able to participate in the sport. Máté Bor, Senior Advisor to the FITEQ President, led the FITEQ delegation. In addition to a meeting with the Ministry, FITEQ held bilateral meetings with the City of Ankara and the Turkish Education Bureau. The respective bodies in Turkey noted their decision to support the development of Teqball in the educational sector and discussed the possibility of hosting Teqball competitions in the future.
30 Sep 2021