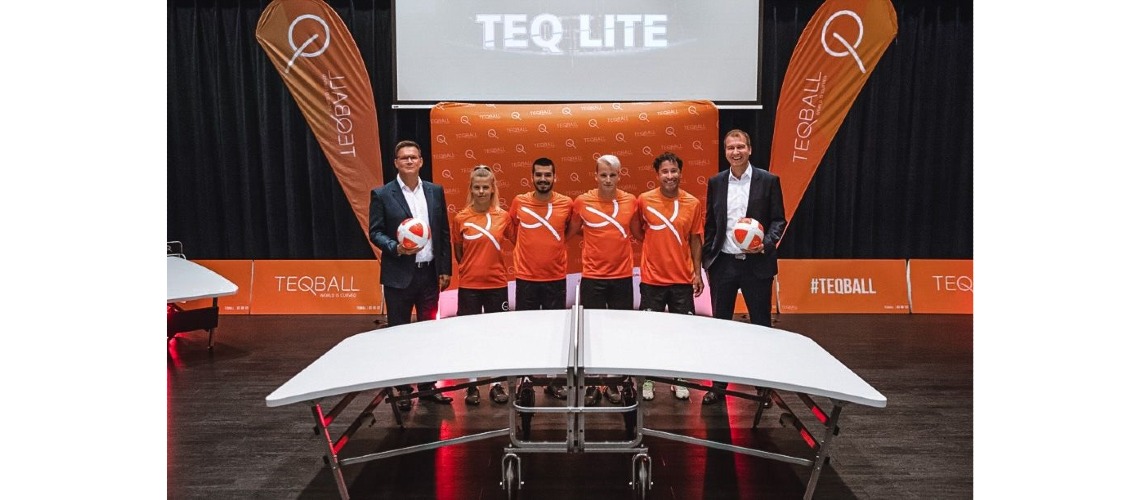 TEQ LITE table recognised with prestigious Hungarian Design Award
FITEQ is delighted to announce that the Teq LITE table has been recognised with the prestigious Hungarian Design Award. The award was presented during Budapest Design Week (8-17 October), which has been showcasing and celebrating the country's most innovative and high-quality products since 2004.
The 42nd instalment of the annual awards, organised by the Hungarian Design Council and funded by the National Office of Intellectual Property, took place this week in the home of teqball. A jury of well-known experts evaluated applications according to formal quality, user-centric design, market competitiveness, and compliance with the sustainability criteria. The recognition of the Teq LITE table follows the 2019 award won by the Teq SMART table in the same product category.
The Teq LITE table was launched in December 2019 at the Teqball World Championships as part of a vision to make the sport more accessible. Since then it has been key to the global development of teqball and is used most commonly amongst grassroots players. It has the same dimensions as the original TEQ ONE and the TEQ SMART, but at a lower price than these competition standard tables.
The table has a lighter structure than the TEQ ONE and TEQ Smart. Its fiberglass reinforced polyester tabletop ensures it is waterproof and withstands UV rays, making it suitable for indoor and outdoor use. Similarly to the Teq SMART table, Teq LITE also benefits from lockable wheels and a foldable structure, which makes it easy to move and store.
Upon receiving the award, Teqball Co-Founders Gábor Borsányi (FITEQ President), Viktor Huszár (FITEQ Chairman) and György Gattyán (Vice President) said: "It is truly an honour to receive this award for the second time in three years and we want to thank the Hungarian Design Council and National Office of Intellectual Property for the recognition. We are constantly trying to innovate and find ways to make teqball more accessible. The TEQ LITE table is achieving exactly what we had hoped for when we launched it just under two years ago. It can be found in over 100 countries across all five continents and it is having a considerable impact on the development of our sport by engaging new players in new countries every day."
Gyula Pomázi, President of the Hungarian Design Council and the National Office of Intellectual Property said, "This year's entries for the Hungarian Design Award are mature and of a high standard. It is obvious that as a result of the emergency situation, the developments have not stopped, moreover, there is an increasing proportion of domestic production and more and more companies presenting their own product range. Many of them are developing products and concepts not only for the Hungarian but also for the international market. We hope that the awards will also help to ensure that these results are not only a success in Hungary, but also recognised across borders."
The theme of this year's Budapest Design Week is New Standards, with a specific focus on sustainability and social responsibility – two of FITEQ's core values. A professional jury of nine experts selected winners from each of the following categories: product, visual communication, design, and student work.
13 Oct 2021