Teqball coach shares how sport is helping inspire young refugees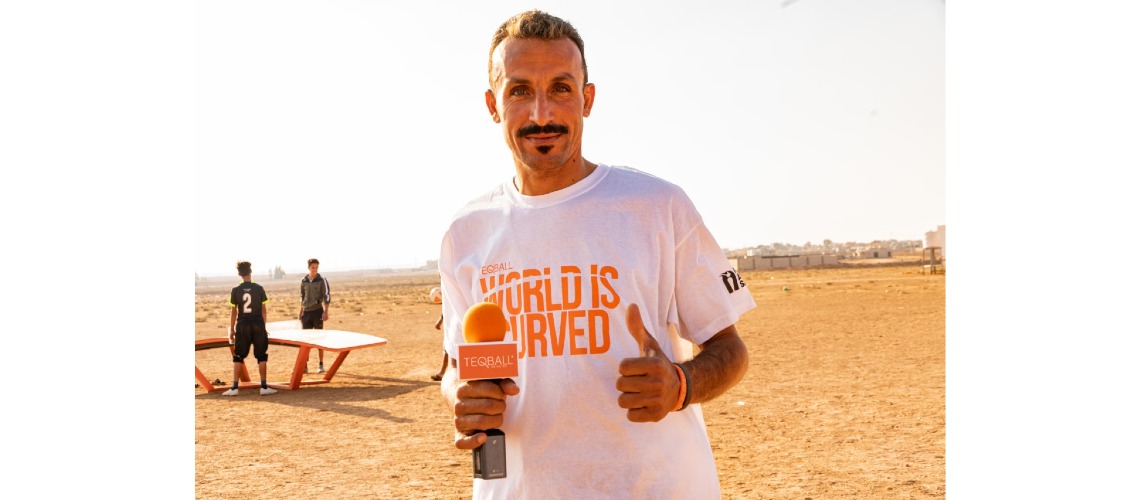 Teqball coach shares how sport is helping inspire young refugees
Jordan-based teqball coach Ibrahim Al-Hariri is helping provide young refugees with the opportunity to regularly practice sport, and to enjoy the educational and social benefits of leading an active lifestyle in a team-based environment.
Al-Hariri is originally from Syria but moved to Jordan in 2012. Once in Jordan, Al-Hariri played in the Jordan Premier League for Al-Jalil, before helping pioneer FITEQ's first major refugee programme, which was organised in collaboration with Peace and Sport's Live Together initiative in the Zaatari Refugee Camp in Jordan. Zaatari is the world's largest camp for Syrian refugees and over half the camp's inhabitants are children.
The project began in 2018 and was organised around the concept of training the trainers. This has resulted in a lasting legacy that has seen a teqball community continue to grow in the Zaatari Refugee Camp, with Al-Hariri coaching aspirational young athletes every day. His ambition now is to inspire the next generation of teqball players, whilst also providing opportunities those most in need.
Al-Hariri, who is a Level Intro Teqball Coach, recently spoke to FITEQ about his experiences in teqball and what it means to him to help refugees.
Tell me about yourself – how did you become a teqball coach?
I'm originally from Syria, where I played football for Al-Harak, Tafas and Busr Al-Harir, but now at 36 years old, I currently live in Jordan.
I began playing Teqball in 2018. Peace and Sport organised a training day in Jordan which was ran by FITEQ. The day was great! I really enjoyed it, and at the end I was chosen by FITEQ to be developed into a coach for the "Live Together" programme in the Zaatari Refugee Camp.
What does your role as a coach involve on a daily basis?
I train age groups from 8 to 18 years old every day. I look to create a fun and engaging training programmes so that everyone can have fun and improve. At the end of each training cycle, we have competitions, which the kids really like.
I always make sure that the kids grow as people as well as players. There's a constant presence of core personal values in all my sessions. These values are cooperation, respect, honesty, and teamwork. It's important that these are always adhered to, not just in the teqball sessions, but in all sporting activities in the Zaatari Camp.
There are also training programmes in the city of Amman, I attend these as often as possible to grow my own knowledge, as well as foster collaboration between the city and the camp.
Things were more difficult in the earlier stages of the Covid-19 pandemic because training facilities were closed. However, I sent videos of exercises that the kids could do on their own via WhatsApp.
What are your future plans with the sport of teqball?
I hope to become a global trainer, training children all over the world, especially refugees. I want to use the sport and its values to connect communities and help children to live with purpose, happiness, and peace.
Seeing these children thrive in a safe and supportive environment fills me with great pride and personal satisfaction. It is brilliant to see the joy that they experience through the teqball sessions. It is great motivation for me.
So far, my biggest achievement is that I've trained over 100 children in the Zaatari camp and helped them to grow as people.
Looking to the future, I hope that children from the Zaatari camp will be able to participate in national tournaments so that we can showcase the skill and improvement that they have earned.
Since partnering with Peace and Sport in Zaatari, FITEQ has continued to develop programmes to support refugees around the world. Earlier this year, it launched its very own global initiative – the Table of Peace – which is supporting communities most in need every day.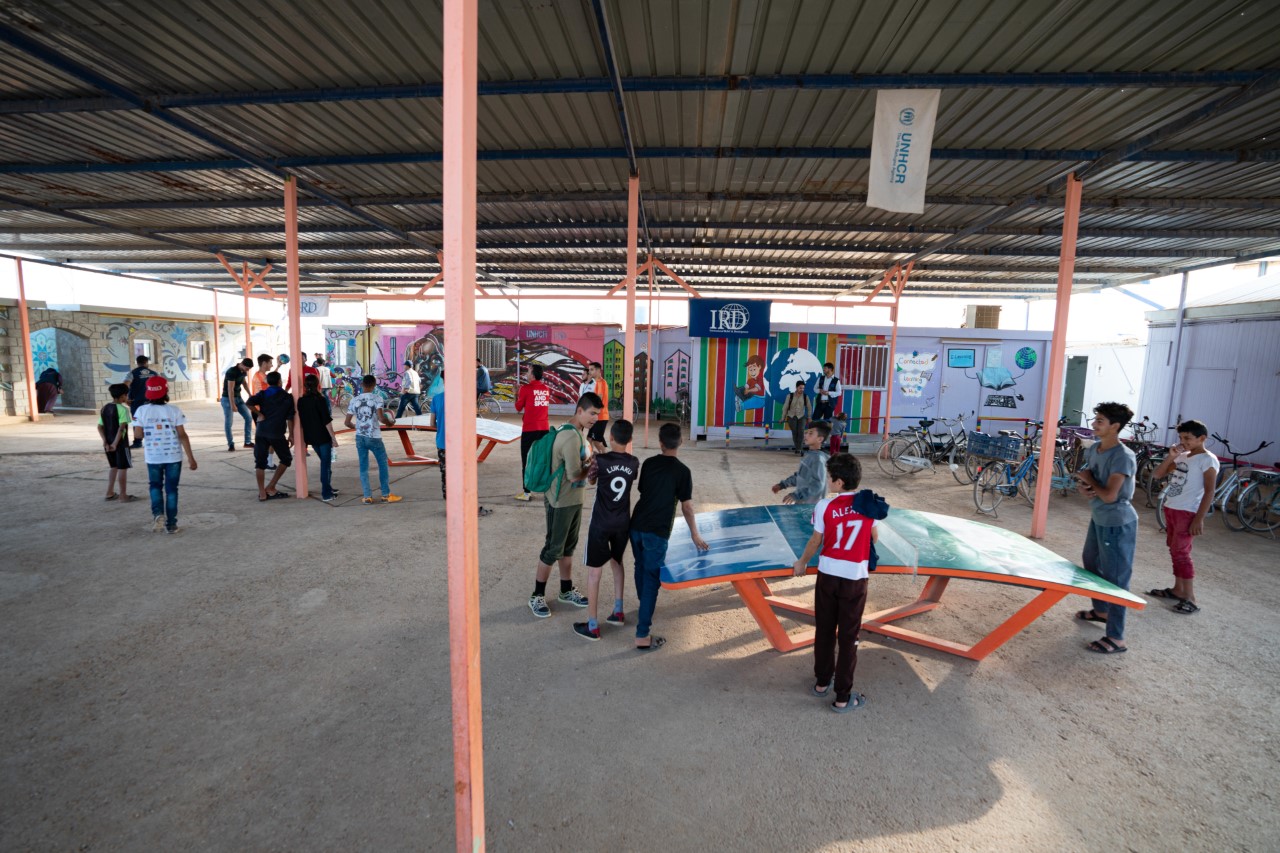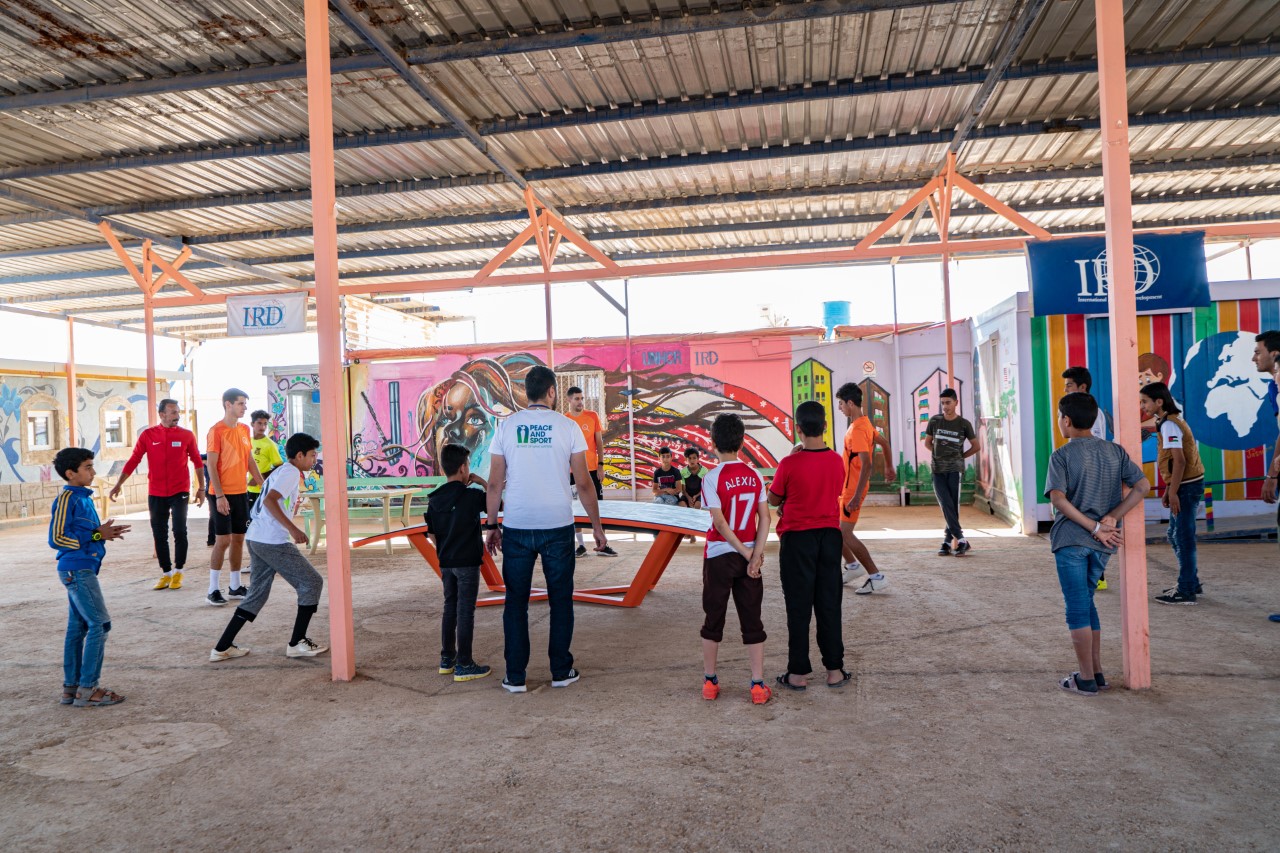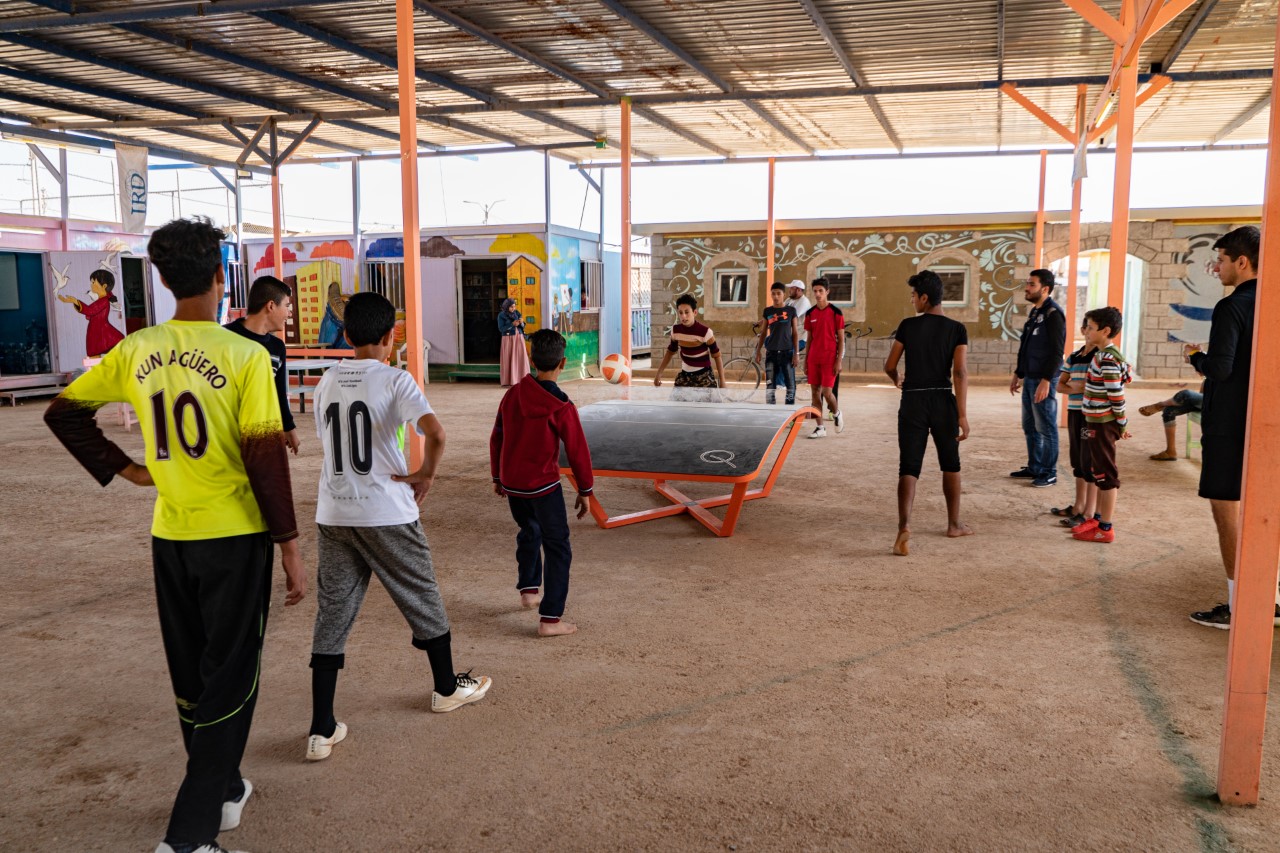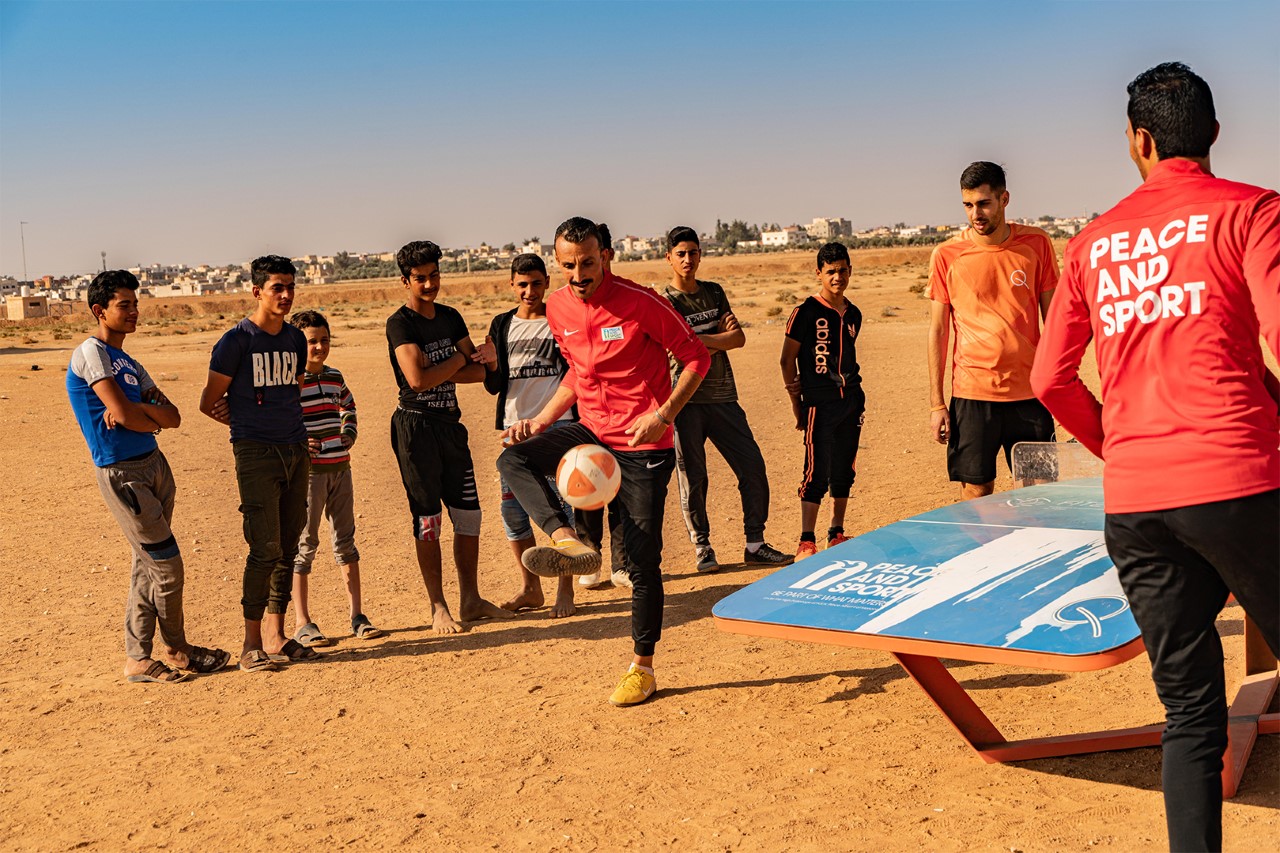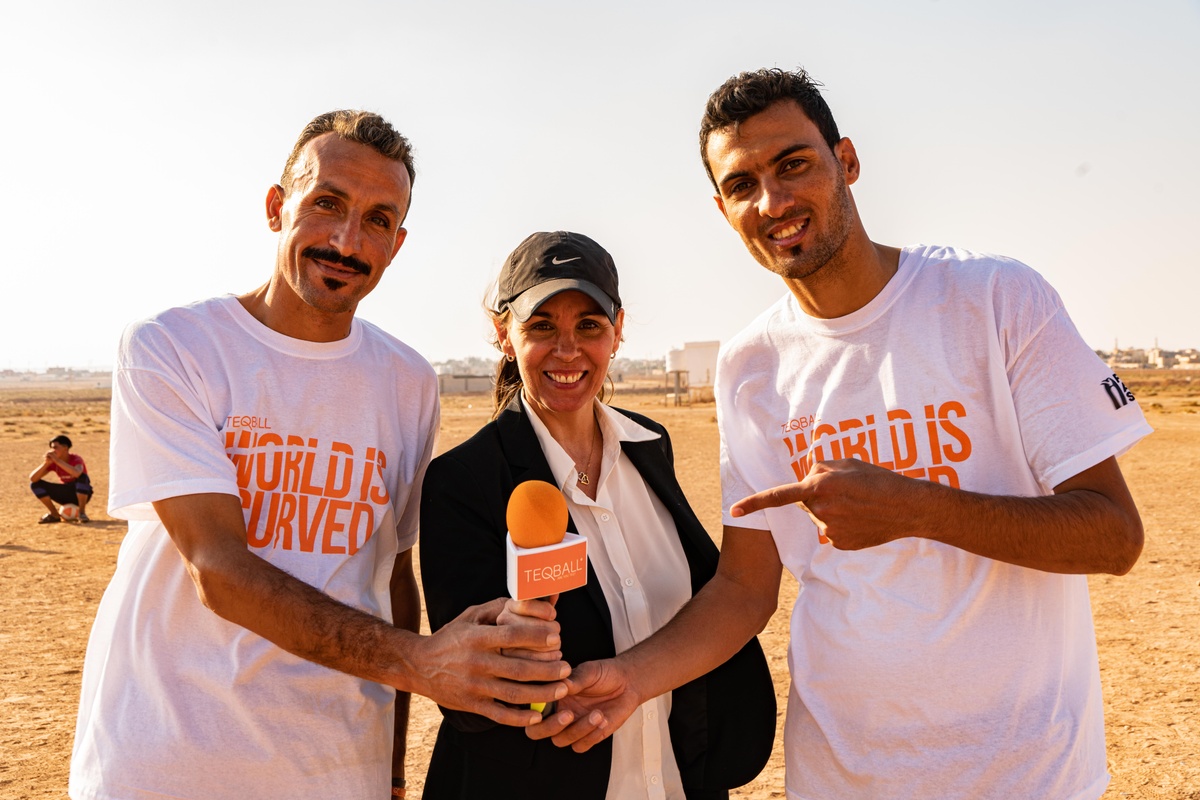 14 Oct 2021