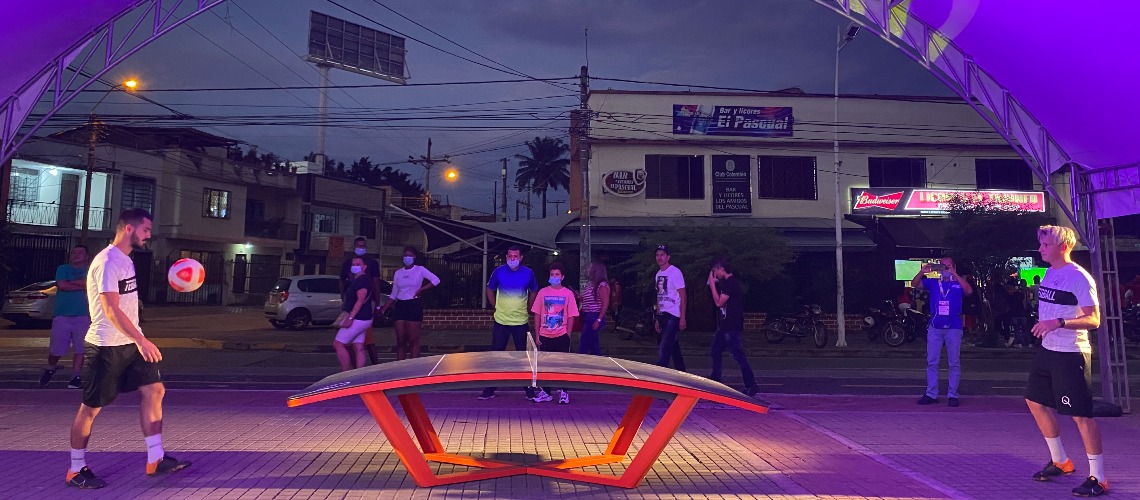 Teqball features as demonstration sport at Cali 2021 Junior Pan American Games
The 2021 Junior Pan American Games in Cali, Colombia (24-28 November) featured TEQBALL as a demonstration sport, with thousands of sports fans able to participate or watch the world's fastest growing sport at the continental event.
Chairman Viktor Huszár led the FITEQ delegation, which included Continental Development Manager Evelin Gondos and four professional TEQBALL athletes. The team led a showcase outside the Estadio Pascual Guerrero, which welcomed the 41 participating countries during the Opening Ceremony last week.
TEQBALL is growing rapidly across the Americas, with new teqers joining the movement every day. The success of the Brazilian mixed doubles team of Natalia Guitler and Marcos Vieira, who won the TEQBALL World Championships title in 2019, has helped provide the impetus for the development of TEQBALL and para TEQBALL across the region, at both grassroots and elite levels.
Following the Cali 2021 Games, Evelin Gondos said, "This is the first Junior Pan American Games and we really wanted to be a part of it. We are really thankful to the President of TEQBALL Colombia and to the President of the local Organising Committee for the opportunity."
01 Dec 2021