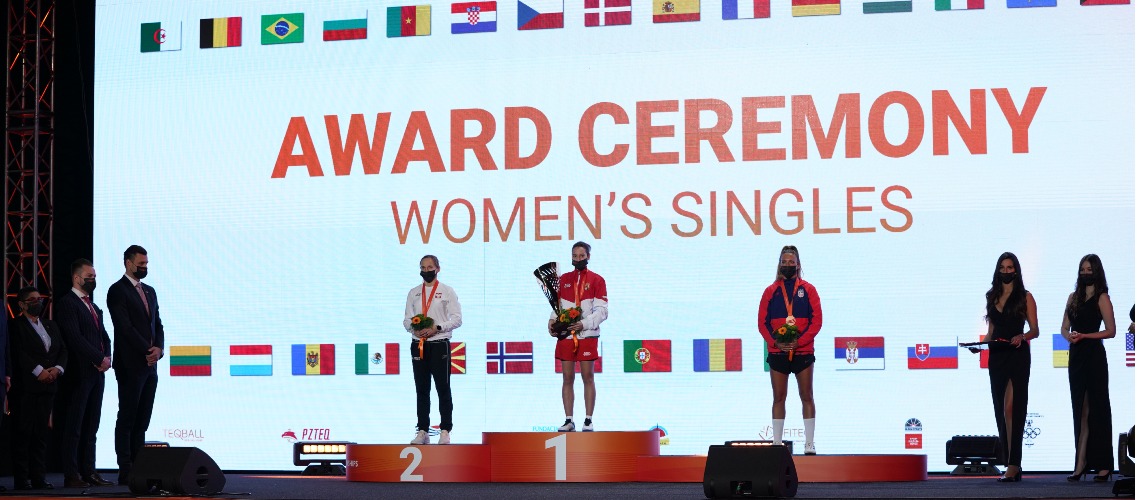 Teqball World Championships Day 3 - Two champions crowned as Hungary achieves clean sweep in men's and women's singles
Day 3 of the 2021 Teqball World Championships in Gliwice, Poland featured the first two finals of the tournament and a Hungarian clean sweep, with reigning world champion and second seed Ádám Blázsovics retaining his title, while Anna Izsak is the new women's singles world champion.
In matches played in front of an excited crowd of more than 100 teqers, together with a large gathering of federation officials and local representatives and fans, Blázsovics took the men's singles title 2:1 in a closely-fought match against France's third seed Julien Grondin (12-6, 10-12, 12-6).
Earlier in the day, Blázsovics had beaten Tunisia's Yassine Sahli 2:0 in the quarterfinals, then overcame Poland's Adrian Duszak 2:0 in the semis. In fact, the set Blázsovics dropped against Grondin in the final was the sole blemish in an otherwise dominant display throughout the tournament.
Speaking directly after the final, Blázsovics, a worthy but modest champion, told the cheering crowd he was "very tired", but thanked his supporters and said he had been training for this event ever since the previous World Championships in 2019.
In the bronze match, Duszak produced a great performance to overcome top seed Romania's Apor Györgydeák 2:1.
In the women's final, Izsak, the top seed, won 2:0 against local favourite and fifth seed Paulina Łężak. However, the match was perhaps closer than the scoreline suggests, with Łężak benefiting throughout from chants of 'Polska! Polska!' from her passionate supporters.
Izsak had earlier won her quarterfinal 2:0 against France's Amelie Julian, and then gone on to squeeze past USA's Carolyn Greco 2:1 in her semifinal.
In the bronze match, Greco, seeded sixth, scored a perhaps unexpected 2:0 victory over Natalie Guitler, third seed and one of the faces of the game in her native Brazil.
Elsewhere in the tournament, the men's doubles competition is down to the semi-finals stage, with the final scheduled to take place on Saturday.
In the top half of the draw, Hungary's top seeds Csaba Bányik and Ádám Blázsovics still haven't dropped a set in the competition, winning 2:0 against Ukraine's Dmytro Masalov and Oleh Usychenko. Yet the Ukrainians, seeded only 20th, had done extremely well to reach this late stage of the competition.
Meanwhile, in the other half of the draw, Serbia's Bogdan Marojević and Nikola Mitro, the fifth seeds, also kept up their record of not dropping a set with their 2:0 victory over France's Grondin and Hugo Rabeux.
The women's doubles has also reached the semifinal stage, with USA's Greco and Margaret Osmundson pitted against Romania's Kinga Barabasi and Katalin Dako, while Hungary's Izsak and Lea Vasas will take on Brazil's Rafaella Fontes and Guitler.
The mixed doubles also resumes on Staurday, with Hungary's Csaba Banyik and Zsanett Janicsek taking on USA's Luka Pilic and Osmundson in one semi-final, while in the other Romania's Györgydeák and Tünde Miklós are up against Brazil's Leonardo Lindoso de Almeida and Vania Moraes da Cruz.
All remaining matches are due to be completed on Saturday.
Earlier on Friday, Andrzej Kraśnicki, President of the Polish Olympic Committee, expressed his pride and pleasure at the success of the event, which has been staged with the crucial backing of the committee, saying: "When I had a chance to see the sport, it is fantastic! In a short time, there are many countries, many national federations, good organisation and I am very happy we have the chance to see the World Championships here in Poland… I hope that in a very short time, Teqball will have a fantastic place in the Olympic movement."
Kraśnicki was supported by Michal Listkiewicz, president of the Polish Teqball Federation, who added: "I'm devoted to this beautiful game… and I am very proud that FITEQ recognised our association as one of the top national associations in the world. We started with maybe 20 players and two clubs and now we have more than 1000 players and 100 clubs, and media interest is very high. Poland is Teq!"
11 Dec 2021