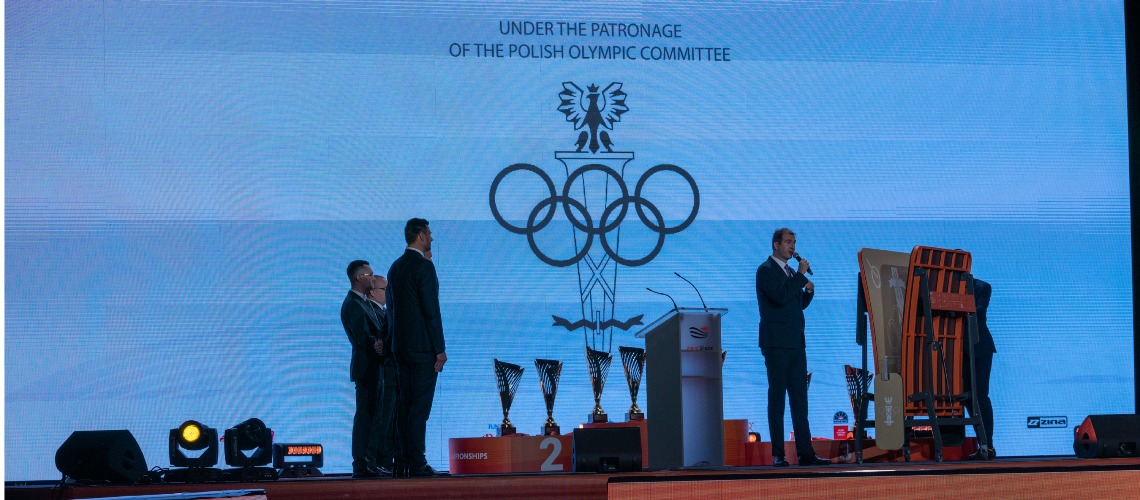 "Teqball is a green tick": FITEQ Chairman Viktor Huszár discusses the World Championships and the path to future success
The Covid pandemic continued to influence sport in 2021, with many events cancelled or postponed. Yet teqball's growth did not stop, with the total number of national federations reaching 128 after just four years, making it the world's fastest-growing sport.
These are statistics of which the sport can be proud, says Viktor Huszár, FITEQ's chairman and co-founder. Speaking at the Teqball World Championships in Glivice, Poland, Huszár points to the success of the event as evidence that, "We are a live sport. What I experienced yesterday and also the media product, the broadcast is of very high level. It's of international level. Teqball is a sport, and we have live proof of it."
The World Championships are being streamed live online, while Eurosport is also offering TV coverage across Europe and beyond. Meanwhile, Huszár welcomes the fact that a crowd of between 1,000 and 1,500 was present for Friday's men's and women's singles finals, despite the Gliwice Arena and other Polish venues being restricted to 25-per-cent capacity as a Covid precaution.
Huszár also praises the Polish Teqball Federation, describing as "incredible" the work it has done to organise the event in just one month, supported by FITEQ's own team, despite the challenges of the pandemic.
However, he stresses that there remain "tiny details" that FITEQ can improve for future World Championships. "Obviously we need to integrate video refereeing," he says. "There must be a challenge [opportunity] for athletes in future, because even one refereeing decision influences the game.
"I don't want anyone to lose the World Championships final because the referee made the wrong decision. Teqball – even the name comes from technology – so we must live with future trends."
Next year, Huszár said that FITEQ will continue preparations for the sport to take part in two continental multi-sports events in 2023 – the European Games in Krakow, Poland and the postponed Asian Beach Games in Sanya, China – as it continues its drive for international exposure. Alongside these preparations, it will also continue lobbying for inclusion in other multi-sport events, such as the Asian Games and the Youth Olympic Games.
Teqball now has an international calendar of events, including the European Tour and World Series, to be announced in January, meaning that athletes and national federations can plan their participation. Eurosport will be providing live and magazine coverage through the contract FITEQ has signed with the broadcaster, "so this is bringing the sport through linear and digital to 60 or 70 countries all over the world," Huszár says.
For next year's World Championships, FITEQ is considering the introduction of continental qualifiers, "because at the end you just want the top-performing athletes," according to Huszár. The location of the event is still to be decided, with several potential host cities in the running, he says, adding: "We have a plan to do some rotation, to take it out of Europe next year. So most likely it's not going to be a European host city."
Teqball's ambition to join the programme of the Olympic Games one day is well known, and Huszár acknowledges that achieving this will not be easy, saying "Of course, every IF dreams about being an Olympic sport, but I tend to say that it should be the consequence of what we are doing."
He points out that breakdancing has succeeded in joining the programme for the Paris 2024 Games, proof that the IOC has changed its approach. "They want youth sports in the games – skateboarding, sport climbing, breakdancing – and I think, with this strategy, teqball is an amazing fit," he says. "This is very hopeful."
Moreover, he concludes, "Eventually, the IOC is going to look at who can be partners, with a contribution towards the Olympic movement, in terms of broadcasting, organisational costs, quota numbers.
"Looking at these indicators, teqball is a green tick. You don't need that many players, it's not an expensive sport. All you need is the table. You can put it in the park, the beach, and it works.
"So, I do hope that in the next couple of years we can prove that we have a rightful path to be considered."
14 Dec 2021