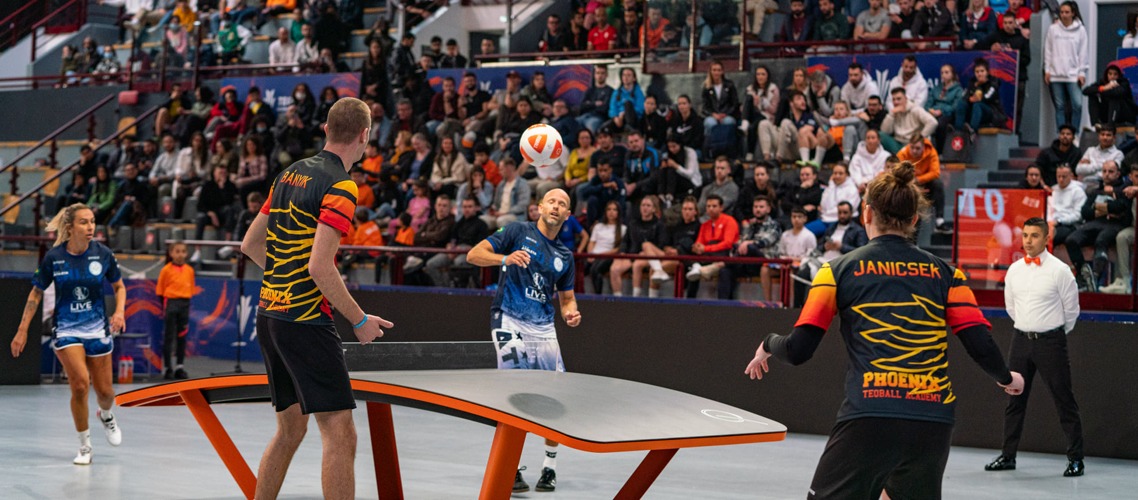 Digital media key to FITEQ's promotional strategy for new event portfolio
FITEQ is delighted to officially confirm its new event structure for 2022 onwards, with this year's competitions already well underway following global travel restrictions having largely eased.
There is a tiered structure to FITEQ's new event portfolio, which supports the federation's Long-Term Athlete Development Programme. The increased investment in the sport's elite level events is aiming to create a professional environment for elite athletes, whilst also ensuring necessary funding filters down to support teqball development at a grassroots level.
Outlined below are the different types of competitions. The Teqball World Championships is the most prestigious event and features the highest level of prize money and World Ranking points. The order of events below the World Championships is based on level of prize money and number of available ranking points (high to low).
The Teqball World Championships is the flagship event of FITEQ and is held annually. Four editions have been held so far, with 74 countries having competed in at least one edition.
Annual Continental Championships have been introduced to the FITEQ event calendar from 2022 onwards. These will begin later this year.
The newly-established World Series event will be held multiple times per year. The inaugural edition was held in Paris (18-20 March), where 178 athletes from 29 countries participated for a total prize money pot of $100,000. Ahead of the World Series in Paris, FITEQ launched separate Facebook and Instagram pages for the event, where all event information, live streams, photos and videos were published.
Teqball Tours have been established in Europe, the Americas, Asia, and Africa. Multiple events have already taken place in Europe and the Americas, with events in Asia and Africa to commence soon. As with the World Series, there are separate Teqball Tours Facebook and Instragram pages, where you can follow all the action.
Challenger Cups have been in existence for several years and remain an important event for athletes to compete regularly, and for National Federations to gain event hosting experience
The organisation of domestic competitions and leagues are a requirement of all National Federations.
In the coming weeks and months, FITEQ's new social media promotional strategy, which has proven succcessful with the Paris World Series and Teqball Tours, will be launched for all remaining events.
The confirmed events in the FITEQ calendar can be found here. This is regularly updated.
01 Apr 2022