World champions put on near faultless display at European Teqball Tour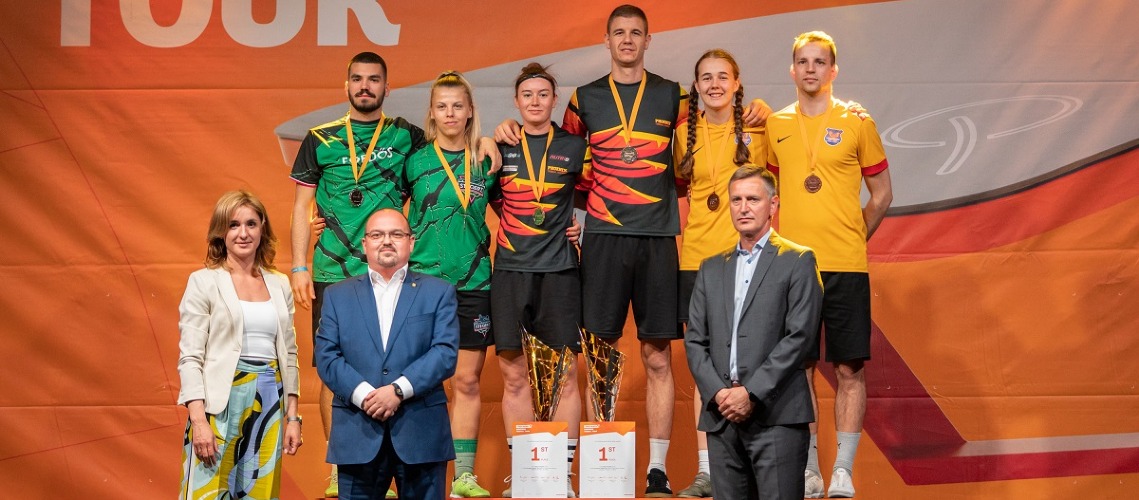 World champions put on near faultless display at European Teqball Tour
The reigning men's doubles and mixed doubles world champions Bogdan Marojevic and Nikola Mitro (men's doubles) and Csaba Banyik and Zsanett Janicsek (mixed doubles) were in fine form last weekend (29 April - 1 May), extending their respective leads at the top of the FITEQ World Ranking after securing gold at the European Teqball Tour in Romania.
The European Teqball Tour stopped for the second time this year after a successful event in Lisbon in February. Hosted in the city of Tirgu Mures in Transylvania, the best players from all over the world gathered to compete for valuable World Ranking points and a prize money pot of $30,000.
Marojevic and Mitro were strong favourites heading into the men's doubles tournament, following their undefeated run since being crowned world champions in Poland last December. After dropping only 15 points in four group stage matches (an average of under 2 points per set), the Serbians entered the knockouts full of confidence. Comfortable wins in the round of 16 and the quarter-finals set up a final 4 showdown against Julien Grondin and Hugo Rabeux. A highly impressive effort from the French duo was ultimately in vain as they lost 2-0 (12-8, 12-11) to world's best men's doubles pair.
The other half of the draw was opened up by Bence Forgacs and Matyas Odnoga's shock defeat of the World Number 2 pairing of Banyik and Adam Blazsovics. The all-Hungarian quarter-final looked to be following the script when Banyik and Blazsovics took the opener 12-3. However, immense fighting spirit from their compatriots saw the underdogs win successive sets 12-10 and progress to the semi-finals. In another all-Hungarian battle, Forgacs and Odnoga then overcame rising stars Balazs Katz and Balazs Velkey 2-1 (12-9, 8-12, 12-9) in a thrilling encounter.
Prior to the men's doubles final, Katz and Velkey faced off against Grondin and Rabeux in the third place play-off. This time they were on the right side of a three setter, winning 2-1 (9-12, 12-9, 12-7). Turning the attention to the final, Forgacs and Odnoga had a tough challenge ahead of them but looked confident in the early exchanges. However, Marojevic and Mitro looked strong throughout and took the opener 12-7. To their credit, Forgacs and Odnoga did not waver in their quest for glory and pushed their Serbian opponents all the way in the second set. But the experience of Marojevic and Mitro at the highest level, and their composure in the tensest moments, helped them seal the win with a 12-10 second victory.
In the mixed doubles, favourites Banyik and Janicsek began the weekend in dominant form, cruising through the group stage without losing a set. Their round of 16 match followed a similar pattern, before the World Number 1 pairing were drawn against Banyik's men's doubles partner Blazsovics and his mixed doubles teammate Petra Pechy. A tense and closely-fought match saw Banyik and Janicsek edge through to the final 4, winning 2-0 (12-10, 12-8). In the semi-finals, they faced the in-form Katz and his partner Zsofia Dezsenyi, who took a surprising lead after taking the first 12-10. Unfazed, Banyik and Janicsek bounced back to take the second and third sets 12-5 and 12-3 to book their place in yet another final.
On the other half of the draw, highly rated Adam Bako and Teqball World Series women's doubles champion Lea Vasas showed signs of promise in the group stage, which were followed up by a convincing win in in the round of 16. Then, after thrashing US stars Frankie Diaz and Carolyn Greco 2-0 (12-4, 12-4) in the last 8, Bako and Vasas quickly established themselves as real contenders for the title. After backing up this dominant performance with a 2-0 (12-11, 12-11) victory over Rabeux and Amelie Julian in the semi-finals, they were one match from glory.
Before the final showdown, the third place play-off saw Katz and Dezsenyi recover from a set down to take the bronze medal with a 2-1 (8-12, 12-10, 12-4) victory. Bako and Vasas took to the court with an uphill battle ahead of them, but their strong knowledge of their opponents' strengths and weaknesses led to many believing they had a strong chance of causing an upset. Bako and Banyik have played many singles and doubles matches against each other throughout their careers, whilst Janicsek was the partner of Vasas in their recent World Series triumph. However, despite a valiant effort from Bako and Vasas, the World Number 1s proved too strong once again, edging a tense opener 12-11 before running out comfortable 12-4 winners in the second set.
It was a weekend to remember in Tirgu Mures, with 41 men's doubles teams and 36 mixed doubles teams providing constant action and entertainment. The athletes will now recharge their batteries before they do it all again soon!
03 May 2022