FITEQ attends key meetings in Oceania as teqball continues to grow in the region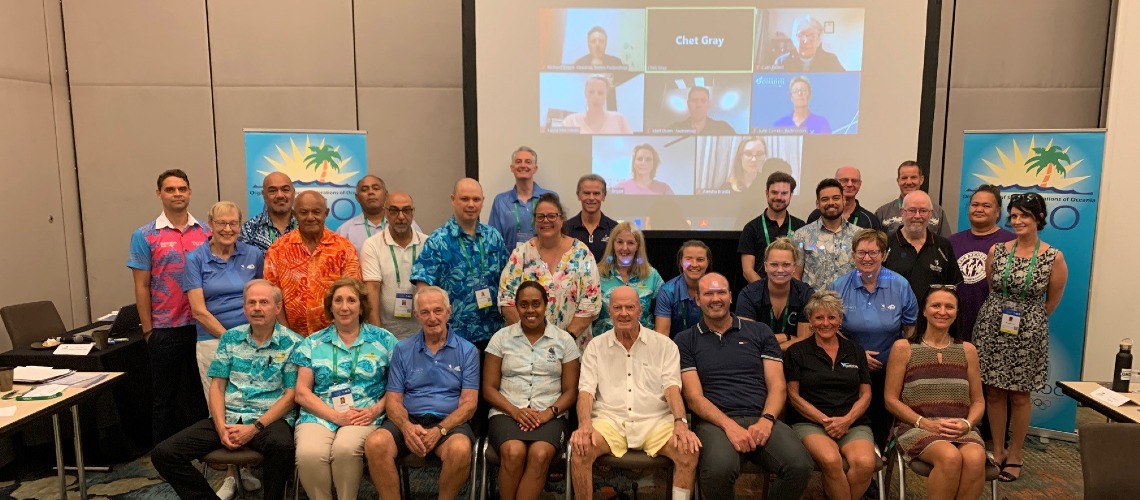 FITEQ attends key meetings in Oceania as teqball continues to grow in the region
The International Teqball Federation (FITEQ) attended a series of key meetings of the Oceanian Olympic family in Fiji, as teqball and para teqball continues to develop across the region.
FITEQ Sports Director Matthew Curtain was in attendance at the Oceania National Olympic Committees (ONOC) General Assembly on 3 May, where IOC Executive Board Member and ANOC Acting President Robin Mitchell was unanimously re-elected as ANOC President. IOC President Thomas Bach, two-time Olympic gold medallist and IOC Member Kirsty Coventry, and ANOC Secretary General and IOC Member Gunilla Lindberg were present at the meeting and addressed the delegates.
Mr Curtain then participated in the Organisation of Sports Federations of Oceania (OSFO) Annual General Meeting on 5 May, which was the first in person meeting of the organisation since the COVID-19 pandemic. FITEQ became a member of OSFO in 2020, and its collaboration with the regional body has played a key role in the growth of the sport across the region.
During the meeting, OSFO members approved the organisation's Strategic Plan for 2022-2026, which is targeting development in high-performance and athlete development, communications, sponsorship, and educational and wellbeing through sport. Additionally, OSFO signed a Memorandum of Understanding (MoU) with ONOC, with the two organisations set to enhance their cooperation to build a brighter sporting future.
FITEQ Sport Director Matthew Curtain said, "As an OSFO member, FITEQ is very excited about the future of sport in the region, which will be shaped by the implementation of the new strategic and operational plans. Teqball is making great strides across Oceania and we are only at the beginning of our journey. As we move towards a post-pandemic world, we look forward to bringing more events to Oceanian countries and seeing elite athletes from the region competing in our major events."
10 May 2022