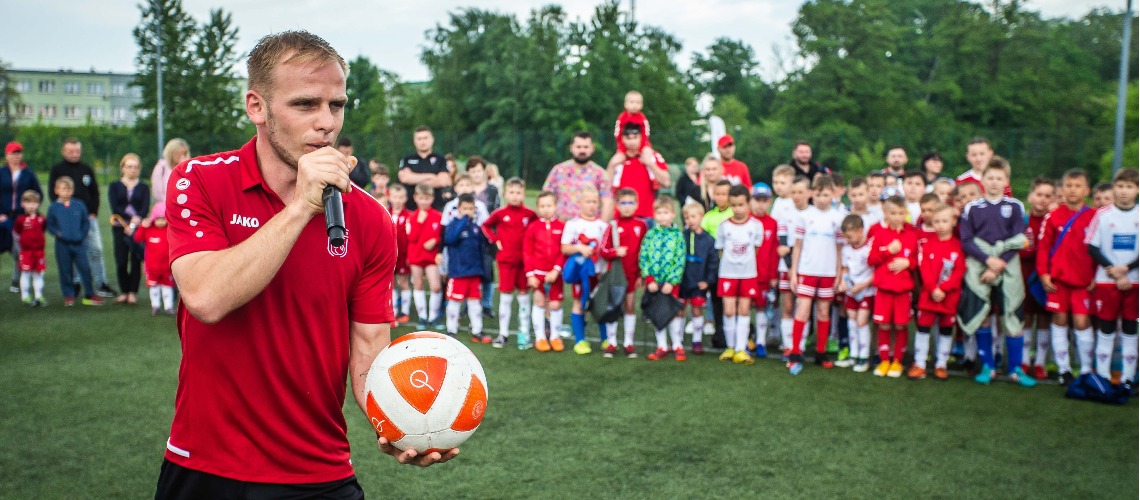 Nationwide project in Poland sees thousands of young athletes introduced to teqball
A nationwide project in Poland has seen thousands of young people introduced to teqball over the past month. Throughout May and June, Ekstraklasa Foundation organised the project "Akademie Klasy Ekstra" ("Extra Class Academies"). Ekstraklasa is a company that organises elite-level football matches in Poland, whilst the Ekstraklasa Foundation cooperates with professional football clubs in Poland and their academies. During the project, over 2,500 talented young footballers enjoyed teqball coaching sessions and competitions across the country.
The project, which ran from 24 May - 17 June 2021, is in its sixth year. It features the organisation of football tournaments for children U9 and U11, with the academies of Ekstraklasa clubs inviting their youth or friendly teams (partner clubs) to tournaments. Over 100 teams participated in the project this year.
Following the initiative of Tomasz Zabielski, Teqball has been promoted for several years during the project. Tomasz Zabielski is the President of the Polish Sports and Culture Foundation (organiser of the recent Ząbki Teqball Challenger Cup), co-founder of the Warsaw TEQ Club and President of the Ekstraklasa Foundation
Children from the leading football academies in Poland have participated in a series of football training days and competitions. This year, FITEQ Singles World Number 2 Adrian Duszak and World Number 15 Bartłomiej Frańczuk, as well as other players and coaches from the Warsaw TEQ Club helped the young athletes learn the rules of teqball through a combination of fun activities and competitive matches. Duszak, who hails from a freestyle football background, also performed demonstrations on stage throughout the project.
The 16 football clubs and academies that were visited as part of the project were Wisła Płock, Lechia Gdańsk, Pogoń Szczecin, Warta Poznań, Lech Poznań, Jagiellonia Białystok, Stal Mielec, Cracovia, Wisła Kraków, Podbeskidzie Bielsko-Biała, Górnik Zabrze, Piast Gliwice, Raków Częstochowa, Śląsk Wrocław, Zagłębie Lubin and Legia Warszawa.
Teqball is set to make its debut as a medal sport at the European Games 2023, which will take place in Kraków and the regions of Małopolska and Śląsk in Poland from 21 June - 2 July 2023. Teqball has been on the rise in Poland for the past few years, with a number of the sport's leading stars coming from the sport-loving country.
21 Jun 2021