FITEQ family invited to attend online ITA Webinar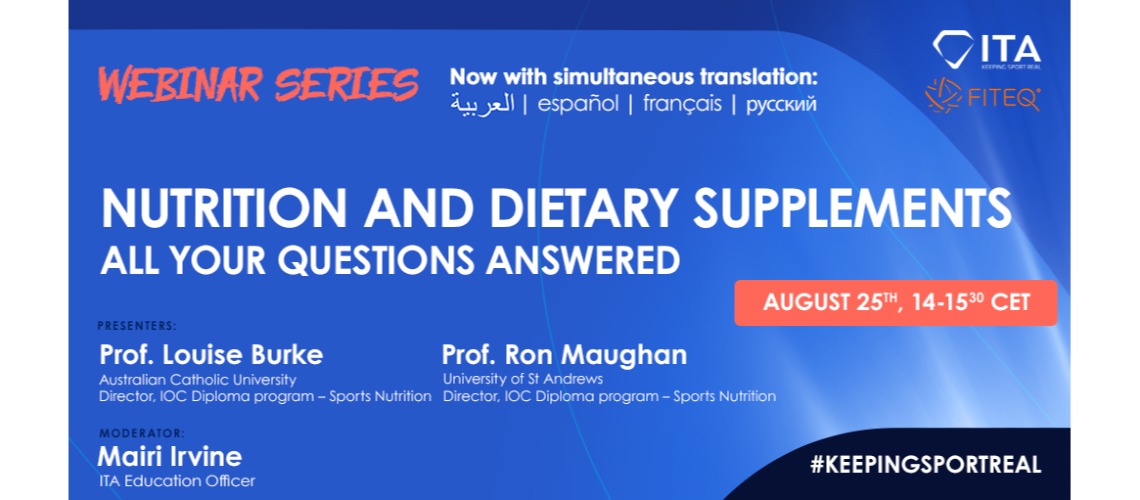 FITEQ family invited to attend online ITA Webinar
The International Testing Agency (ITA) will host an online webinar on 25 August, focused on nutrition and dietary supplements in the context of anti-doping. FITEQ's National Federations, athletes and coaches are invited to attend the webinar, which will have simultaneous translation in Arabic, French, Spanish and Russian.
The ITA provides the following introduction to the webinar:
Due to popular demand, we are delighted to bring this topic back for the second time. Joining our live panel are two world-leading experts, Professor Ron Maughan and Professor Louise Burke, both of whom are Directors of the IOC Diploma in Sports Nutrition. As always, we will also welcome an athlete guest to share their perspective.
This panel of experts will answer some of our most frequently received questions and address your inquiries live. We are leaving plenty of time for the Q&A during this session in order to be able to address as many questions on nutrition and supplements as possible.
Please find the key details of the webinar below:
Topic: NUTRITION AND DIETARY SUPPLEMENTS
Registration link: https://us06web.zoom.us/webinar/register/WN_xRRYjkJ8Qnm2yyxr2xk8CQ
Event date: Wednesday, August 25th, 14h-15h30 CET
Presenters:
Professor Ron Maughan - Director of the IOC Diploma in Sports Nutrition
Professor Louise Burke - Director of the IOC Diploma in Sports Nutrition
Mairi Irvine (moderator)
Source: International Testing Agency
18 Aug 2021