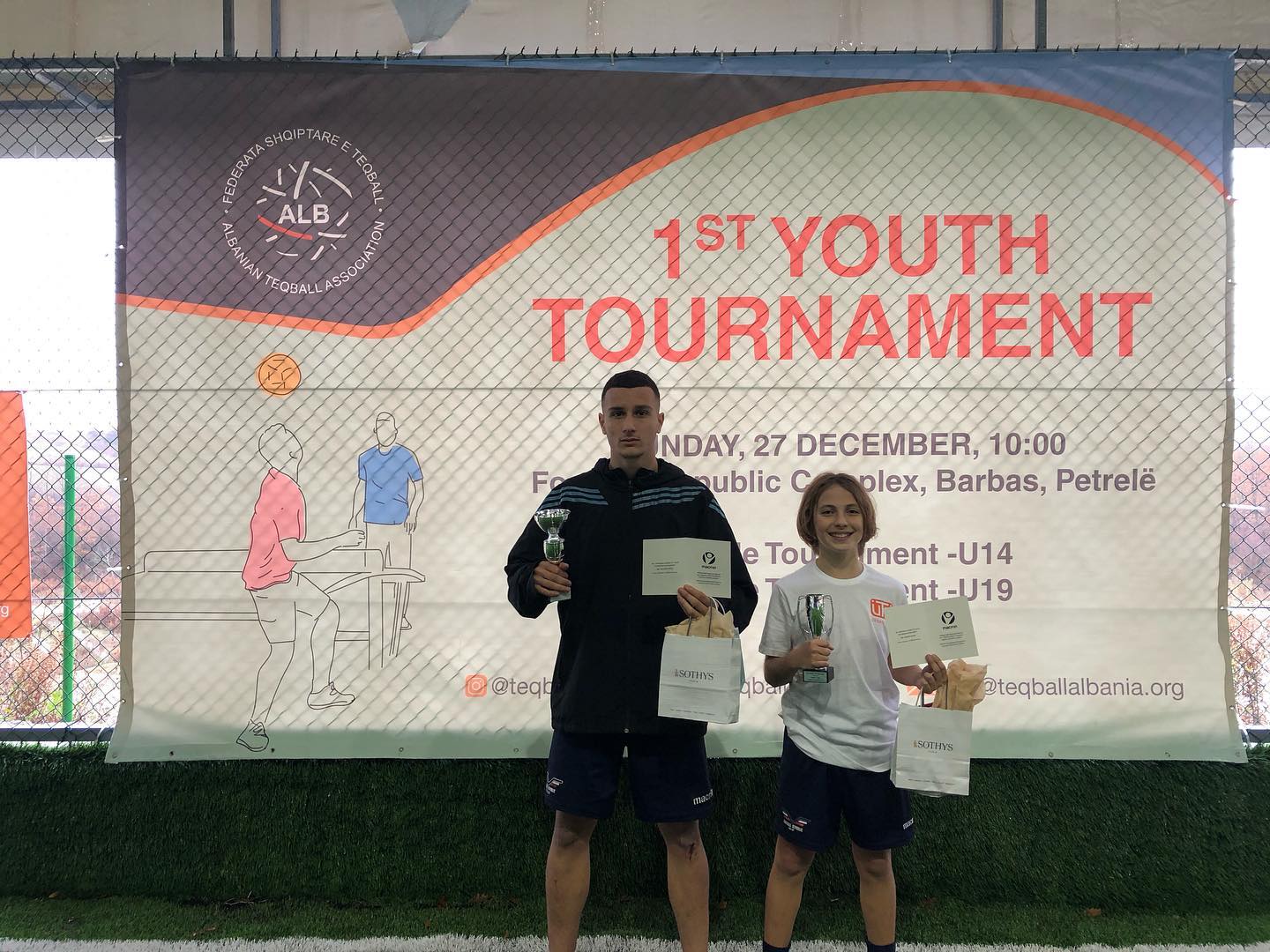 Teqball Albania looks to inspire the next generation of teqers
Albania's National Teqball Federation is building on its official recognition in July 2020 by engaging the country's future stars of the sport. Led by President Ardian Cani, Teqball Albania has exciting plans for this year following the success of two youth tournaments at the end of December.
Guided by its mission to promote teqball and attract players of all ages, achieve higher standards and improve the profile of the sport, President Cani and his team organised U-14 and U-19 competitions on 27 December. Hosted at the Football Republic Complex in Petrela, 16 players in each age group participated in a high-quality and entertaining event. All competing players represented teqball clubs that are members of Teqball Albania.
The pinnacle of the event was its two intriguing finals, which followed a series of closely-fought quarter and semi-final matches. In the U-14 final, Roan Vaso from Urban Teq triumphed over Francois Shabani from Skampini Elbasan, with both players showcasing their potential for future success. In the U-19 category, Xhafer Hodo, also representing Urban Teq, and Patrik Treni from Football Republic, produced the most exciting match of the day. Treni eventually overcame Hodo in a tight three-set encounter.
This was the first teqball competition organised by Teqball Albania and its success will provide the impetus for the National Federation to lead widespread growth of the sport in Albania in 2021. Teqball's popularity has been growing in the country since 2018, when a fan zone was organised in Skenderbej Square, situated in the capital city Tirana, to promote the 2018 Teqball World Championships.
Reflecting on the teqball journey in Albania so far, President Cani said: "As a newly established national sports federation, it was our duty and responsibility to decide how to best start the promotion and implementation of teqball in Albania. Our focus is the youth generation. Therefore, we decided to organise a youth tournament, prior to starting our official senior competition schedule in 2021. We were impressed with the seriousness and commitment of all the participants and their coaches. The level of play was very satisfactory, especially in semi-finals and the finals, giving us the right to think that our young people are passionate about the sport.
"We are sure that with the support of FITEQ and its Club Development Programme, we will spread teqball across Albania, increasing the number of registered players of all ages, in order to assure the best participation and competition in our planned national events. I remain totally confident that teqball has a future in Albania and we will do our best to rank teqball as one of the favourite sports amongst Albanian youths."
08 Jan 2021