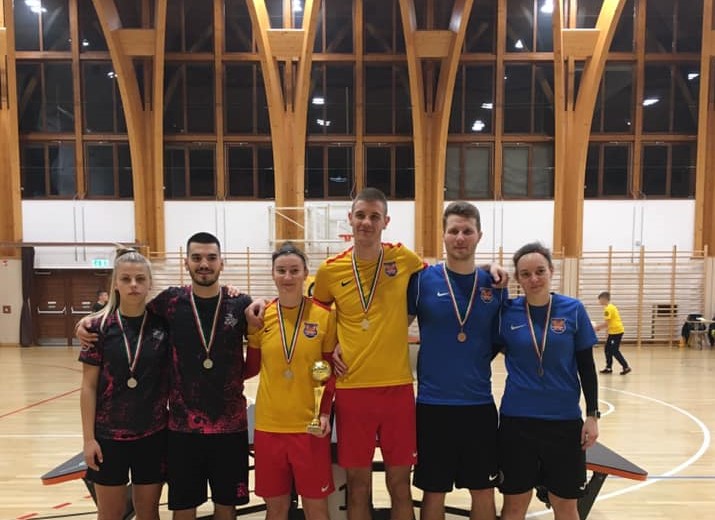 Csereklye's surprise win over Blazsovics keeps World Championships qualification race alive
Martin Csereklye caused an impressive upset over World Number 2 Adam Blazsovics in Round 3 of the National Challenger Series in Hungary last weekend (20-21 February).
Martin Csereklye caused an impressive upset over World Number 2 Adam Blazsovics in Round 3 of the National Challenger Series in Hungary last weekend (20-21 February). The World Number 30 showed inspired form as he completed a straight sets victory over pre-tournament favourite Blazsovics in a compelling singles final. Whilst Blazsovics' third successive final keeps him on track to qualify for the 2021 Teqball World Championships, Csereklye's memorable victory means the qualification race is still alive heading into the fourth and final round.
Blazsovics looked on course to win his second National Challenger Series event after breezing through the group stages without dropping a set. He continued in this vein in the knockout rounds, comfortably overcoming Bence Forgacs 2-0 (12-8, 12-1) before inflicting a 2-0 (12-6, 12-7) defeat on his doubles partner Csaba Banyik in the semi-finals. By comparison, Csereklye's path to the final was anything but comfortable. In the Round of 16, he had to show his nerves of steel to emerge victorious against Balazs Katz with a 2-1 (9-12, 12-11, 12-10) win. In the semi-finals, he came through another three set thriller against Zsombor Bene to set up a final showdown with Blazsovics. In one of the most surprising results of 2021, Csereklye put on a career best display to take home the title with a 2-0 (12-8, 12-10) victory.
After the final, Csereklye said: "In the last few weeks I felt like I was able to raise the bar physically and mentally, and managed to prepare perfectly for the competition. In my opinion Hungarian teqball has one of the highest level of competition, so I have to play against the best. For my club, Infinity Teqball, and for myself, the aim is to have at least one member of the team at the World Championships. To reach this goal we need to achieve some outstanding results, but we haven't given up on it yet! In my eyes Adam Blazsovics is the best player in the world, so this was a huge result for me. Now I will continue to work hard on my game, whilst also assisting others to reach their goals in this sport."
In the doubles, Blazsovics and Banyik secured their third consecutive National Challenger Series after a 2-1 (10-12, 12-6, 12-5) win over Adam Bako and Soma Fordos. The reigning world champions and World Number One doubles pair look like they will be the team to beat at this year's World Championships. Banyik took home a second gold medal after victory in the mixed doubles with partner Zsanett Janicsek. Bako had to settle for second place again after the rising star and his partner Lea Vasas lost an entertaining final 2-0 (12-8, 12-6).
After the event, Janicsek said: "For Csaba and me, our path was clear: we had to finish in first place to have a chance to qualify for the World Championships. Aware of this, we were very focused all weekend. We entered into the knockout stage with great confidence and we did not lose a set until the semi-finals. We showed good fight in every match and more importantly, we played with an incredible amount of willpower. I think in the last couple of months our game has improved a lot and we have also developed mentally. After this weekend, we are well on our way to reaching our goals!"
There is one more round of the Hungarian National Challenger Series, with qualification in all three event categories still open. In singles, Blazsovics will qualify if he reaches the knockout stage of Round 4, whilst Bako has an outside chance of qualification if he wins Round 4 and and Blazsovics does not reach the knockout rounds. In the doubles, Blazsovics and Banyik remain on course to qualify, but Bako and Fordos can secure qualification if they win the event and their rivals do not reach the quarter-finals. Finally, in the mixed doubles, the winner of Round 4 will likely represent Hungary in the World Championships. Banyik and Janicsek, Bako and Vasas, and Blazsovics and Gabriella Kota all still have the opportunity to qualify.
Last weekend also saw Madagascar host its first National Challenger Series. Athletes from across the island competed in singles, doubles and mixed doubles, as they began their journey towards World Championships qualification. In the singles final, Lafatra Koloina overturned a first set loss to take home the title 2-1 (8-12, 12-7, 12-9). In the doubles final, Lalaina Nandrianina and Bryan Rick Rakotomalala secured a tight 2-1 (12-7, 11-12, 12-10) victory over Maeva Maeva and Andoniaina Rakotondrazay. Finally, in the mixed doubles, N'lavo Rasamoelina and Iloala Soa Aniera were unstoppable as they took home the gold without losing a set all weekend.
The event was livestreamed, ensuring fans in Madagascar could watch the emergence of new sporting stars. The action in Madagascar continues this week (24-25 February) with Round 2 of the National Challenger Series. Event details and results, as well as all teqball news and information is also available on the FITEQ App, which can be downloaded in the APP STORE and the GOOGLE PLAY STORE.
ALL INFORMATION & RESULTS of the Hungarian National Challenger Series Round 3 - HERE
ALL INFORMATION & RESULTS of the Madagascar National Challenger Series Round 1 - HERE