EG2023 – The men's singles will be highlighted by multiple WCH-medallists
Teqball will be played in the European Games for the first time ever, let's take a look at the men's singles category.
History will be re-written twice as for the first time ever, Teqball will be featured in one of the greatest sporting events in Europe, the European Games 2023 Krakow-Malopolska, and like many other sports, this tournament does not only decide about the throne of the EG but will also count as the debuting European Championship for teqers.
The debut of Teqball will consist of 69 players from 21 different countries in all five categories (women's and men's singles, doubles, and mixed doubles).
Each country is represented in men's singles as 21 athletes from 21 nations will fight for the title.
The category promises to be a highly exciting one, featuring FITEQ's World Ranking 1 and current world champion Apor Gyorgydeak from, four-time WCH-medallist Adrian Duszak and Csaba Banyik who has won 10 consecutive tournaments in doubles and two-time world champion too. The latter is really looking forward to this event because it is going to be the biggest multisport event in which he will ever participate, so he's been waiting for it even more than he did so with the world championships.
"I would be completely satisfied with just the two gold medals. Currently, there is no Teqball player who has won in 3 categories at a continental or Tour events together. I would like to be the first. I can already call myself a world champion in doubles and mixed doubles, the singles category is still missing" – said Banyik. The Hungarian also added that Teqball has provided him with great opportunities to get to know new countries, cultures and people. He managed to get to many places that he only dreamed of before Teqball.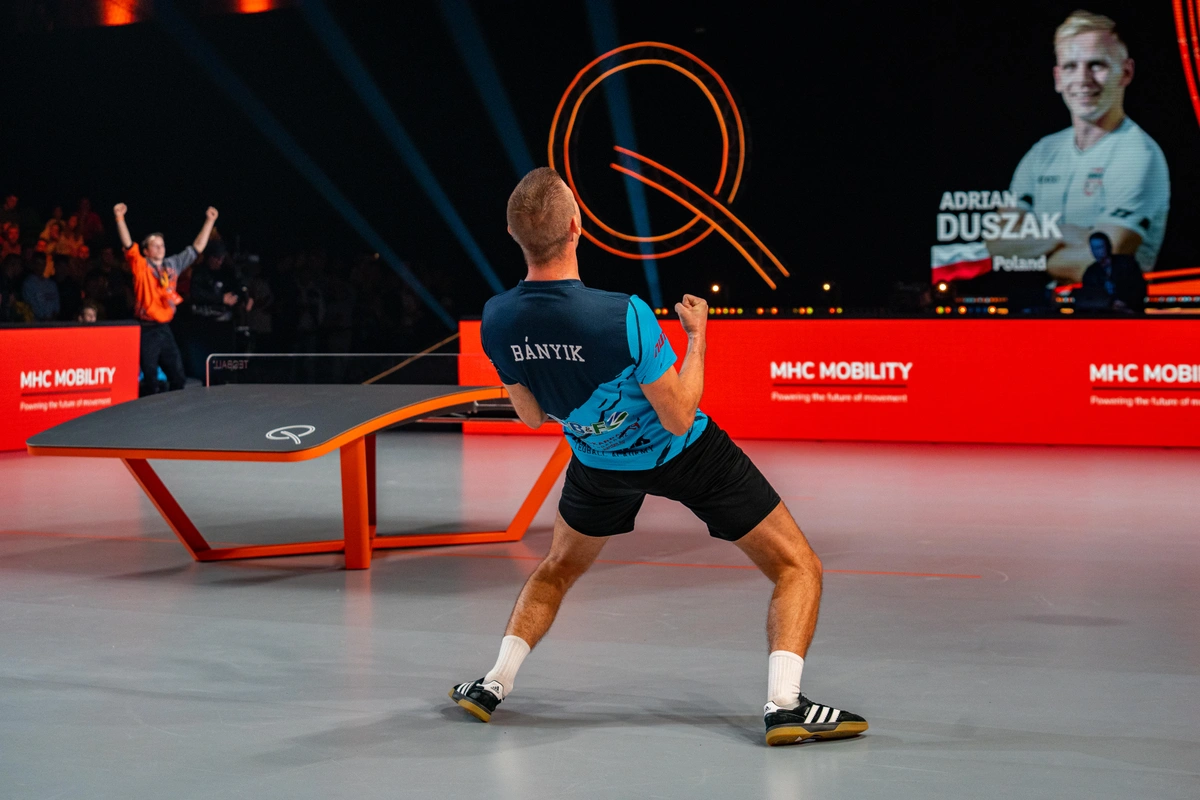 Last time Banyik won in men's singles category. European Teqball Tour, Budapest, 2022, against Adrian Duszak.
Gyorgydeak from Romania has participated in three European events this year, where he won two gold medals and one silver, and he is definitely looking to extend his nice streak. Duszak will likely enjoy great support from the home crowd by being the biggest ambassador of Teqball in Poland. He lost in the WCH final in 2022 against Gyorgydeak and is motivated to get his revenge on home soil.
We will see other highly touted players in Krakow, too. Frenchman Hugo Rabeux (WR 7) hasn't found the podium in singles since 2021, however, he's been in great shape as he collected three medals (2 golds, 1 silver) in doubles and mixed doubles at recently held events in the US.
11th-ranked Bogdan Marojevic from Serbia has also produced strong results so far in 2023 in his special field, men's doubles as the title's three-time world champion, not to mention that he has sweet memories from Krakow as he made it to the quarterfinals in singles when he last competed in the city. Danish Brian Mengel Thomsen has finished inside the top 10 in every event he took part in singles, however, has yet to advance to the semifinal, while Ukrainian Oleh Usychenko is looking for some momentum as he's been unable to make it to the top 16 since finishing 5th in the Teqball World Championships 2021.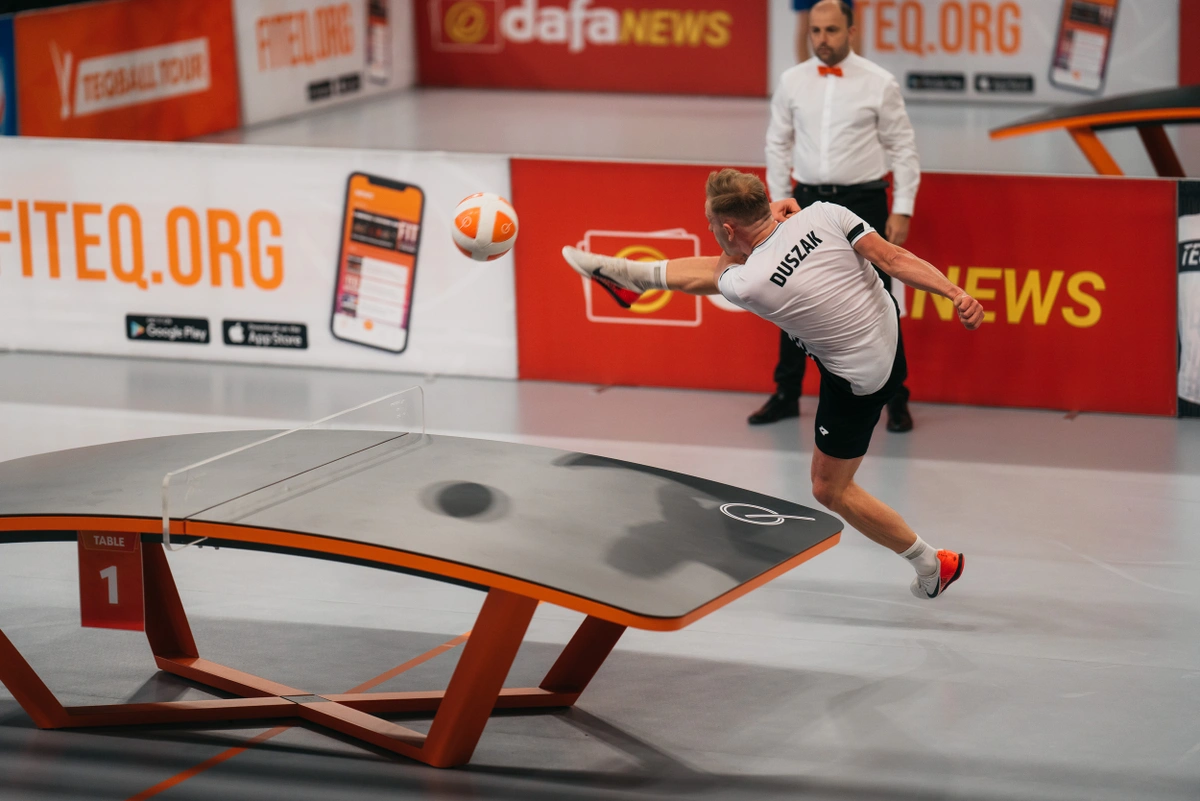 Will be Duszak flying? The Polish teqer has already reached the finals twice at WCHs, but never took the crown.
Don't sleep on Armenian Gor Sargsyan, who came up 5th in last year's WCH and already has a top 10 result under his belt, and Moldovian Alexandru Sirghi, who claimed the 9th place in the Teqball World Championships 2022.
Jon Nielsen's talent is shown well as his first event was European Teqball Tour in Budapest in 2022, yet he qualified for the European Games. The Albanian, 15-year-old Fransua Shabani is the youngest of the whole line while Petr Bubniak from the Czech Republic is the most experienced player at 45 years of age. Dimitar Pejchinovski is the only teqer representing North Macedonia.
Marian Badar (SVK), Benedikt Hofmann-Wellenhof (AUT), Dario Batalo (CRO), Kestutis Balciunas (LTU) do not need to worry about long flight hours to Kraków, however, the Portugal Joao Minheiro, WR 96 is one of the furthest countries from Kraków in Europe. Adrian Uka is currently the 31st at the WR and above .500 in this category. The Kosovar athlete reached the Round of 32 in Podgorica this season. Marko Zarkovic from Montenegro only started to play Teqball a year ago and is yet to earn his first prize money.
Arovetto Lombardi had bigger successes in doubles, but the Italian will try his luck in Kraków at the European Games Krakow-Malopolska 2023 in singles too.
In the group stage, the best of the three participants will automatically advance to the knockout stage, plus the best second-placed athlete of any trio also joins. To determine the best 2nd places: first the most match points, then better set difference, then most sets won, then better point difference, then most points won and finally the strength of groups as per the World Ranking of the teams is counted.
The European Games will take place in Krakow, Poland, the Teqball competition will be held from 28 June until 1 July at the beautiful Main Square. The men will start the event on 29 June.
Follow every statistic and interesting detail on our brand new site, www.datateq.org/european_games.