EG 2023 - Highest-ranked teqers compete in men's doubles
Teqball will be played in the European Games for the first time ever, let's take a look at the men's doubles category.
For the first time ever, Teqball will be featured in one of the most remarkable sporting events in Europe, the European Games 2023 Krakow-Malopolska. Like many other sports, this tournament is not only about being part of the EG but will also count as the European Championship for teqers.
The debut of Teqball will consist of 69 players from 21 different countries in all five categories (women's and men's singles, doubles, mixed doubles).
Seven of the top 10-ranked players in the world will face off in Kraków, thus the high level of competition is already guaranteed. Serbian Nikola Mitro tops the World Rankings with his countryman, Bogdan Marojevic following him in 2nd place, this duo came up victorious at the Teqball World Championship 2022. Mitro is already excited to compete in the Polish city:
"Honestly, although I am a three-time world champion, for me, the European Games are the most significant event in my Teqball career for now, and I really take this as the biggest thing in my Teqball career. Before everything, Teqball is love for me. Through Teqball, and maybe Olympic Games someday, it provides immortality in the world of sport and the European Olympics may be the first step."
The pair of Csaba Banyik (WR 3) and Balazs Katz (WR 4) has been on a roll in the past 10 months, as the Hungarians have won 10 straight tournaments they took part in, including the World Series in Krakow last August. Another strong contender could be the Romanian team of Apor Gyorgydeak and Szabolcs Ilyes (both tied at WR 6), though they have not found a way to victory together since 2021. Gyorgydeak, the world champion in singles, mentioned that he is very motivated to compete in the sport's first European Games appearance and his goal is to win the gold in singles and make it to the final in doubles.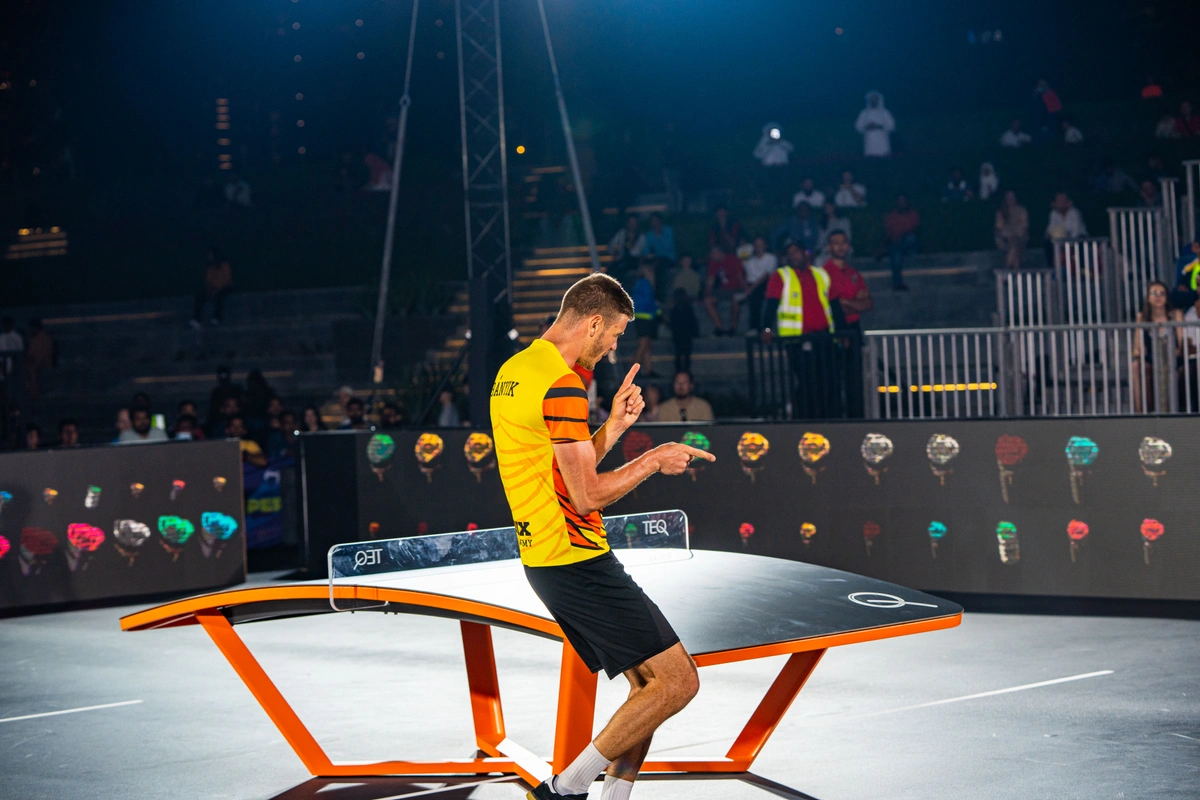 Csaba Banyik stands to the table with his favourite partner, Balazs Katz
Frenchman Hugo Rabeux (WR 9) knows what it takes to pull off upsets as he has done it numerous times before, last time in Miami against Gyorgydeak and Ilyes with Barna Kovacsfi on his side. His teammate will be Lionel Beyer in Krakow, he reached to quarterfinals this year once in Madrid.
Adrian Duszak, Poland's highest-rated individual player will team up with 17-year-old Marek Pokwap, who, despite his age, has an already impressive résumé with a top 4 finish in 2023 and a 5th place in doubles from the WCH in 2022. They are both ranked within the top 25 in the latest world rankings. Ukrainians Oleh Usychenko and Dmytro Sevchuk also managed to get to the quarterfinals in Nuremberg, but they have not been very successful so far in 2023, something they desperately want to change in Kraków. The case is similar with the Danish twosome of Brian Mengel Thomsen and Matthias Landen Jeppesen: they have not been able to repeat their success but the EG could be the perfect place to turn their luck around.
Lukas Flaks and Petr Bubniak from Czechia are two of the most experienced teqers in the field and they can rely on their consistency, too.
The Armenian duo of Rafayel Vardanyan and Gor Sargsyan has been trending upward with two top 5 results in a row in Europe, while Portuguese Joao Pinheiro and Luis Santos have yet to crack the top 16 in 2023.
Gor Sargsyan represents Armenia
Alexandru Sirghi and Munteanu Dumitru will represent Moldova and try to improve their 17th place achieved in Nuremberg, just like Andrija Jovanovic & Marko Zarkovic from Montenegro, and the Lombardi brothers, Arovetto and Johnny from Italy. Marian Badar will participate with Branislav Rodman, who established the Rodman Academy in Slovakia. Adrien Uka from Kosovo already has 9th place from Podgorica in 2023, but this time he will join forces with Krenar Emini. German Jon Nielsen also claimed his best result this year in Montenegro, but in Kraków, he will team up with Yannic Staechelin. Austrians Benedikt Hofmann-Wellenhof & Daniel Neuhold, and Croatians Dario Batalo and Filip Bungic will make their international debut in the European Games.
The European Games will take place in Krakow, Poland, the Teqball competition will be held from 28 June until 1 July at the beautiful Main Square. The doubles will face off on 1 July.
Follow every statistic and interesting detail on our brand new site, www.datateq.org/european_games.