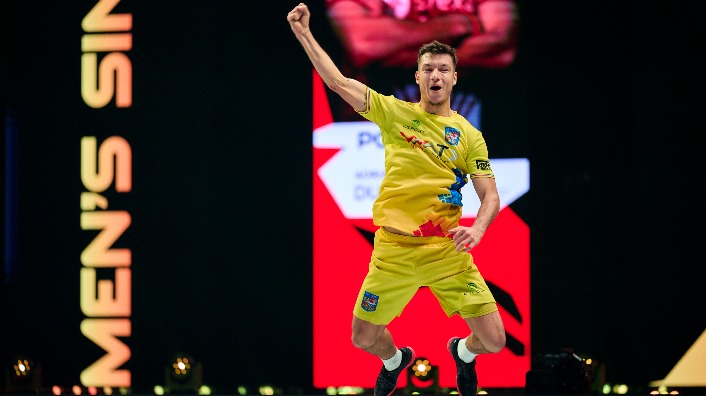 WTC23 - Can anybody stop Apor Gyorgydeak from repeating in Bangkok?
Apor Gyorgydeak won in Nuremberg, at the last World Teqball Championships and returns to repeat as Teqball's first European champion in MS.
We are only days away from what will be a historical event, the World Teqball Championships 2023. It is going to be the first WCh to be held outside of Europe as Bangkok will host the tournament with a record number of participants, having 211 athletes representing 61 countries.
We will find the most competitors (55) in the men's singles category, where quality also comes with quantity. Look no further than the sport's only four-time World Champion, Adam Blazsovics, who has won three individual gold medals so far out of five. Last year, the Hungarian ended up with the bronze after losing the semifinal against Adrian Duszak from Poland, who has finished on the podium on four consecutive occasions but is still looking for his first trophy. Romanian Apor Gyorgydeak put on a dominating show in Nuremberg in 2022, claiming the main prize without even losing a set, and in June he became Teqball's first European Champion, winning the final again versus Duszak in Krakow. Without a doubt, he is the favourite.
These three gentlemen possess the top three positions in the World Rankings and are expected to fight for medals, but it does not mean we do not have other contenders. Frenchman Hugo Rabeux finished third at the European Games and made it to the quarterfinals in Nuremberg, where he lost dramatically against Blazsovics. Bogdan Marojevic has three titles under his belt in doubles with his partner, Nikola Mitro, but has yet to find the podium in singles, placing 4th twice.
Multiple Teqball Tour-medallist in doubles categories Uthen Kukheaw earned the right to represent Thailand in front of the home crowd and could be in contention for a strong result, just like Brian Mengel Thomsen from Denmark (top 8 finishes in the last two major events), up-and-coming American Griffin Freeman, African Beach Games individual bronze-medallist Yassine Sahli from Tunisia, Gor Sargsyan from Armenia and 20-year-old Lucas Bernardes from Brazil.
It is also great to have many countries make their debut in the World Championship. We have first-timers from Benin (Chedrac Alban Ahomadi), Brunei (Muhammad Azri Awang Abdul Harith), Colombia (Nilson Fernando Castaneda Vargas), Eswatini (Siphosethu Sikhondze), Guatemala (José Pablo Gonzalez Hidalgo), Indonesia (Yoga Ardika Putra), Iraq (Abdullah Hameed), Kyrgyzstan (Aitegin Maksatbek), Lithuania (Kestutis Balciunas), Philippines (John Dale De Jesus Bartolome), Sierra Leone (Abdulai Bangura), Singapore (Mohamed Farhan Bin Mohamad Farook) and South Africa (Ozwin Edwards). Proof, that the Teqball family is growing constantly and spreading worldwide. This event will not only be the clash of the best of the best, but a great opportunity to take more steps towards becoming a fully global sport.
The group and knockout stage will be played in the Hua Mak Arena on November 29, while the semifinals and the medal matches will be hosted by the Bangkok Arena on December 2.
Watch the games live on our YouTube channel.