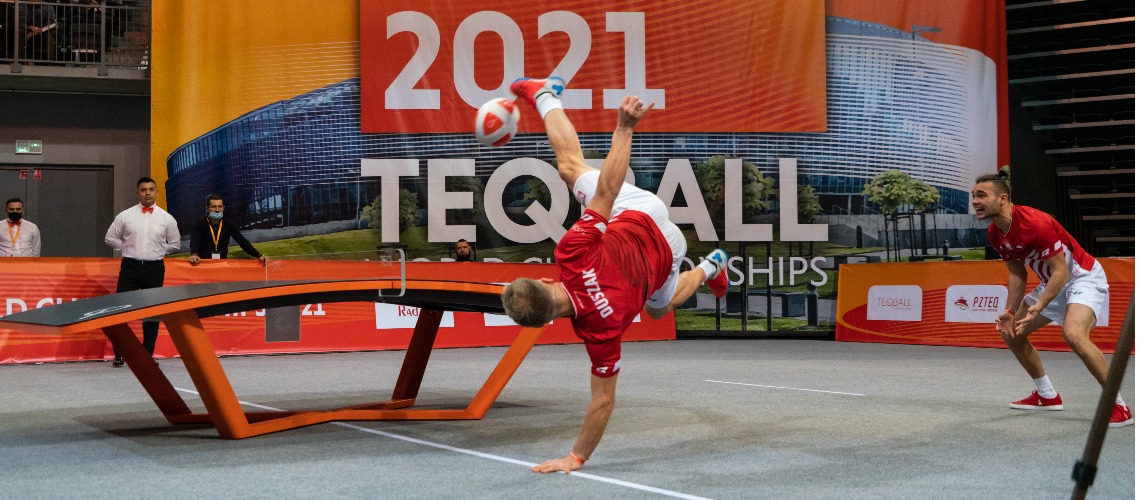 Teqball World Championships Day 2 - Quarterfinals line-ups complete as excitement grows at Gliwice Arena
Day 2 of the 2021 Teqball World Championships in Gliwice, Poland featured the first of the knockout rounds of the competition, with 16 players bidding to reach the quarterfinals of the men's singles competition.
Romania's Apor Gyorgydeak and Hungary's Adam Blazsovics, the first and second seeds respectively, each won their round of 16 matches in straight sets to progress to Friday's quarterfinals.
There they will be joined by Ukraine's Oleh Usychenko, a surprise winner against Macedonia's joint seventh seed Valeriu Tiron, plus USA's Luka Pilic, France's Julien Grondin (third seed), Poland's Adrian Duszak (fourth seed), Serbia's Bogdan Marojevic (fifth seed) and Tunisia's Yassine Sahli (sixth seed).
Denmark's Brian Mengel Thomsen, disappointed to lose out to Duszak in the round of 16, was nevertheless positive about his experience of the World Championships. He told FITEQ: "It's been so good that we can come here, a small country, and do this well.
"We came top 16 in the singles and we won a set in the doubles against Czech Republic, which is one of the best doubles teams in the world, and mixed doubles we did the same. No one expected Denmark to be this good in such a short time."
In the women's singles, the group stages were completed with home star Paulina Lezak, seeded fifth, topping Group B, but level on 7 points with Russian Teqball Athlete (RTA) Ekaterina Poteshkina, and France's Amelia Julian, seeded second. All three advance to Friday's quarterfinals.
In Group A, Hungary's Anna Izsak, the top seed, had a clean sweep, with 2-0 wins in all four of her matches, a feat matched by USA's sixth seed, Carolyn Greco, in Group C. These two will be joined by Lebanon's 19-year-old fourth seed Maria Chadid, Ukraine's Kateryna Fesenko and Norway's Pernille Smith in the quarterfinals.
In the women's doubles, USA (Carolyn Greco and Margaret Osmundson) and Brazil (Rafaella Fontes and Natalia Guitler) topped Groups A and B of the group stage, with both teams unbeaten. They will be joined in Friday's quarterfinals by teams from Portugal, Poland, Romania, Hungary and Russian Teqball Athletes.
France (Lea Hoffmann and Lauryne Scherrer) qualified for the last eight with three victories, but were forced by injury to concede their fourth match against Brazil without taking to the court.
Meanwhile, in the men's doubles, home favourite pairing Duszak and Bartlomiej Frańczuk, seeded sixth, were popular winners against the Czech Republic team of Lukas Flaks and Tomas Makurek.
Joining Poland in Friday's quarterfinals will be: Hungary, Ukraine, Serbia, France, Romania, Brazil and USA.
The mixed doubles also resume with the quarter-finals on Friday. The competing teams will be: Hungary, Serbia, USA, Poland, Romania, Portugal, Czech Republic and Brazil.
09 Dec 2021