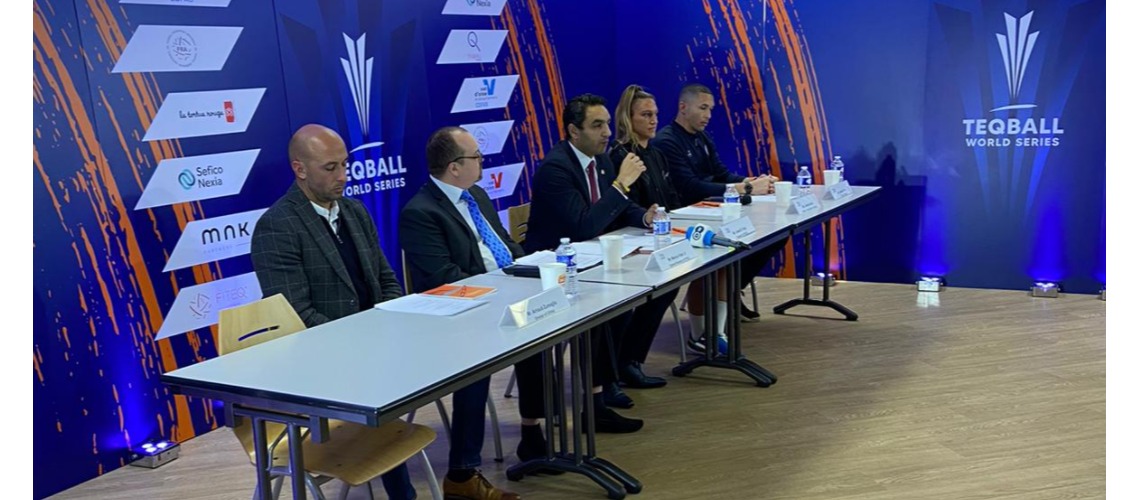 Inaugural Teqball World Series opens in style in Paris
The first-ever edition of the Teqball World Series opened today in the historic sporting city of Paris. The event, which runs from 18-20 March at the world-class CDFAS venue, features women's doubles, men's doubles, and mixed doubles categories. There are 178 athletes (124 men and 54 women), from 29 countries, covering four continents, competing in the major event.
Today's play consisted of the group stages of the men's doubles and women's doubles, with the mixed doubles starting tomorrow. The stand out moment of the day was the performances of the Ukrainian men's doubles team, who topped their group after winning every match in straight sets. FITEQ has expressed its solidarity with the Ukrainian people, and is supporting the attendance of its teqball athletes and their families in Paris, and will continue to do so at future competitions.
In the women's doubles, the USA's World Number 1 and 2 Carolyn Greco and Margaret Osmundson, as well as Brazil's second seed pairing of Rafaella Fontes and Natalia Guitler, dominated their groups without dropping a set. In this form, the top two seeds look set for a rematch of the unforgettable 2021 Teqball World Championships final, where the Brazilians eventually came out on top.
Ahead of the opening day's play, a press conference was held with the world's media, led by FITEQ General Secretary Marius Vizer Jr., and featuring President of FNTEQ and FITEQ Executive Board member Jawad El Hajri, CDFAS Director Arnaud Zumaglia, Carolyn Greco, and French star Julien Grondin.
Addressing the media, Marius Vizer Jr said, "It is a great pleasure to see you all here in Paris for our inaugural World Series event. I want to start by sharing our solidarity with the people of Ukraine. What is happening is truly devastating and our hearts go out to every single person whose life has been changed forever by the senseless violence we are seeing. The teqball family stands firmly with Ukraine and we are all praying for peace. We have four Ukrainian athletes here with us this week and FITEQ is honoured to have supported their attendance.
"To be here in the historic sporting city of Paris, the host of the next Olympic Games, is a special moment for teqball. The Teqball World Series is the biggest event outside of the Teqball World Championships, with stars from all over the world competing for $100,000 prize money! Just over three years ago, France hosted the 2018 Teqball World Championships in Reims. It was a week that I will never forget and a clear sign that France and teqball were a perfect match. There is no better place to launch this new event than Paris.
"The venue, the event organisation, and the atmosphere are exactly what our elite athletes deserve. I want to thank our friends at the French Teqball Federation, led by President Jawad El Hajri, for their collaboration in staging this historic event."
18 Mar 2022