FITEQ holds productive meeting with SportAccord following Gold Partnership agreement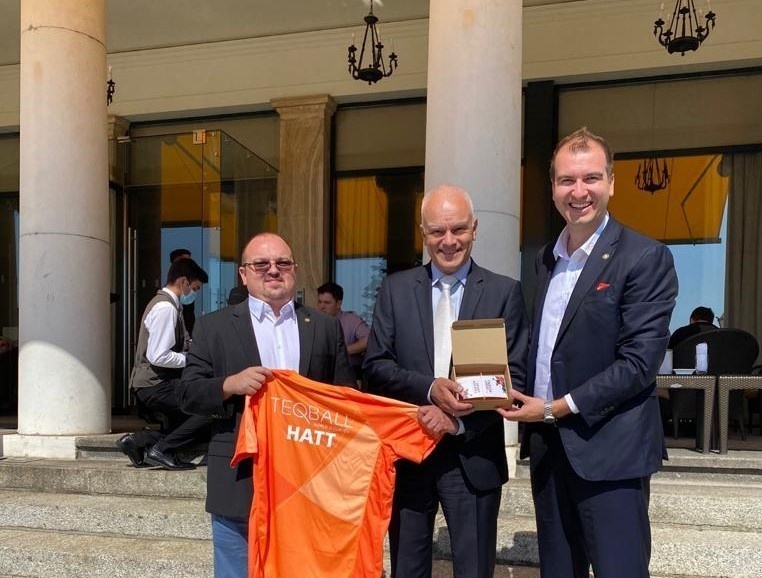 FITEQ holds productive meeting with SportAccord following Gold Partnership agreement
FITEQ Chairman Viktor Huszár and General Secretary Marius Vizer Jr had a successful meeting with SportAccord Managing Director Nis Hatt in Lausanne, Switzerland today.
Discussions centred on FITEQ's Gold Partnership for SportAccord 2021 in Ekaterinburg, which was signed at the end of July 2020, as well as the ongoing collaboration between the two organisations. As preparations for the world's largest gathering of the global sports family continue to progress, FITEQ and SportAccord spoke about the various activations relating to teqball during the event.
SportAccord brings together representatives from more than 125 International Sports Federations affiliated with the Olympic Movement and enables delegates to network with sports leaders at the highest level and engage in meaningful discussions on the future development and direction of sport.
Following the meeting, FITEQ General Secretary Marius Vizer Jr said: "We are grateful for the ongoing support of Mr Nis Hatt and the SportAccord team and we are now even more excited to head to Ekaterinburg next year after today's productive meeting. FITEQ was a Gold Partner at SportAccord 2018 in Bangkok and a Bronze Partner at the first-ever Regional SportAccord Pan America 2019 in Fort Lauderdale, so we have built a strong relationship with the team there. We're looking forward to continuing this collaboration and sharing our vision for the most exciting and fastest growing sport in the world."
18 Sep 2020