Interview: Carolyn Greco and Nancy Avesyan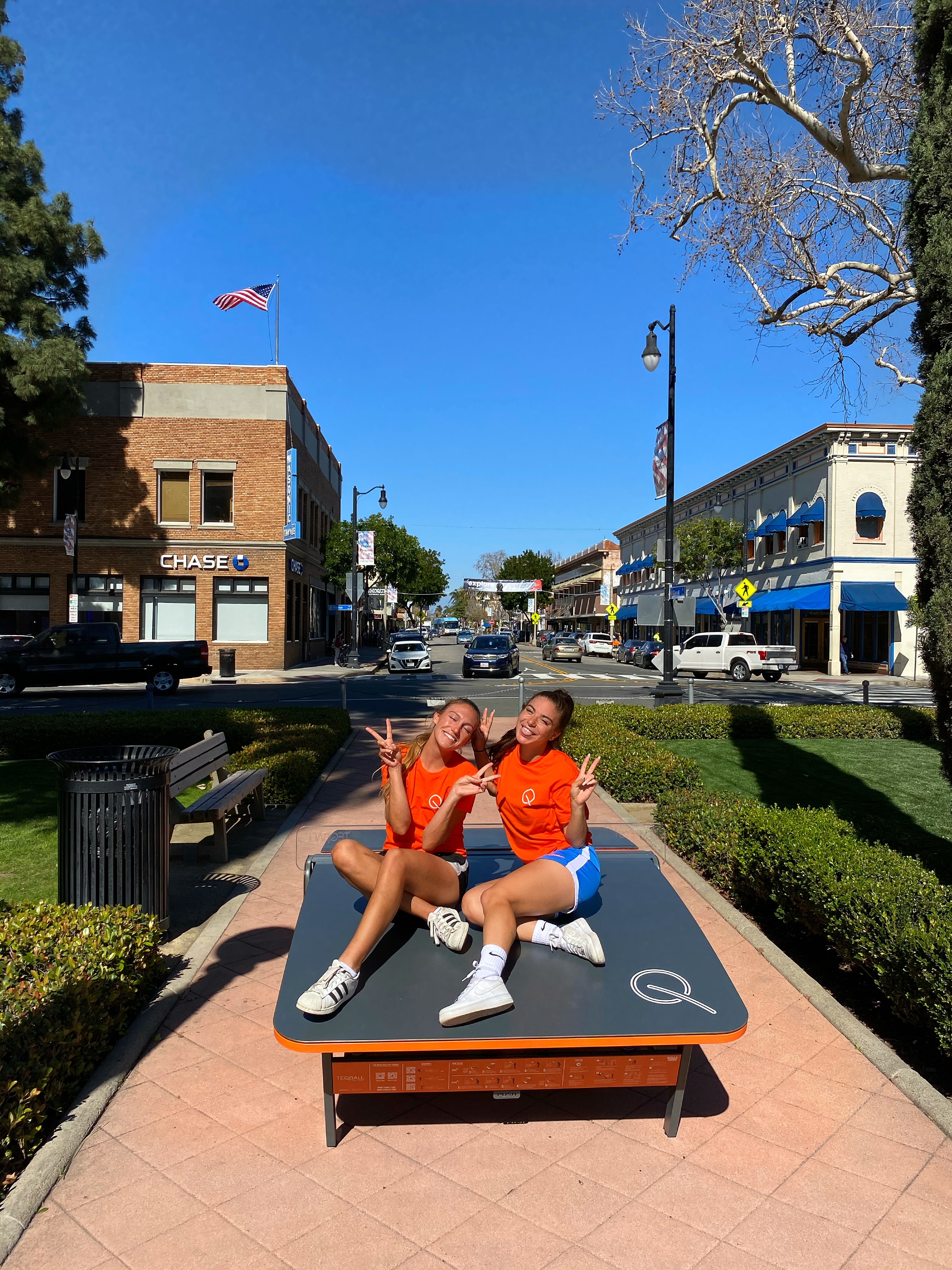 Interview: Carolyn Greco and Nancy Avesyan
INSIDE TEQBALL- STORIES FROM THE TEQBALL WORLD
Carolyn Greco and Nancy Avesyan are leading the way for the next generation of female teqers in the US. Both Greco and Avesyan were talented footballers, who have now turned their attention to teqball. They are stars of the first teqball club in the US, the LA Teqers, as well as members of the first all-women's teqball club in the world, the Bella Teq. Earlier this year, they demonstrated their potential in the LA Challenger Cup and the San Diego Challenger Cup, both reaching the quarter-final stage in the two events. The future is bright for these ambitious teqers, who share their thoughts on what they hope the future holds.
Do you remember the first time you experienced the curved table?
CG: Of course, I do - I was very nervous! I first played in front of Gyuri Gattyán, one of the founders of teqball, as well as the founder of Teqball USA and the LA Teqers, Ajay Nwosu. I knew it was a huge opportunity, and I really wanted to impress them. Luckily, my lifelong training with a soccer ball was good enough, and I was in the right place at the right time.
NA: Yes, I remember very clearly! The first time I played was at Dogpound in West Hollywood. I played with world class players from Hungary, Barna and Adam (teqball sport instructors), and some fellow LA Teqers! I was warming up and learning some of the rules as they were assembling the table. The first time I played, I was partnered with Barna and he set me up with a nice ball every single time! I learned quickly where to place the ball for him to get the smash, and that's exactly what he did leaving the others with no chance to return the ball. I had an amazing time and I remember clearly after we had to wrap up that I didn't want to leave and wanted to keep playing!
Singles or Doubles? Which one would you choose and what are your reasons?
CG: I am still trying to figure out what my preference is because I am so new in the sport. I like singles because it is the ultimate competition to showcase who has the best skill, intelligence, defense, and attack. It is you vs. me, and I can't depend on anyone else to get the win. I am involved in every single save and smash. It is a very rewarding feeling to know that I beat someone by myself without the support of anyone else. However, I love playing mixed doubles as well. Even on my worst days, I always try to be a very positive and uplifting teammate. It is so much fun when you and your partner have the same champion-like mindset and are able to communicate and encourage each other throughout a tough match. I love those particular moments during doubles matches when you get into a flow with your partner, and you feel like you are reading each other's minds.
NA: That is a tough question. If I was asked this a few months ago I would have quickly said doubles. After practicing and playing in my first singles challenger cup in March I think I might prefer singles a tiny bit more! I loved the adrenaline and the feeling of everything being solely your responsibility. I ended up placing 5th in singles and overall it was a great experience.
Coming from a football background. Why do you think this is addictive?
CG: I've played professional soccer for handful of years now, and teqball is so addictive because of the beauty of it. I particularly love the type of soccer that is tiki-taka style (for example, when the ball is shared quickly and effortlessly throughout the different channels of the field). It is so satisfying to both watch and play. Similarly, when two really skilled teams go head to head in teqball, it is the most entertaining and graceful sport to watch. It looks even easy at times, but when you try it for yourself, you quickly realise the amount of skill and intelligence required to play the sport.
NA: Being a current professional soccer player with the Armenian National team and former NCAA Division 1 college athlete in the US, I absolutely love the competition of Teqball! The adrenaline and the competitive edge that the game gives is something that you cannot get anywhere else. With soccer being a team sport, the main difference that I quite enjoy with teqball is that it's a bit more individual in some sense. One bad touch in teqball may not be as forgiving as maybe in a soccer game. The pressure that rides on you individually is something that I love and makes you continue to want more. It also doesn't hurt that I get to play against men and show them that I can beat them 1 on 1!
Do you think teqball can make more equality between female and male athletes than soccer?
CG: Teqball isn't a contact sport, and being smaller or less strong than some of the men I play against is not as much as a factor. It is much more important to have a good touch on the ball and being limber/flexible enough to save and smash well. In my opinion, anyone is capable to execute football or teqball skills well, as long as they are committed to their training with discipline.
NA: Absolutely! The beauty of teqball is that it allows males and females to compete with and against each other unlike any other sport! Teqball has set the standard to show the sports world that inclusivity is a big part of who they are and it gives females a huge motivation to be a part of the sport and gives an equal playing field.
What are the most important skills or strengths that you think are essential when playing teqball?
CG: I think flexibility is very important because a wide range of motion on your smashes makes them much more powerful. Also, flexibility helps with your defense because you need to be able to stretch out and make saves.
NA: A very valuable strength to have in the game is actually not a specific technical skill! It's being able to stay composed and being calm and confident at all times during your match. Teqball is as tough mentally as it is physically with your technique and skills. It is easy to get in your head during a match if your performance isn't going as well as you'd like. If you lack confidence and composure in your game, you will lose the match! Aside from the mental side, another essential skill is definitely flexibility to get those SMASHES!
Do you have a favorite teqball player, or someone who you found impressive for their talent?
CG: I am very inspired by Brazilian player Natalia Guitler. I have only watched her matches on YouTube, but wow! Her skill, grace, and overall focus while she is on the court is just amazing. I think I see a lot of myself in her actually, especially in her hunger to win. I hope to face her one day in a World Championship match. I think I would give her a run for her money!
NA: There are many talented players that are extremely skilled and all have their own unique abilities. Amongst everyone I think I am most impressed by female teqball player, Natalia Guitler. She is a class teqball player and you can see the passion she has for the game just by watching her! She gives everyone on the court a run for their money, whether they are male or female, it does not matter!
If you could steal one skill or movement from Natalia, what would that be?
CG: Her collarbone/shoulder area is impressive. Her background in footvolley definitely gives her an edge with it.
NA: That would probably have to be her smash with the laces!
Please name a sportsperson that you would nominate to be a future teqball ambassador. What makes him/her TEQ?
CG: I'm very torn between two players here: Rose Lavelle and Tobin Heath. They both are not the biggest players, not the fastest player, not the strongest players, but their skill and intelligence on the field is unlike the others on the USWNT.
NA: Brandi Chastain. She is a world class athlete who is respected and has continued to lead athletes and create opportunities for others. She supports females and is Teq because she empowers women to continue to play just like what Teqball stands for. She can be a true role model and inspiration for many people, especially females with the position of a Teqball ambassador.
During practice, are there any special rules you apply to make the game more difficult?
CG: Sometimes we practice and make a rule that upon every serve we must use our most difficult one. This way we put more pressure on ourselves to be accurate on the tough services. Other times we make a rule where we can only send over the ball with a hard attack (eg. a smash, header, or trick shot). This way we practice our more lethal attacks rather than just playing it safe.
NA: I don't apply any special rules but I do challenge myself to try something new during practices! I will try different moves and see what I can find as a special trick that will make me stand out or give me a competitive edge! The only rule I do have is to always warm up properly and stretch (especially hip flexors) before playing on the table.
The pandemic situation has also reached the United States and has already caused serious damage. How did the spread of COVID-19 and the pandemic situation change your everyday sport life?
CG: I'm not practicing with my team anymore. I really miss my teammates. We go hard every day together and, honestly, they are some of my closest friends. But fortunately, I am at home safe and training every single day. I'm using this time to try and get ahead. I don't really mind it so much because I feel fortunate to have my jobs and I have a decent space to train from home.
NA: For one, I am not able to practice on a teqball table during this time. At first, my schedule was all over the place and I was sleeping late, waking up at different times and working out at different times which was taking a toll on my body. I ended up creating a schedule for myself to keep my body healthy and to stay consistent. I think during the pandemic with everything that is going on in the world it can be hard to stay motivated but I have found that with keeping my normal routine it has been a lot easier and helps to relieve stress when making the time to exercise and continue to do what I love. I still exercise a few hours a day and continue to touch the ball, just now I have to be more creative with the space and areas I have.
What is your goal for 2020 related to Teqball?
CG: I mostly want to just improve in the sport of teqball as much as I can. Ideally, I want to go to the Teqball World Championship and win a gold. I want to win, period. It is hard to say that is going to be possible after only playing for a few months, but I am hoping that by 2021, 2022 and beyond that I will hold a gold medal in my hands. That would be a more realistic time frame for me but I hope I can accomplish it sooner.
NA: Get 1st place in a Challenger Cup!
Where do you see teqball in 2024?
CG: I'm hoping the sport grows as much as possible. I would also like to see a World Championships for women's singles.
NA: I see it continue to take the world by storm. I think that Teqball is well on its way to becoming an Olympic sport! I am also hopeful to see an equal percentage of representation in the World Cup between male and females by 2024!
Thank you for the interview and good luck with all your endeavours with teqball!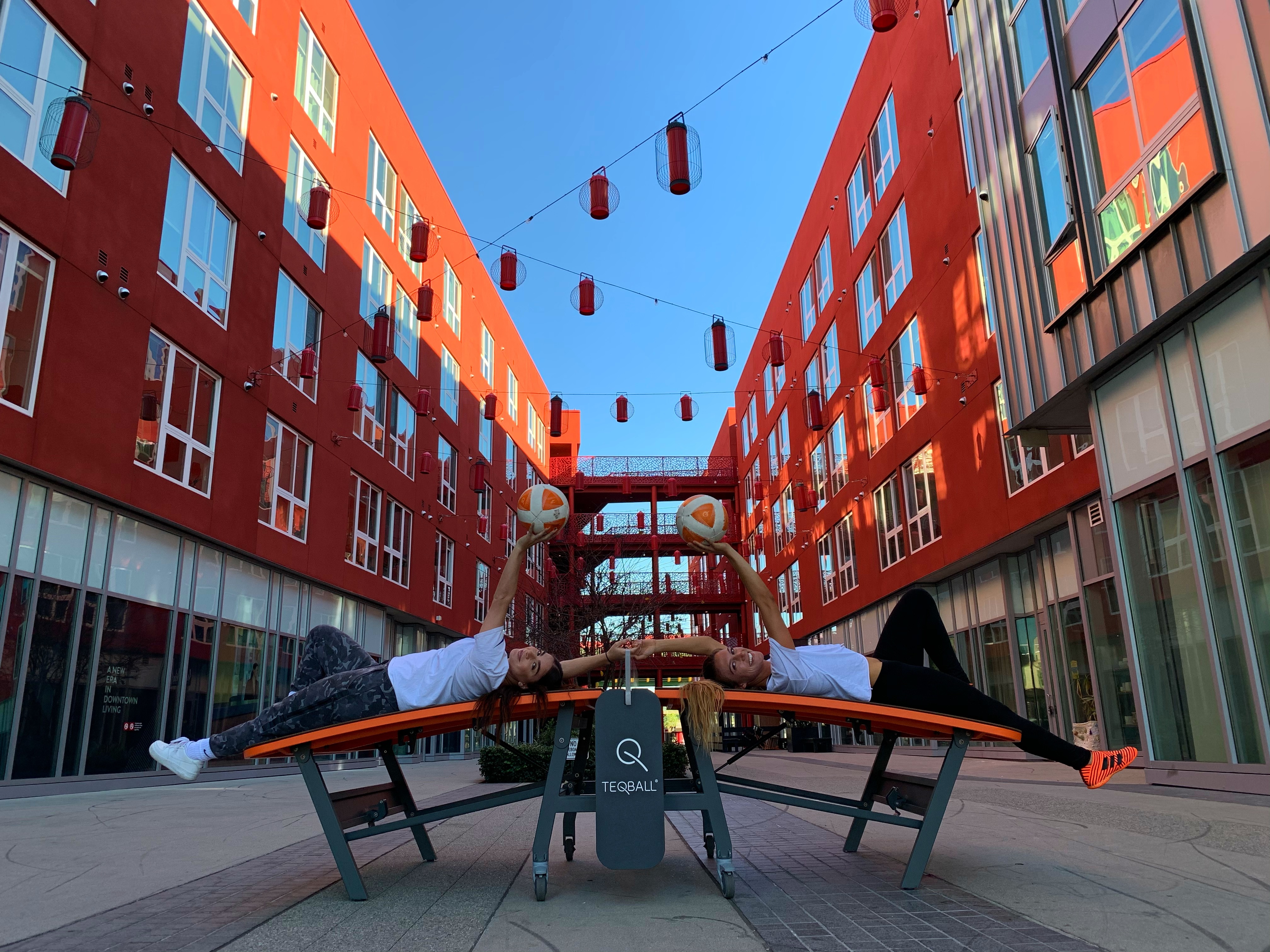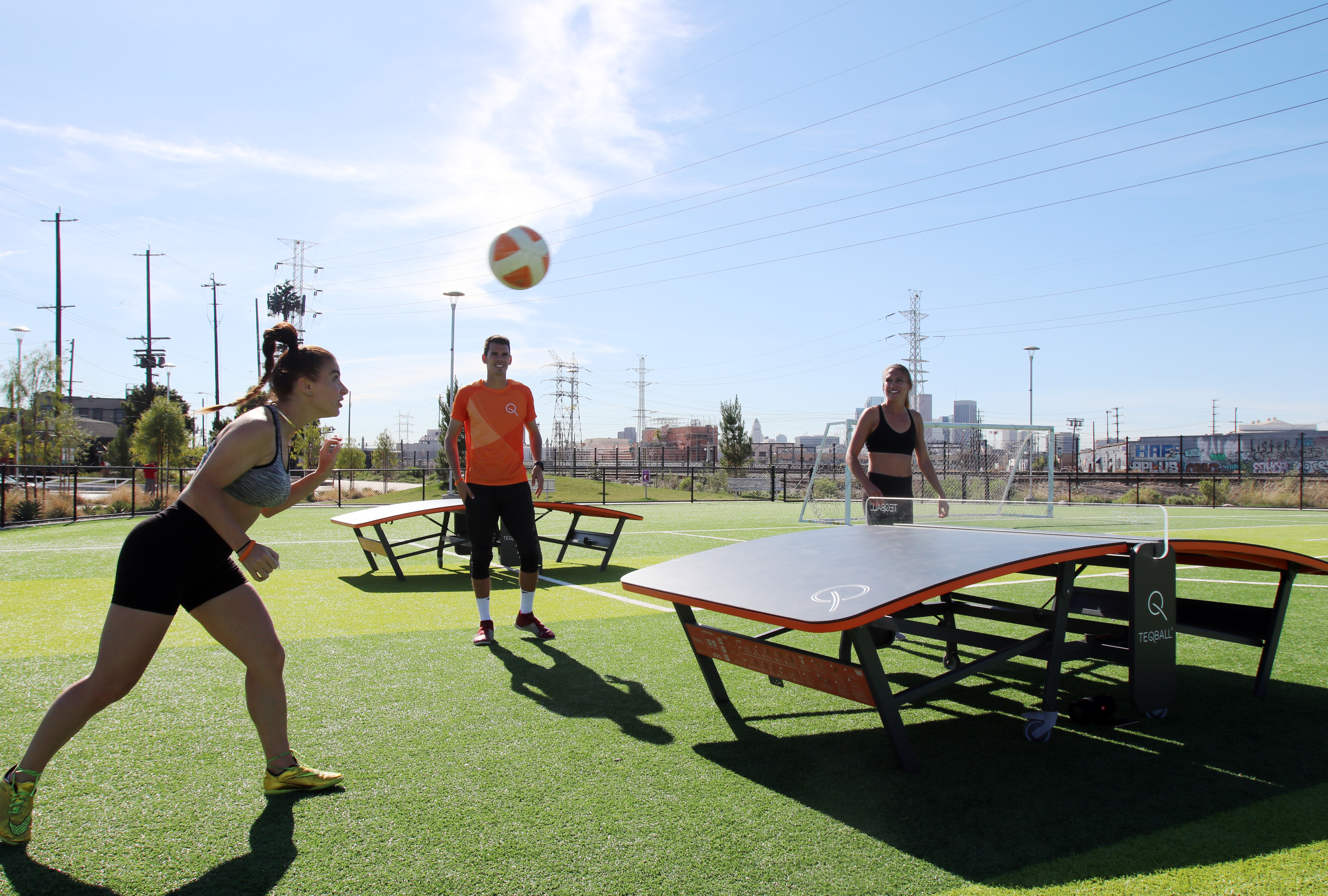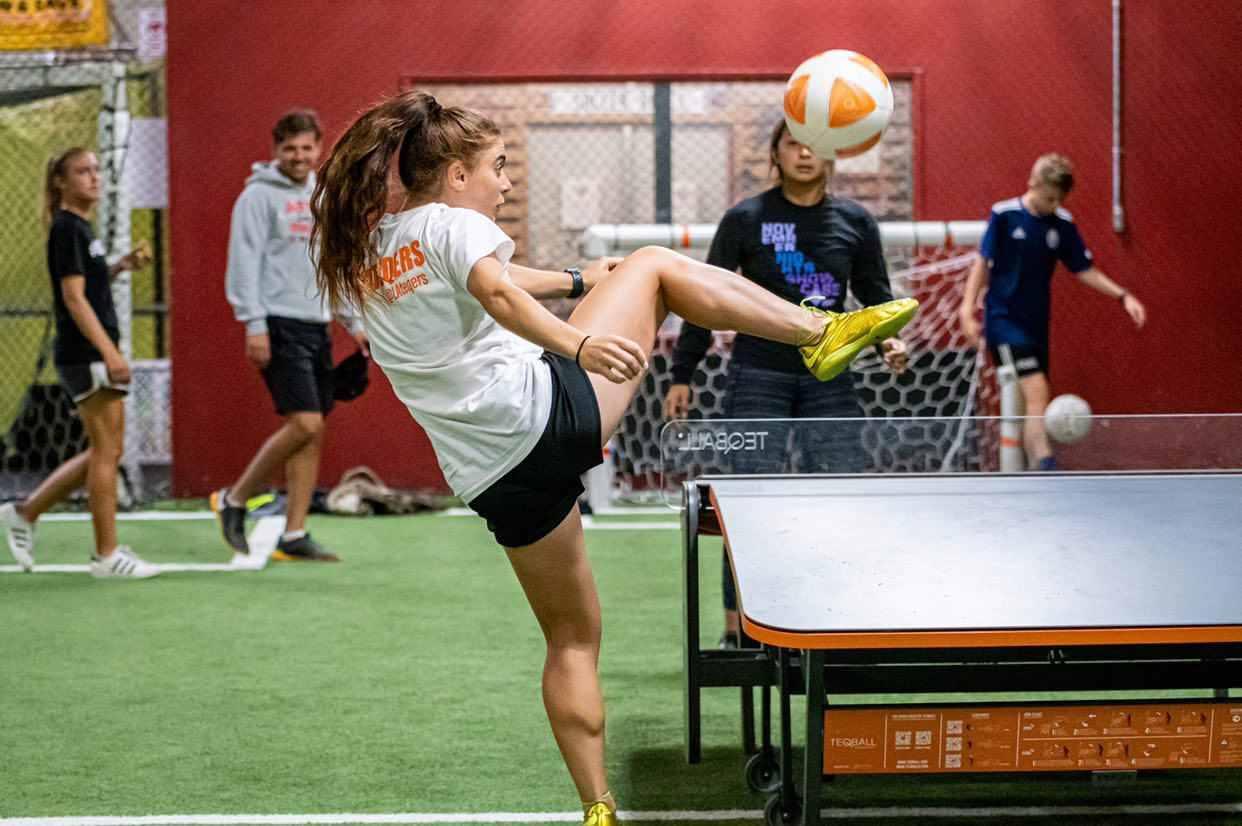 27 Apr 2020