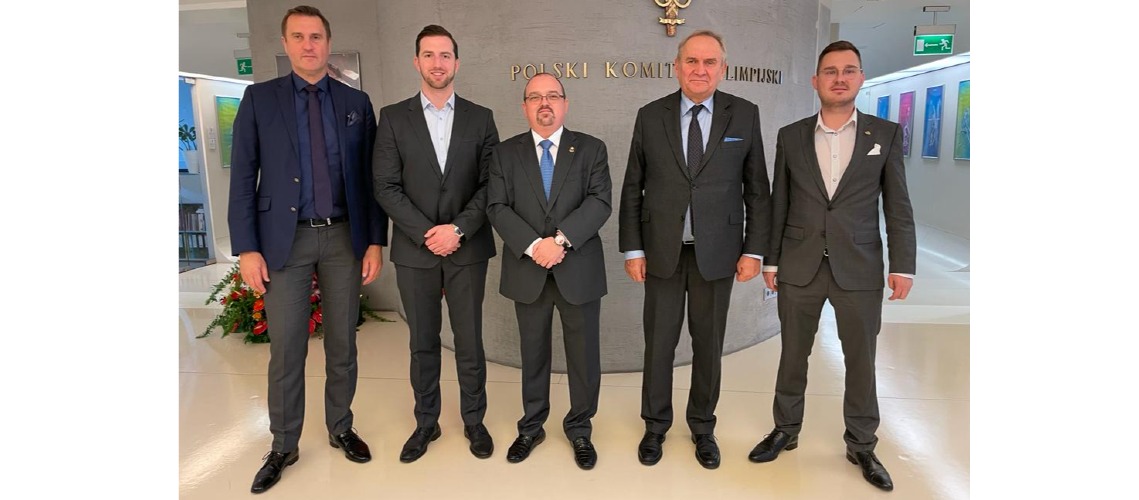 FITEQ delegation in Poland for final preparations of Teqball World Championships
A FITEQ delegation led by General Secretary Marius Vizer Jr is in Poland for the final preparations of the 2021 Teqball World Championships, which will take place from 8-11 December in the city of Gliwice. FITEQ continues to work hard on the organisation of the event before the global teqball family heads to Poland next month.
The FITEQ delegation has met with leading sports officials and event partners in Poland over the past week, including a series of meetings with the Polish Olympic Committee leadership of Andrzej Krasnicki (President) and Adam Krzesinski (Secretary General) and the Polish Teqball Federation.
The delegation has also had successful discussions with the local and regional authorities, including with Mayor of Gliwice, Adam Neumann, as well as with the Hungarian Ambassador to Poland, Orsolya Zsuzsanna Kovacs, at the Hungarian Embassy in Warsaw. Marius Vizer Jr and his team then visited the Gliwice Arena, the venue for the World Championships, where they had several productive planning meetings with the arena's operational leadership team of Tadeusz Wesołowski and Radosław Wesołowski. The Gliwice Arena is one of Poland's largest multi-purpose indoor sports and entertainment venues. Finally, the FITEQ delegation has met with Polish National Television to discuss broadcast planning for the event.
FITEQ General Secretary Marius Vizer Jr said, "With three weeks to go, we are very pleased with the status of the preparations for our flagship event. FITEQ's collaboration with the Polish Teqball Federation, in addition to the support from the Polish Olympic Committee and the authorities in Poland, will ensure this is an event of the highest standard. Poland is one the world's leading teqball countries and we are excited to see a passionate crowd cheer on the best teqers from all corners of the globe."
FITEQ held its second European Teqball Tour event in Chelm earlier this month and the country will host the European Games 2023, where teqball will make its debut as a medal sport. Whilst in Poland, Marius Vizer Jr met with Janusz Kozioł, Sports advisor to the Mayor of Krakow and senior leader in the European Games 2023 Organising Committee.
24 Nov 2021