EG 2023 - Top-notch teqers & dark horses in mixed doubles
Teqball will be played in the European Games for the first time ever, let's take a look at the mixed doubles category.
For the first time ever, Teqball will be featured in one of the greatest sporting events in Europe, the European Games. Like many other sports, this tournament is not only about being part of the EG but will also count as the European Championship for teqers.
The debut of Teqball will consist of 69 players from 21 different countries in all five categories (women's and men's singles, doubles, mixed doubles).
The mixed doubles competition always brings excitement, possible upsets and surprises, and we would be shocked if it was not the case in Kraków.
We will not see the two highest-ranked teqers, although there will be a world champion in the field as Hungarian Lea Vasas, who won last year in Nuremberg, will try to add another gold medal to her collection. Her partner is Balazs Katz, who is one of the best doubles players but has yet to win in mixed so far. Together they achieved 3rd and 9th places in 2023.
One of their toughest opponents could be the Serbian team of Maja Umicevic and Nikola Mitro, who finished 4th in the World Championships. They have been playing together for a long time, however, they have not been able to stand on the top of the podium since 2021.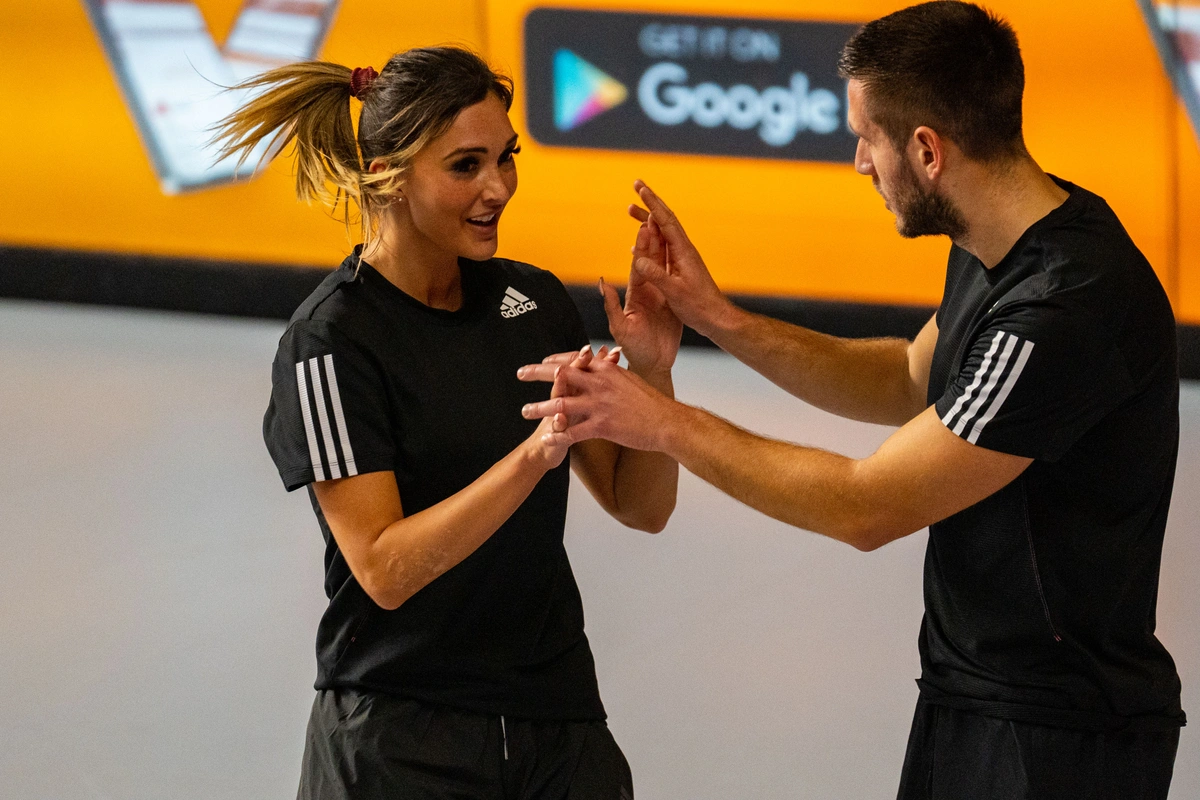 Nikola Mitro & Maja Umicevic aim to return to the podium.
Furthermore, you always have to take the home players seriously and this event will not be an exception. Alicja Bartnicka is already pumped up for the opportunity:
"I will be playing in the mixed doubles category together with Marek Pokwap. It will be our first international tournament, but I feel great about playing with him, he is a very good player and we will aim for the best positions."
The 17-year-old Pokwap has not played on the international stage in mixed doubles, but despite his age, he is not an inexperienced rookie.
The Danish twosome of Mira Dahlmann (17 years old) and Mathias Jeppesen (21 years old) will be the youngest team (along with the Polish unit), and it will be Jeppesen's first-ever appearance in the mixed doubles internationally, too.
We can not talk about medal contenders without mentioning the Romanians, despite the fact that Katalin Dako and Szabolcs Ilyes have not played a lot together.
Gabriela Zachova's and Lukas Flaks's world championship came to a dramatic end in the Round of 16, the Czech duo must be motivated to take the next step in Poland. Portuguese Luis Santos and Manuela Parente are both ranked inside the top 100 and looking to improve their respective places. They barely missed the quarterfinals in the WCH, the round that they still have not seen together.
Kateryna Fesenko and Dmytro Shevchuk participated in only one tournament with this line-up, the Ukrainians won two of their three matches in Budapest last year, but it still was not enough to advance from the group stage.
Dumitru Munteanu and Laura-Maria Mereuta represented Moldova in Nuremberg together, but their first win is still waiting for them. The case is similar to the Armenian team of Kristine Mangasaryan and Rafayel Vardanyan, however, they only joined forces in 2023 and appeared in three tournaments so far.

Highlight from last year, when FITEQ visited Krakow.
Frenchman Lionel Beyer is Nr. 22 in the singles rankings, but he does not have too much experience in mixed doubles. This time he is going to team up with Elisa Lanche.
Stella Gloeckner is one of the top players from Germany in women's doubles, and in Kraków, she will try her luck in the mixed category, too. Her partner will be Yannic Stachelin, who finished T-33. in Nuremberg alongside Nelly Wilke back in 2022.
Mara D'Alessandro is considered one of the better single players and has a long history of playing mixed doubles, too. This cannot be said about her Italian countryman, Johnny Lombardi, though, who will make his debut in this category in the Polish city.
Slovakians Karina Zustakova and Branislav Rodman started to compete in mixed doubles this year and the European Games will be their second event together. Nina Steinbauer and Daniel Neuhold will play doubles and they take on the challenge of mixed doubles together to represent Austria.
The European Games will take place in Krakow, Poland, the Teqball competition will be held from 28 June until 1 July at the beautiful Main Square. The mixed doubles will face off on 30 June.
Follow every statistic and interesting detail on our brand new site, www.datateq.org/european_games.