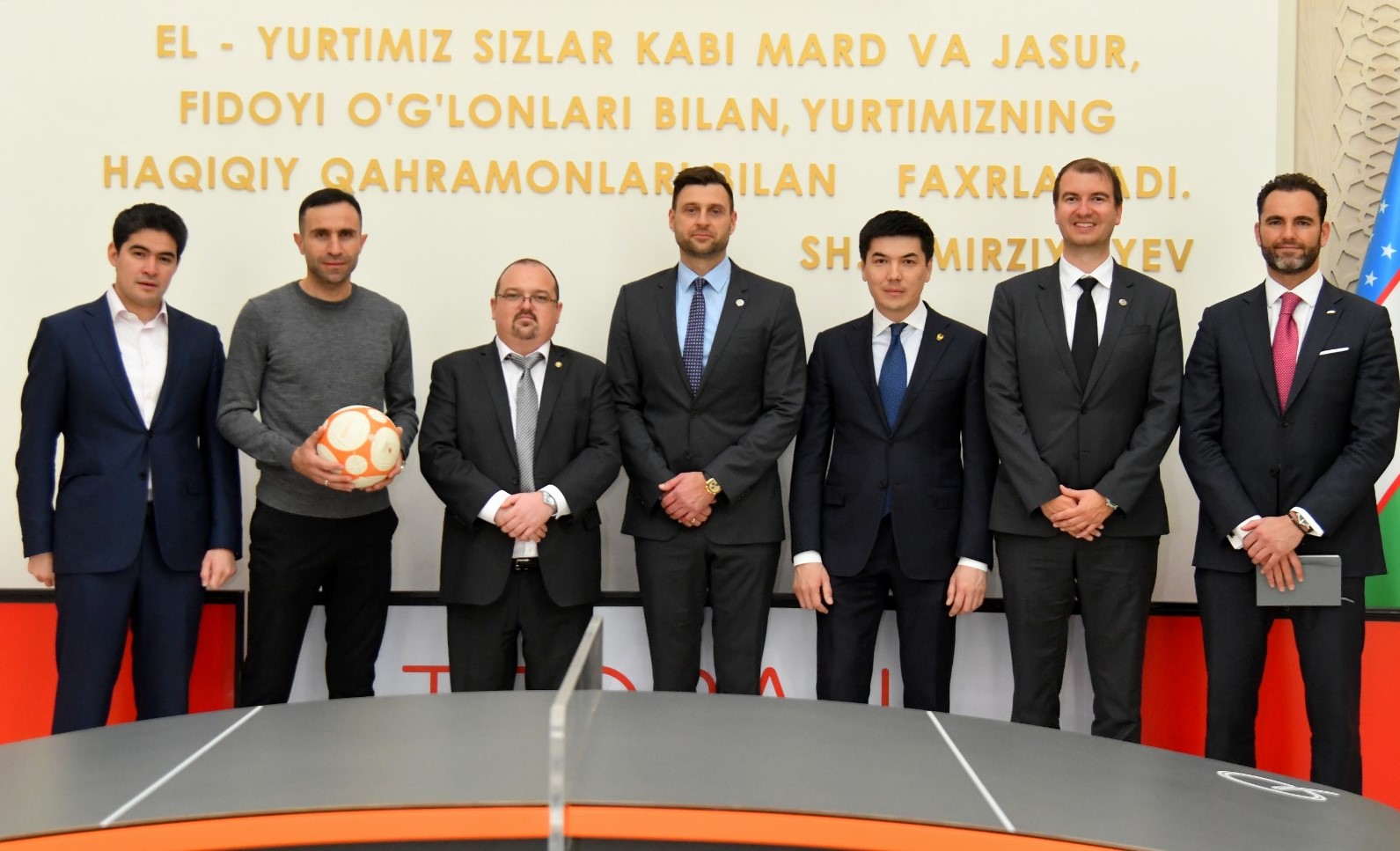 Teqball Roadshow continues with successful visit to Uzbekistan
The Teqball Roadshow continued in style in Tashkent, Uzbekistan during the first week of March, with FITEQ President, Chairman and General Secretary
The Teqball Roadshow continued in style in Tashkent, Uzbekistan during the first week of March, with FITEQ President Gábor Borsányi, Chairman Viktor Huszár and General Secretary Marius Vizer Jr leading the delegation for a series of highly productive meetings as FITEQ looks to accelerate the growth of teqball in the sport-loving country.
The FITEQ Executive Board members met with National Olympic Committee of Uzbekistan President Mr Rustam Shaabdurakhmonov, Secretary General Mr Oybek Kasimov and Vice President (and Uzbekistan Judo Federation President) Mr Kamilov Aziz Yakubjanovich, as well as Deputy Minister of Sport Mr Ravshan Sayfiddinovich Irmatov and Education Minister Mr Sherzod Shermatov, to discuss plans for the national development of teqball. They shared information on accessibility to FITEQ's National Federation and Club Development programmes, which provides financial, infrastructural and educational support to prospective and existing National Federations and clubs.
During the week, FITEQ's team of sport instructors delivered practical workshops, kick-starting the journeys of registered players and qualified coaches and referees. Meanwhile, General Secretary Marius Vizer Jr and FITEQ's education team led sessions for the leaders of the newly established National Teqball Federation on key areas such as education, governance, sustainability, CSR and competitions.
FITEQ General Secretary Marius Vizer Jr said, "The week we had in Tashkent is a perfect example of why we launched the Teqball Roadshow. It is a country that already loves sport and it is open to welcoming new and innovative ideas. It is our job to show people in Uzbekistan that what teqball can bring is innovative, fresh and exciting. The meetings and workshops throughout the week have helped build strong foundations for teqball's development in the country and we will continue to work closely with the National Olympic Committee of Uzbekistan as we look to recognise the National Teqball Federation. This is the key next step in spreading the sport across the country and we will be there to support our friends in Uzbekistan every step of the way."
FITEQ's visit to Tashkent coincided with the International Judo Federation (IJF) Grand Slam event. In addition to welcoming IJF Chief Media and Marketing Officer, and International Esports Federation President, Vlad Marinescu, to a teqball demonstration, Gábor Borsányi, and Viktor Huszár had the honour of presenting medals during the Grand Slam.
The visit to Uzbekistan followed the successful launch of the Teqball Roadshow in Djibouti in February, where the FITEQ team held meetings with the Djibouti Teqball Federation and the Djibouti National Olympic Committee throughout the course of a week, focused on elevating the country's playing, coaching and refereeing standards, as well as offering guidance to the National Federation leadership. FITEQ also launched the global Table of Peace CSR programme in three refugee camps in collaboration with the Djibouti National Olympic Committee and its President, IOC Member Aïcha Garad Ali, and the Djibouti Teqball Federation.